Disclosure: This post is sponsored by Rejuvenate Products.
As a new mom I've found that keeping a clean home is more important than ever, but it is also more challenging.  Yes, there are more items to clean and a whole new person to clean up after, but what is even more difficult is finding the time to actually clean. Think about it: Who wants to wash dishes and clean floors when there is a baby to play with?  Nevertheless, the housekeeping show must go on!  Our son is now 6 months old, which means it is almost crawling time, and that means we MUST have a clean floor for him!  This is why I am excited today to talk about the Rejuvenate® Click n Clean™ Multi-Surface Spray Mop System.
This mopping system is a mom's dream.  The Click n Clean is the only mop that cleans surface-to-surface and delivers professional results for under $35.  It is very easy and clean to use: no mixing up chemicals, no wringing out a mop by hand, and no heavy lifting or getting out multiple cleaning appliances.  With this system, you can literally clean every surface in your home from hardwood and laminate to tile, grout and even carpet.  The Click n Clean mop system allows you to click, clean and go ― no matter the job size. Check it out!
The Click n Clean comes with a microfiber bad that is especially for dust mopping (dry mopping your home).  As a pet owner I can tell you this really comes in handy for daily cleaning up of animal hair and other particles.  There's also a scrub pad for wet mopping with the Rejuvenate cleaner of your choice and a super scrub pad for those hard to remove spots. Additionally, one thing that sets this system apart is that it comes with a grout brush attachment.  We have tile floors in our bathroom, and this brush is great for that!
Another thing that sets this system apart from other mopping systems is that Rejuvenate has a line of liquid cleaners for every surface in your home:
No Bucket Floor Cleaner (for wood, laminate, and other surfaces)
Luxury Vinyl Floor Cleaner
Marble, Granite & Stone Floor Cleaner
Tile & Grout Everyday Cleaner
Grout Deep Cleaner
The cleaners easily attach to your mop with a bottle adapter (3 are included), and they also come with spray nozzles for easy and convenient spot cleaning.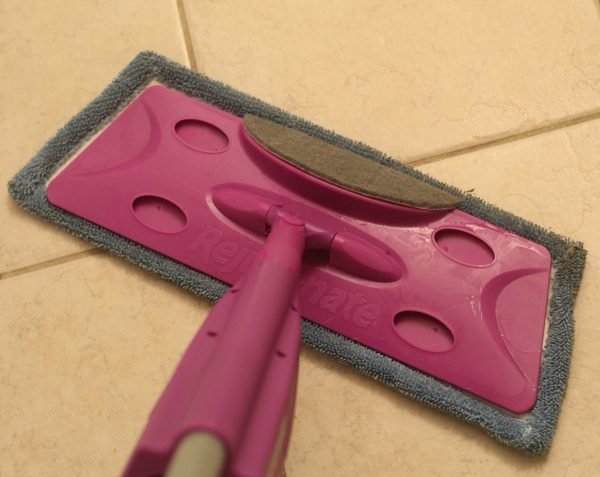 The cleaning pads are very easy to attach to the mop's swivel head and are very durable and machine washable.
Once the cleaning pad or grout brush are attached, all you have to do is place a bottle adapter on top of the cleaning bottle of your choice. Then turn the bottle over, and it easily slides on to the mop.
After the cleaner is placed in the mop, simply click a button and the cleaner will be released on your surface.  Then just mop up!
Our vinyl floor can be a challenge to clean with all the cooking and grilling (and spilling) we do. (And did I mention we also have kids and pets!)  So I am especially excited about using the Click n Clean in this room.  Here's a before and after picture of my results (dirty spots and all).
The results were great!  We also tried this in other rooms in our home.  The grout brush definitely worked wonders on our tile when combined the Click n Clean mop on the floor.  And most of all, I LOVED using this on our hardwood.  Most liquid cleaners and mops are not safe to use on hard floors, so the Click n Clean is a life saver for that!
Check out this demo video:
Rejuvenate® Click n Clean™ Multi-Surface Spray Mop System is available at The Home Depot for $34.97.  If you are looking for a way to clean your floors quickly and effectively, you should definitely give it a try!