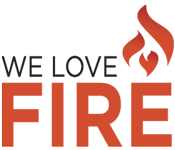 Disclosure: Today's post is sponsored by We Love Fire. The opinions are my own.
With Halloween coming up this week, Thanksgiving is just around the corner!  Today I'm getting ahead of the game and sharing a tutorial on how to smoke a turkey.  At our house, we cook a lot of meats.  We only do turkey 2 or 3 times a year, and at this point we have cooked it by smoking/grilling, baking, and frying.  Today we are going to specifically talk about smoking a turkey.  I've got tips to help you get a moist and flavorful turkey, and I've also got a recipe for Southern White Sauce, which is MUST have item in our house when we are having smoked turkey or chicken.
If you are looking for a new grill or smoker this holiday season I Love Fire has a fantastic guide for you.