If you've ever found yourself saying, "I'd love to make this room look better, but I just can't afford it," then today's post is for you!  As a homemaker, I love improving the look of our home, and as a girl on a budget, I've learned to embrace simplicity and find easy and affordable ways to transform the rooms in our house.  Today I will share a few tips to help you get started.
Bedding – The main focal point in any bedroom is the bed.  A new bedding set can dress up even the oldest set of bedroom furniture and completely change the style of your room.  Consider changing your florals to a modern chic pattern (as shown below).  Or change your plaid bedding set to some trendy chevron stripes or a fun bohemian pattern.
A lot of bedding sets (like the one above) are reversible / two-sided, so if you have a reversible bedding set, you can simply flip over the existing bedding set to get a whole new look.  Adding a decorative throw or extra throw pillows to your bed can also add color, warmth, and coziness of your room.
While browsing online I found some beautiful duvets and bedding selections at https://www.juliancharles.co.uk/bedding.  They offer luxury bedding in some trendy and gorgeous designs, and they're prices are very reasonable!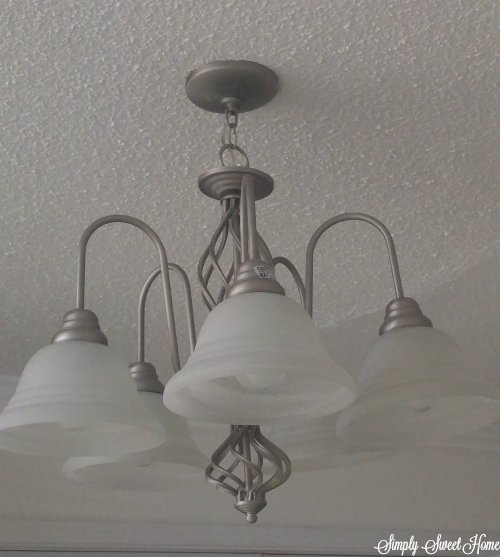 Lamps and Lighting – Lighting is everything when it comes to creating the right atmosphere in your room.  Changing out an old ceiling fan or light fixture, can not only help to brighten up a room but also to modernize it.  We've done a lot of updating to the light fixtures in our house, and it has made a complete difference in the look of a room.  If you're on a budget you can update the lighting one room at a time.  Craigslist, Facebook, and online yard sales are also great resources for finding like-new light fixtures or old light fixtures that you can refurbish with a little paint. Places like Teds Lights & Fans are also great places to get your light fittings changed, as they are a store for that specifically as well, they will be able to give you pointers should you need them.
Changing out a table lamp can also make a world of difference.  I recently changed out these old brass lamps for silver toned lamps with a modern styling and new lamp shades.  (I think the lamps were around $12  each and the shades were $10 or $15 each.)
Accessories – It's very easy to accessorize any room without spending a lot of money.  Recently I did a living room makeover, and I used a lot of books that I already had for decoration.  And I used books and other odds and ends to fill a bookshelf, as shown below.
If you don't have any accessories just setting around, you can always check your garage or attic.  The dollar store or thrift store is also a great place to get inexpensive knick knacks, faux flowers, and wall art like the ones I have here.
Paint – Paint can instantly transform a room.  It's also inexpensive, and anyone can do it.  When we first moved in to our house, the bathrooms were covered in outdated wallpaper.  We removed this, and added a coat of neutral paint, and the bathrooms were instantly updated.  Getting rid of a dark colored wall and replacing it with something light can also help to brighten up a room and make it look bigger.  Using a neutral paint color also makes it easy for you to update a room time and time again, because you can change and add any furniture or accessories you want without worrying about changing the wall color again, or having to match a particular wall color.
Curtains, valances, and window coverings – Curtains are a great way to add color and coordinate with other items in your room.  Personally I love black out curtains.  They help to make our bedrooms and living room dark and keep our rooms cool.  We also have valances in our kitchen and baby nursery; these help to add color to the room without blocking out the light.
To give you an idea of the difference a curtain can make, I've shared a picture of a window in our house.  Previously the room was an adult bedroom, and we are currently transforming the room in to a little boy's nursery.
By using curtains, pillows, and accent pieces that match or go well together, you can easily pull your whole room together for a stylized and uniform look.
For more decorating inspiration, check out this free ebook.