What's the most important thing to attract people/guests in a house? It's the décor, the interior, the esthetic sense of the homeowner. It's not easy to make house, a home, like heaven. Sometimes, a hectic task if the owner feels like messed up with the décor ideas. What's the use of internet? It's flooded with immense ideas as well as the latest trends of home décor to help the hopeless homeowners. This article is specifically written for those thinking about where to start and what to consider for interior of a home. It's also useful for those interested in starting their home décor business.
1. Material Used: Prefer Durability
When it comes to durability of the material used for furniture, wood comes at top of the list. Long life is the most important aspect of wood chosen for furniture. Don't compromise over the fine finishing of the furniture. You can go for steel, which is also considered as a durable material. Other than furniture, pick cost effective décor items, like you can check for online cheap canvas printing service providers.
2. Design Of The Furniture: Opt For A Group
When you pick a certain style and design of the furniture, you will get many items following the same designing pattern, offered in a group. Consult a catalogue provided by the manufacturers or use your own creativity to come up with unique design.
3. Space For Furnishing: Size Should Be Accordingly
You can't adjust heavy furniture in your home if it's short-spaced. Take measurements rightly and then pick certain furniture design. To avoid some inconvenience at some later stage, it's an important point to consider. It's all about making right investment in home décor.
4. Need Identification: Do It At First
Your home décor should be based on your home needs at first. Identify your needs at initial steps and then add the necessary items.
5. Budget: How Much You Can Afford?
Your décor plan can distort just because you haven't considered the budget at first. The list of décor items may go long and you finally find yourself short of funds. The wise piece of advice is to make a comparison of the furniture items, offered by different providers. Your home décor project should be budget-friendly. Stay within budget-limits while shopping.
6. Main Concept: Build On Your Own
The first step in home décor is to prepare a plan. The following steps should match with the initial plan. Whether you have hired home décor experts, or doing it with the help of your partner, draft a plan at first. Give it some strong base, so that the outcome would be as expected.
7. Home Décor Needs Personal Touch
Home décor isn't just about professionalism, it's about your likes and dislikes. It should reflect your personality as well as your esthetic sense. Pick the service providers who are local and have successful track record of home decorating with 100% client satisfaction. Like, if you pick canvas prints products from Image-printers.com, you will see your photos printed products reaching your destination within specified time, and will add a personal tough to your home décor.
8. Playing With Contrast: Go For Balance
Contrast is good when it comes to picking the furniture or other home décor items, but using that contrast wisely is also important. A perfect balance is necessary for high comfort level as well as homely-atmosphere.
9. Lighting: How Can Be Ignored?
Lighting plays an important role in home décor. Pick the right spots for lighting; it will take your home décor to the next level. Give your home a warm touch with balanced lighting, don't overdo it.
10. Colors And Patterns: To Make Décor Pleasing
As mentioned earlier, play with colors, go for contrasts, but be cautious while doing that. Playful patterns and colors give your rooms a different look and feel. Pick the furniture items accordingly.
The above-mentioned tips are helpful in getting started with your home décor project. As people have different experiences, expectations, likes, dislikes, so the décor ideas also vary from one to the other person. Whether you have outsourced your home décor work, or doing it on your own, this article will surely help you paving the way to fulfil a plan.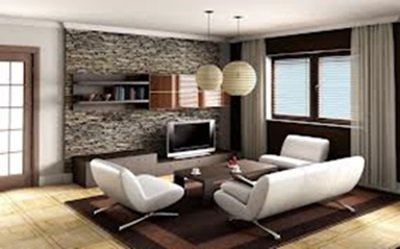 Happy home decorating!