Disclosure: This post contains affiliate links. The opinions are my own.


One Christmas tradition I definitely want for Thaxton is the new pajamas traditions.  It is fun, yet practical, because he will always need pajamas!
I LOVE Christmas pajamas, and I've been so excited for the pajamas for the family trend! After shopping around a lot on the internet, I chose Target for our Holiday Family Pajamas.  I was very impressed with the variety they had, from the different colors and prints, to the various styles of pajamas.  And the prices amazing!   Today I'm going to share with you some of the things that I bought and point out a few things I also liked.
I've been wanting to get Thaxton and I Mama Bear and Baby Bear shirts, so I fell in the LOVE with the Holiday Bear Family Pajamas.  Apart from the bear theme, these also have red and black checks with I really like.  And they look more like winter pajamas and not just Christmas, so we can continue to wear these in January.
The pajamas themselves fit great.  We both got very soft cotton shirts and fleece pants.  These are so comfortable, and I was impressed by the quality!
I also got Thaxton the Fair Isle Union Suit.  I'm not really in to the adult onesie, so I just got this set for him.  I really love this type of print, and the colors are great.  And like the other pajamas I chose, this has more of a winter theme, so that he can wear it after Christmas is over without looking weird.  This is made of fleece, so it's very warm, and I actually also love it as something he could wear around the house on cold days and not just as sleep wear.  (And I have to admit, I kind of wish I'd bought myself one of these!)
If these aren't for you, you might like their Peanuts Pajamas. (I love Charlie Brown and Snoopy!)  And they also have sets that are Harry Potter themed, Grinch, Elf, Santa, and so many more!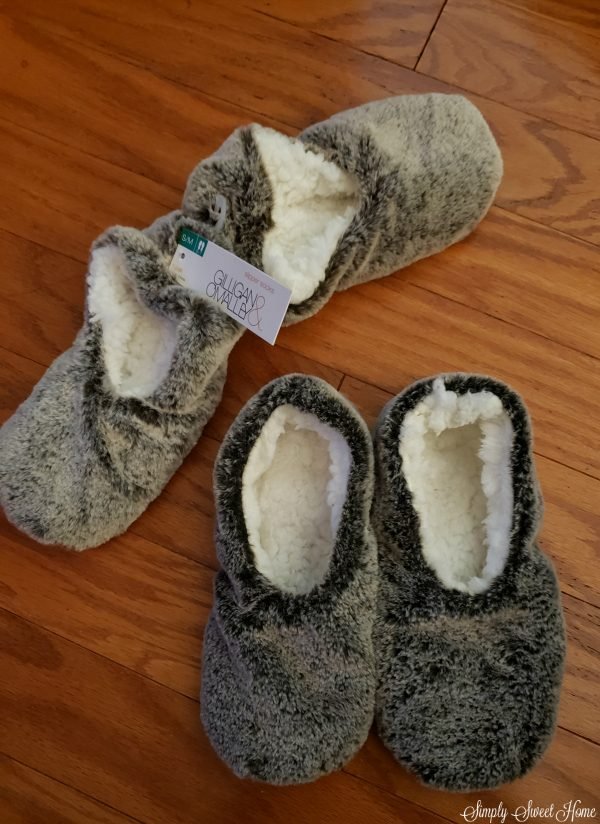 I also wanted to point out these slipper socks that I got for just $6.  These are very warm and comfortable, and I think they are quite cute.

So many styles are still in stock at Target, so go over and check out their Holiday Family Pajamas. Perhaps it could be the start of a new family tradition for you!