This shop has been compensated by Collective Bias, Inc. and its advertiser. All opinions are mine alone. #NaturalGoodness #CollectiveBias
Spring is finally here!  For the last couple of weeks, the weather has been nice enough for us to sit out on our front porch or back deck, which is one of my favorite activities to do with my husband. Here in the South, we don't get a lot of mild weather, so we're trying to enjoy it while we can!   As I look around and think of all my "spring time to-dos,"  I can't help but think of how spring is truly a time of renewal. As the trees and flowers are coming in to bloom, it is time for us to tend to our yards and gardens, do spring cleaning to renew our homes, and even renew and rejuvenate ourselves with new spring beauty routines, clothing, and more.
While I love to do things this time of year to improve my look, I've also been growing more health conscious and am trying to focus more and more on using natural products and products which won't be harmful to myself and my family.  And as it turns out, a lot of these good choices we can make for ourselves are also good for the environment.  Today I'll be discussing 5 tips to "green" your beauty routine with a little help from Tom's Of Maine.
1. Use Natural Health & Beauty Products.  Check labels to see what kind of ingredients are in your favorite health and beauty items. Are they natural ingredients?  Products made with natural ingredients are not only safe for the environment but also safer for you and your family.  If the product is not made from natural ingredients, then what kind of chemicals are included?
Every day more and more companies are offering natural and organic health and beauty items for our families.  .Tom's Of Maine is one of those companies.  They have a line of soaps, shampoos, body washes, oral care products, deodorants and more.  I recently purchased their Antiplaque & Whitening Toothpaste, Whole Care Toothpaste, Silly Strawberry Children's Toothpaste, and Unisex Apricot deodorant.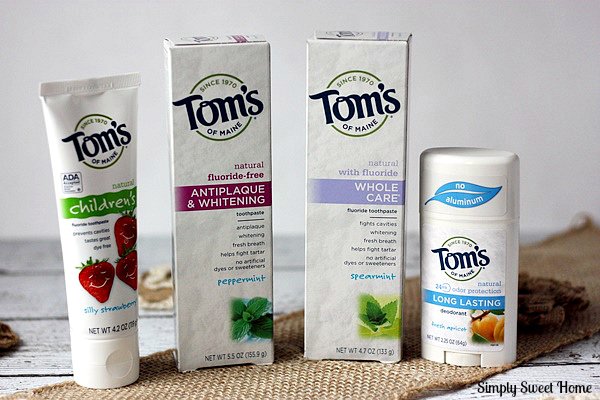 You can find the products in the Health & Beauty section at your local Walmart.
You can also Save $1 right now on any Tom's of Maine products with this coupon.
 2.  Turn off the Tap.  Whether you're washing your face or brushing your teeth, only run the water when you need it.  Turn the water off while you are actually brushing your teeth or scrubbing your face.  Just use the water at the start and for rinsing. Also, take showers instead of baths, and take shorter showers.
3.  Simplify Your Hair Routine.  If you wash your hair every day and then cover it in mousse, hair spray and other products, consider skipping this.  Just pull your hair back with a clip, put it in a bun, or wear it down with little or no styling.  This way you are putting less chemicals on your head. You are also consuming less, and your hair will be cleaner and more manageable.  You also won't have to wash your hair quite as often.  This will help you save water and also save energy, as you won't have to use the blow dryer and other electronic styling products as much. (It will also do less damage to your hair in the long run.)
4.  Skip the makeup and use homemade skin care products.  Since I work from home, I go without makeup most days.  I only wear it if we're going out or if I have a lot of errands to run. (On short everyday trips to the store or single errands I just skip it.)  By not wearing make up, you will use less products; it's good for the environment, and it's good for the skin.  And while you're improving the look of your skin by using less make up, you can also refresh your skin with natural facial cleansers or make your own natural ones.  (Here's a recipe for an Oatmeal & Brown Sugar Scrub that I enjoy.)
5.  Find products and companies that have a record of environmentally friendly practices.  Look for products and companies that do not use animal testing or animal ingredients. (Animal testing makes my furbabies sad.)  Also check the labels to find companies who use recycled materials and have other sustainable practices.  If you don't find information on the product packaging, you can probably find this information online.
Do you consider yourself to be green?  Are you trying to improve your lifestyle by using more natural products or help the environment by greening your lifestyle?
Please leave a comment and tell us a change you've made in your household to work toward these goals.