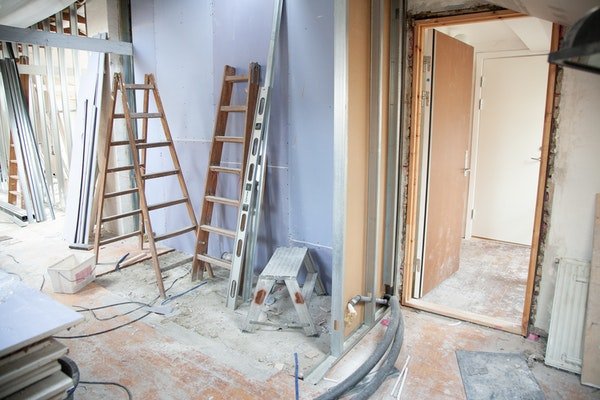 Home renovations are attractive for quite a few reasons. Alongside making your home more functional and attractive, they can:
Increase your property value.

Give your home a new feeling.

Make you feel more secure and comfortable.
Planning your home renovation can be difficult, however. It not only takes some budgeting, but you'll need to manage multiple moving pieces.
More can be involved in that than you're aware of. Keep a few things in mind, though, should keep stress to a minimum.
There shouldn't be anything getting in the way of improving how your home looks and feels.
What To Know When Planning Your Home Renovation: 5 Top Tips
Work With The Right Company
You'll likely need to hire professionals to get the home renovations done for you. You'll need to ensure that you choose the right option for you.
These can vary depending on what renovations you'll need. You could have to work with a window replacement company, electricians, carpenters, and more.
It's worth making a checklist of what you need done and comparing options based on this. Some companies could oversee multiple areas, reducing the need to hire other contractors.
When you're taking this approach, ensure that you compare quotes. While price will be a significant factor in this, it shouldn't be the only one.
Make sure you're getting value for this and that the people you hire are delivering a high-quality service. Focusing on their experience, previous work, customer reviews, and more are all significant parts of this.
Have An End Goal
You'll need to have an end goal in mind for your renovations. You should know what you want your home to look like once the work is completed. By doing so, you can determine the steps to get there.
With that, you can start planning more effectively. You could even start DIYing it before getting any contractors in mind.
You'll also need to consider whether you're planning on selling your home or staying in it for life. These options could need different approaches.
If you plan on selling, you might want to focus on renovations that generate a large return on investment. Making as much out of the property when you sell it is vital. These renovations could be different from the ones you'd want for yourself.
When renovating your forever home, you can personalize the property much more. That could mean getting improvements done that potential buyers wouldn't like; since you wouldn't be selling, you wouldn't need to worry about what they think.
Know How To Budget
Knowing whether or not you can afford the home renovations you want is vital. Figuring out how to budget for it is vital. Though that could be difficult, it doesn't need to be as challenging as you'd expect.
Being as detailed as possible with your renovation budget is vital. Breaking it down by room and prioritizing important areas is recommended.
When you're putting this together, remember to include an emergency fund. Though you wouldn't want things to go wrong, surprises could come up.
Should you not have a contingency fund in place, then these could drastically affect your plans. By having at least 10% of your budget set aside for such instances, you'll ensure that you have them covered.
If you don't end up spending it, then you could put the emergency fund to other uses.
Don't Forget About Pets
Home renovations can be difficult for people to get through, even if they only last a few days. It can be even worse for pets, such as dogs. Not only could they suffer because of the sound, but they're also at risk of being injured when the work is being done.
They could also pose a risk to your contractors at the same time. It's worth having a friend or family member take care of your pets while construction is going on. If that's not an option, you could also put them in the pound during this time.
While you mightn't want to be away from your pets for too long, it'll be in their best interests. You might also want to take the same approach with your children, depending on how old they are.
Remember To Declutter
Most home renovations take a lot of time and effort. They'll also cause a mess. While much of this is because of the work itself, it's also because the contractors will need to move things out of the way to get their work done.
It's worth decluttering before the work starts. Getting rid of anything you don't need post-renovation is recommended. That'll leave you with fewer belongings to take care of when the renovations are being carried out.
Though you'll still have things that need to be moved out of the way for your contractors, it'll be easier to do this when you have fewer belongings. Though that means putting effort into it upfront, it'll save you hassle in the long-run.
It could also mean saving yourself some money. If you're paying your contractors per hour, you wouldn't want to waste time and money on moving around your furniture.
By getting this done ahead of time, you could save more than you'd think. It may be worth putting some of your belongings into storage when the renovations are taking place.
While an extra cost, it'll prevent any damage to them when the work is being carried out.
Keep Your Routine In Mind
You'll have a daily routine that you stick to. With this, you'll use certain rooms and appliances more than others. Keep this in mind when you're planning your home renovation.
Focusing on what can make your daily life easier is recommended. It'll add to your enjoyment of your home much more. It'll also make it more functional and easier to use.
You should also think about this when planning out the work yourself. Discuss your family's daily life with your contractors and plan to cause minimal disruption.
While there'll be some disruption to your daily life, you could ensure that this is kept as low as possible. Discussing start and end times, for example, is recommended.
Once you take this approach, you'll find that the renovation will go much smoother than you thought.
Top Home Renovations To Consider
One of the largest decisions you'll need to make when planning your home renovation is choosing exactly what you'll be renovating. In some cases, this can be obvious; you'll have specific areas that you want to do up.
Sometimes, it isn't so obvious. You might want to consider adding a few other renovations on top of this. Getting them done at the same time means you don't need to have more done in the future.
Some of the top home renovations include:
Making your bathroom a private sanctuary.

Turning a guest bedroom into a destination.

Investing in some outdoor living areas.

Doing up the garden.

Personalizing the bedrooms.
While these come with various costs, they're all worth considering. They can add to your home's comfort and functionality while making it look nicer. They should also add to your property value.
There shouldn't be anything getting in the way of making your home look great.
What To Know When Planning Your Home Renovation: Wrapping Up
Planning your home renovation shouldn't be difficult. It can be more straightforward than you'd expect. Keeping a few particular tips and tricks in mind helps with this.
With the wealth of home renovations that you can take advantage of, it's easy to see why many people are tempted. Though it can take you a while to get there, it's more than worth doing.