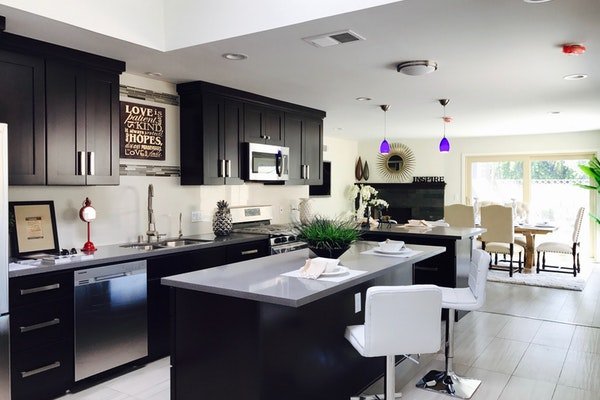 Your home is a significant investment and a place you spend a lot of time. It's no wonder that you want it to look beautiful and feel cozy and welcoming. Your home will be a better place to live and you'll be much happier in it if you take good care of it.
There are different ways to help you achieve your goal so your home is more beautiful and attractive. It'll require some time and effort on your part but when you're finished your property will look and feel like new and be the perfect place for you to relax and enjoy. These ideas will get you on the right track to knowing what to focus on as you try to make your home more appealing and lovely.
Clean & Declutter
A good place to start as you focus on making your home more beautiful and attractive is to clean and declutter. Perform a deep clean and tackle all the areas you often ignore or don't pay much attention to during your normal cleaning routine. Also, declutter your belongings and get rid of or donate what's taking up space and you no longer want to have around. Your home will be a better place to live when you get organized and take proper care of it. Come up with a cleaning routine you can stick to so you can keep up with it and make sure you declutter often to avoid your belongings piling up over time.
Create A Backyard Oasis
Another way to make your home more beautiful and attractive is to create a backyard oasis. There are many ways to do this and you'll be glad you did once you see how great it looks and that you have a space to relax and entertain guests. You may want to first figure out how to find property lines if you're considering planting trees, installing a swimming pool, or putting up a fence. This will help ensure that what you're doing is on your property and won't disturb or upset your neighbors. Also, make sure you invest in comfortable furniture and a grill so you can set up a grilling area where you can prepare food and sit and have a conversation or put your feet up while it cooks.
Boost the Curb Appeal
The front of your home and how it looks matters as well. Make your home more beautiful and attractive by boosting your curb appeal. Pay attention to the little details such as cleaning up leaves and branches, updating your mailbox, and planting colorful flowers. Decorate your front porch with small pieces of furniture, plants, and an area rug so it looks inviting and charming. Your goal is to make a good first impression and to make sure you're taking as good of care of your home on the outside as you do on the inside.
Enhance the Lighting
Lighting will go a long way in helping you to make your home look more beautiful and attractive. Dark and dingy lighting will negatively impact the ambiance and may make your home look smaller than it is in reality. Illuminate your spaces by adding more lighting options, putting lights on dimmer switches, and making sure that you use the right types of bulbs. Replace old fixtures and light covers and go around and make sure all the lights in your home work properly and that none are burned out. Draw in more natural light by installing a skylight and washing your windows and pulling back your blinds or shades during the day.
Install Window Treatments
Another way to make your home more beautiful and attractive is to install window treatments. It's an excellent way to add style and luxury to each room in your home. Consider cellular shades that also help you control the temperature in your home and keep cold air out or install blinds that you can open and close as you choose. Also, think about adding curtains in some areas such as your bedroom or the dining room. The right window treatments can truly enhance the beauty of your home and make it more functional and appealing. Now is the time to get rid of any old window treatments and replace them with a more modern look and feel.
Apply Fresh Paint
You can make your home more beautiful and attractive by applying fresh paint to the walls. If you're feeling motivated and want to save money then consider doing the project yourself in your free time. There are many ways to use paint in and around your home such as by painting the wood trim white, painting furniture, and adding an accent wall in certain rooms. Overall, it's probably best to choose neutral shades that will brighten up your spaces, but also consider a dramatic or dark hue in a small bathroom or in your dining room. Painting is an excellent and budget-friendly way to boost your home's appearance and it'll look and feel brand new when you're done.
Maintain Your Property & Make Repairs
You must keep up with the maintenance around your home if you want it to look nice. Make repairs in a timely fashion and stop putting projects off for another day. Finish what you start and make sure your home is not only more beautiful by making fixes to it but safer too. There are plenty of how-to videos online if you want to try to tackle the tasks yourself. However, you may want to call a handyman for certain to-dos that have to do with the plumbing or electrical if you don't feel comfortable making the repairs yourself.
Turn Your Bedroom into A Sanctuary
You must get a good night's sleep if you want to wake up feeling refreshed each day. Therefore, it's worth your time and energy to work on turning your master bedroom into a sanctuary. Your bedroom will be more comfortable for it and also more beautiful and attractive. Paint and decorate with soothing and calming colors and hang pictures of the beach or nature to help put your mind at ease. Keep it clean and tidy and invest in a comfortable mattress and cozy bedding. Have lighting options and make sure the room is at the right temperature and smells good. If you have hard floors put down an area rug to make the room cozier and warmer.
Update the Kitchen & Bathrooms
Some of the most important rooms in your home are the kitchen and bathrooms and shouldn't be overlooked when you're making updates. Create a more beautiful and attractive home by putting some work into these rooms. For instance, you can paint the cabinets or get a new bathroom vanity, install a colorful and unique backsplash, and replace old flooring. Have fun with it and make these rooms come to life by getting rid of the old and bringing in the new. Consider installing a large shower in the bathroom and adding a big island in the kitchen to make them more appealing and functional.
Decorate & Bring in Natural Elements
Turn your home into a calming and soothing place to live by decorating. Make it more beautiful and attractive by bringing in natural elements you might find in nature. Display plants and greenery, decorate with pine cones and colorful fruits, and use natural wood and stone accents. It'll help bring new energy into your home and stimulate your senses. Decorate with items that are meaningful and special to you and only put out what you absolutely love to avoid creating clutter.
Make Your Entryway Count
One area of your home that you may overlook is your entryway. However, it's an opportunity to set the right tone for the rest of the home and ensure a memorable first impression. Make your home more beautiful and attractive by putting some effort into decorating and updating your entryway. Consider having small pieces of furniture out, laying down an area rug, and hanging up a mirror or two. Make sure the lighting is right and that you have an eye-catching fixture that acts as the focal point when you enter your home. Add a few pieces of décor and a plant or two and enjoy the new feeling you get when you walk into your home. Also, pay attention to your front door and either replace it or update the hardware and paint it a new color.
Conclusion
Your home will be more beautiful and attractive when you choose to follow through with these ideas and updates. Be sure to take before and after pictures so you can see for yourself what a difference these enhancements make at your property. It's a lot of tasks to complete so make sure you create a budget and to-do list and put the projects in priority order so you have a plan for completing them. While you may have been considering wanting to move previously, you may have the urge to stay in your home once you see how stunning it looks after making these updates.