Disclosure: I received free products to facilitate this post.  The opinions are my own.
When it comes to Valentine's Day gifts a lot of girls grow tired of the traditional candy and flowers.  I personally love jewelry, but sometimes I long for something a little more practical.  If you are trying to think outside the box for Valentine's Day (or any other occasion) consider a subscription to Ellie.  Ellie is an active wear subscription plan.  It costs $39.95 a month, and they send you a three piece outfit with a fun accessory.
Each month the company has exclusive collections to send out.  I'm really excited today to take you inside one of their boxes!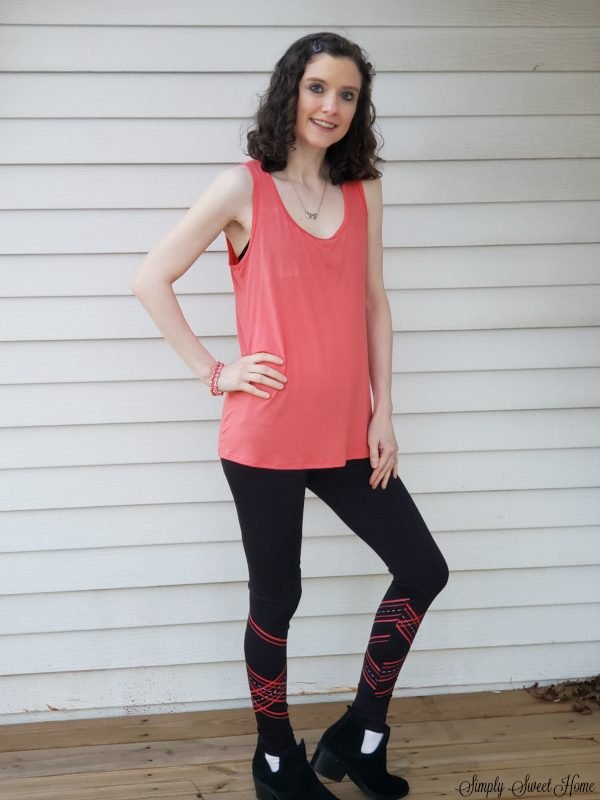 Last month they sent me this great outfit from their Knot Your Average Collection.  It came with a very nice sports bra, fun top, and super cute matching leggings.  My favorite part of the outfit is the leggings.  The look great and I love the fit!  Typically I don't buy pants with patterns.  I like to stick with solid neutral colors that go with a lot of different tops (khakis, black, grey, navy, denim).  But in this case, they've sent me a top that goes perfect with the leggings, so I'm really in to these and wish I had more leggings just like these in some other colors.
The top is a great pink/salmon color, and the fabric is very soft and light weight.  You are sure to keep cool during a work out.  In this case, they sent me a small top instead of an extra small, so the top was a little big on me, especially around the underarms and bust area, but I still like it.  It also opens in the back, and because of this, I likely won't wear it outside the house unless it is under a jacket or cardigan. (Luckily I have both a jacket and cardigan that are this exact color and match it well.)
Overall, I love the concept of the subscription box, and I LOVE the items I received.  I'd definitely recommend this as a great gift idea for a friend or for yourself!
Visit Ellie to check out this month's fun collections and sign up for your subscription.