Last month, I shared some cat treats and flea medication that my cats received from the great folks at True Science.  The Simply Sweet Home kitties were so happy to receive their product package, and our puppy girl Shadow was just as excited to receive a similar package this month.
Her box included 2 packages of healthy dog snacks from VETIQ.  She got a package of soft chews for hip & joint health and a package of dental treats.
As you can see in the photo above, Shadow is a very active dog!  When we let her out to run each day, she shoots out the door like a pinball, and she pretty much goes nonstop, until we make her come inside.  I get such a kick out of watching her play outside, and I want to make sure she stays active and healthy.  The VET IQ Hip & Joint chews are a great supplement for this.
Vet IQ Hip & Joint is made in the USA with a vet recommended, triple action formula to help support joint cartilage, help lubricate joints and help strengthen muscles around the joints.
The ingredients in the supplement are actually quite similar to hip & joint supplements that are available for humans.  The supplement also contains glucosamine which has been shown to help rebuild protective joint cartilage, and it contains creatine which aids in strengthening muscles around the joint and promotes vitality.  Plus, it has omega-3 from fish oil, which helps lubricate sore joints.
The treat pouch contains 45 treats, and because Shadow is just a 10 pound dog, it is recommended that she have half a chew each day, so if you have a small dog like ours, then you can buy a pouch of these treats and it will actually be a 90 day supply!
Shadow also got a package of Minties.  As you can probably infer from the name, Minties are a dental treat for the dogs.
Unlike a lot of other dental treats on the market, Minties contain no wheat, soy, or corn.  They are also made in the USA and contain 5 natural breath fresheners.  Minties are also vet recommended for the purposes of cleaning your dog's teeth and helping to remove plaque and tartar.
Personally I LOVE handing out treats to my furbabies, and if the treat is healthy or has to health benefits that go along with it, that is just an extra added bonus for me!
If you love to treat your dogs as well, I would advise you take a look at True Science and VETIQ to learn more about these products or find other healthy pet treats and snacks to fit your pets unique needs.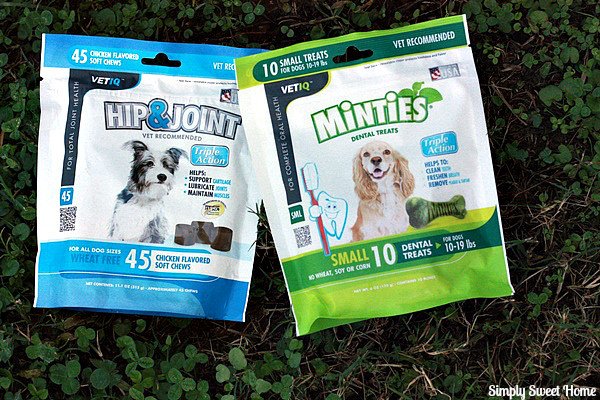 When it comes to treats for your furbabies, what do you look for?  Do look for products to fulfill a special dietary need or promote a particular health benefit?  If so, please comment on this post.  I'd love to hear what kind of products you're using and what kind of products you're looking for.