This shop has been compensated by Collective Bias, Inc. and its advertiser. All opinions are mine alone. #DogGoneBreath #CollectiveBias
Last October we adopted our little puppy girl, Shadow.  She's now "approximately" one year old, and she's basically the center of our universe.  (At least she believes and often insists that she is, and we've really given her no reason to think otherwise!)
Shadow loves snuggling and playing with her parents.  And she also loves to give and steal puppy kisses, so much so that we often call her the "Lick-o-potamus."  As the primary targets of her campaign to spread love and licks, my husband and I always make sure Shadow is nice and clean, with regular baths and nail clippings, and we give her Orapup to eliminate bad puppy breath and make her kisses sweeter, while she's being the ambassador of love.
Most of the time Shadow's breath isn't too bad, but sometimes she gets in to things, which definitely make me say, "yuck," especially when the Lick-o-potamus is waking me from my deep sleep, so Orapup is a great thing to have on hand.  It is not a toothbrush, but a product designed to eliminate bad breath in your dog.  And the best part is that it is easy to use, and dogs love it!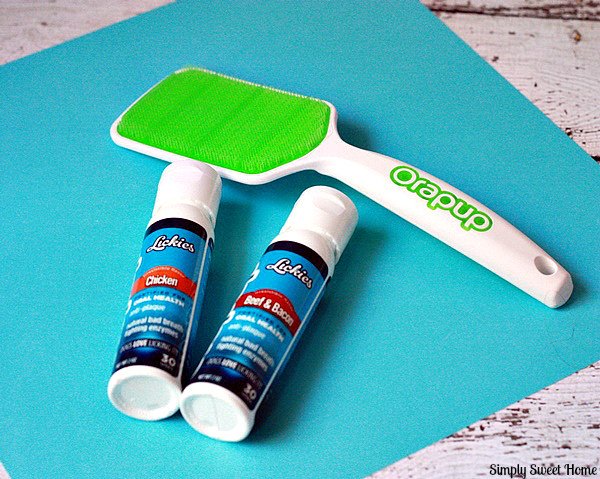 The Orapup Starter Kit includes 1 Orapup brush and 1 (2-oz.) bottle of Beef and Bacon Lickies.
Lickies is a gel that you place on the brush for your dog to lick off.  It is also available in a Chicken flavor.
The brush has tiny bristles that help to brush your dogs bad breath away while they enjoy licking the delicious, Lickies treat;  essentially they lick their own bad breath away.
Shadow was immediately attracted to the scent of the Beef and Bacon Lickies, and although she was a little taken aback by the look of the brush at first, it wasn't long before her curiosity overtook her, and went to town, licking away her bad breath using the Orapup product.
As I said before, Shadow loves, loves, LOVES to give puppy kisses!  And actually, I can barely sit next to my husband without our puppy girl running over to sit in between.  It cracks us up so much, that we've been wanting to make a video of her in action, and this seemed like a great time to do just that.  Here's a little "puppy kiss" video featuring Shadow and Orapup!
An check out Orapup on youtube to see how other dogs reacted to the product!
Coupon Deal!   Shadow would love for your dog to feel free to give puppy kisses too!
The Orapup Starter kit and other products are available on the Orapup website.
Right now through June 15, you can receive 25% off your next order.  Just use coupon code: DOGGONE25.