In the past I have used a bulky vacuum cleaner along with a dust buster, and I've been wanting something to replace both of these.  Regular vacuums can be very heavy and inconvient to lug around; plus it  gets annoying dealing with the cords and having to constantly plug and unplug.  And dust busters aren't exactly fun to deal with either, as you have to bend or kneel down to use them.
But I've just discovered something that makes cleaning your floors a breeze! I'm talking about the Rowenta RH8559U1 Cordless Bagless 18-Volt Stick Vacuum Cleaner
.  I recently got the chance to review this product, and I love it!
The Rowenta Delta Stick Vac is cordless and easy to use.  It is self standing and easily plugs in to any outlet for easy charging. It has a high rechargeable battery capacity and an efficient motor with low energy consumption and a run time of up to 40 minutes charging.
Other delta features include:  an extra large ergonomic handle,  a comfortable loop handle with soft grip, an integrated electro-brush, easy to remove dust container, soft wheels, a 3 position switch, booster button (blue led),  a jack plug and charger indicator.
The delta force cyclonic system accelerates vacuumed air through 3 filtration systems: high speed air flow to create a separation between dust and air, a separator grid for smaller particles of dust and a foam filter to stop even the smallest of particles, and the patented delta suction head has one large central and two small canals to maximize suction around all edges of the head; while specific veins have been centrally designed to allow better removal of dust between hairs of the carpet or rug.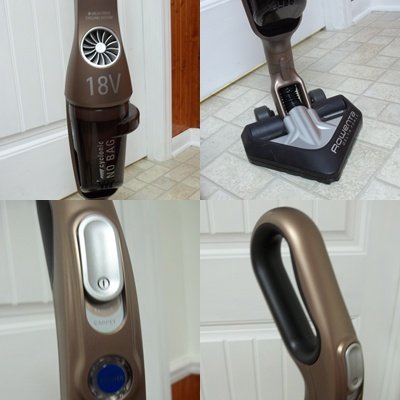 I personally love using this!   I used it on the vinyl in my kitchen as well as the hardwood in my living room and hall wallway, and the carpet in my office.  I was amazed at what a great job it did of picking up everything.  And it was so much easier and faster than sweeping with a broom and following up with a brush and dustpan or dust buster.
The head also makes it very easy to get into corners, and with the great suction it gets around the edges, combined with it's wheels and swivel head, I found it easy to clean along along the walls and the edges of my bookshelves and other furniture in one smooth motion.  This, in itself, is a great thing!
I also love the ease of use.  You simply have to flip the switch to clean different surfaces, and you don't have to push any buttons to get the vacuum to go from standing to the leaning position.
And as I alluded to in my first paragraph, the fact that this vacuum is cordless is such a plus.  I hate dealing with cords.   Usually when I'm vacuuming, my old vacuum comes unplugged at least once, and then I have to look for an open plug-in in each room, and then the cord gets in the way, and it's just a big hassle.  So I am thrilled that I now have the Rowenta!
Buy it! The Rowenta RH8559U1 Cordless Bagless 18-Volt Stick Vacuum Cleaner
 is available online at Amazon.
Disclosure: I received a Rowenta Delta Force vacuum cleanner for review purposes.  I was not otherwise compensated for this review.  The opinions are my own.