This shop has been compensated by Collective Bias, Inc. and its advertiser. All opinions are mine alone. #FootballFanGame #FiredUpFans
Saturdays in the fall is football day at our house.  Each week you'll find us wearing our favorite sports apparel, chowing down on some yummy football food, and of course, watching football and showing our team spirit.  As the season grows near, I'm getting my shopping list ready so I can buy all the food and supplies we'll need for a little homegating.  A few items we could not live without include Dr Pepper®, Kingsford® Original Charcoal, and Hidden Valley® Original Ranch® Dressing!  Today I'm here to show you how we do football, and I've also got a tutorial for DIY Photo Booth that can help make your football party fun and unique!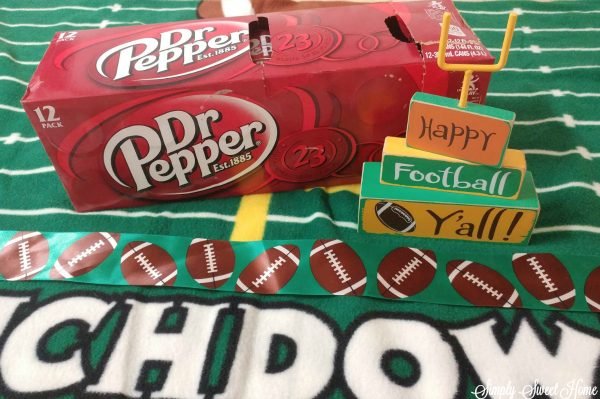 I've always been a huge fan of Dr Pepper and am happy that it is the official drink of college football fans and has been part of college football for over 25 years.
And apart from drinking the Dr Pepper, you can also use it as a marinade for your favorite meat or serve it up in some delicious Dr Pepper Floats.
You can purchase Dr Pepper in the can drink aisle at your local Walmart.  Be on the look out for special college football packaging!
The grill is a staple in our home.  We use it at least once a week, and it's great for making some of our favorite football foods like pulled pork, grilled chicken, hamburgers, and hot wings.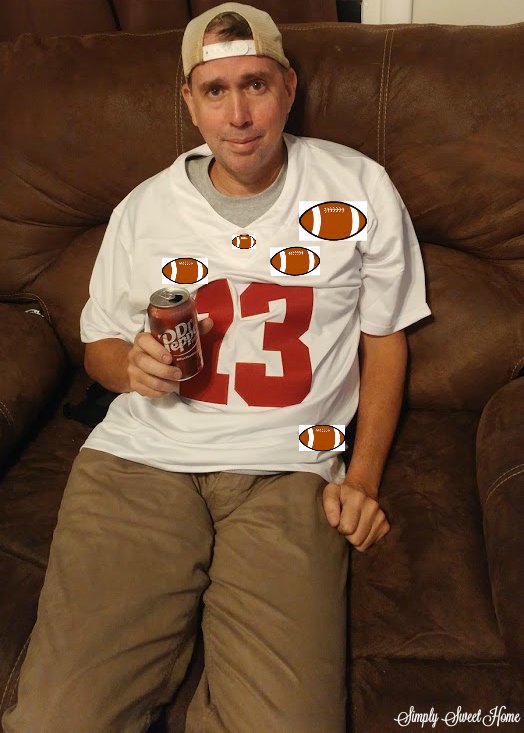 My husband is our resident grill master! I can always count on him to grill up some delicious meats for game day. He loves the Kingsford brand and says it is the only thing he will use on a charcoal grill. The product is made in the USA with 100% natural North American ingredients.
We purchase our Kingsford Original Charcoal at Walmart.  Look for it in the lawn and garden department, along with other Kingsford varieties like Kingsford Charcoal with Applewood as well as varieties with Hickory, Pecan, Cherrywood, and Mesquite. Check your local store to see if grocery pick up is available for your convenience.
Hidden Valley Ranch is the perfect addition to salads, veggies, meats, crackers, and even pizza!
Of course, it's not a party or even a regular day at my house unless I am taking pictures!  I'm the Queen of Picture Taking and I'm always walking around taking pictures of people, animals, or just random every day things!
To make more professional photos of our son, I have a very simple DIY photo booth, and this set up works great at parties for a little decoration and for a spot where your guests can take their own fun photos!  I like to place ours in our kitchen because it has the best natural light.
Supplies / Tools
32 ft of 3/4″ wide PVC pipe
(4) 3/4″ PVC T Pieces (slip on, not threaded)
(2) 3/4″ PVC Elbow Pieces (slip on, not threaded)
PVC Pipe cutters
Additional Supplies:
Clasps / Clips to hang backdrop
Backdrop and photo props – You can purchase cheap or expensive backdrops, but I usually use every day items like blankets, tablecloths, curtains, and shower curtains.
Note: The measurements in this tutorial will give you a backdrop that is 4 foot across.  The small booth set up is 40 inches high, and the large booth is 70 inches high.  If you need for your booth to accommodate taller people, you will obviously need to adjust the lengths you cut on the pipe.
Directions:
Use your PVC Pipe Cutters to cut your pipe into pieces as follows:
6 – 30 inch pieces
2 – 4 ft pieces
2 – 40 inch pieces
To assemble, take 2 of the 30 inch pieces and place them in either side of a T-joint.  Repeat with 2 other 30 inch pieces.  These will be the bottom of the base.  Next take a 40 inch piece and place it in the other side of the T joint.  Repeat with other 40 inch piece.  This gives you the bottom and the lower half of the sides.  Next add another T joint to the top of each 40 inch piece.  Take one of your 4 foot pieces and use it to connect your two sides.  This will give you the small assembly seen above.
If you are just doing a photo booth for small kids, you can hang a backdrop from this and you are ready to go.  (It can also accommodate teens and adults who are seated.)
To complete the large set up, take your other two 30 inch pieces and add them to either side.  Then add an elbow joint to either side.  Next use your other 4 ft piece to connect the two
sides.  This will complete the large assembly.  Now you are ready to hang up a backdrop, get out your props, and have some fun.
With a photo booth like this your friends and family can take professional looking photos in front of a fun scene.  It will help them commemorate the day, and it is a lot of fun for one and all!
Are you ready for football? Get fired up with more football fan ideas. I'd also love to hear your tailgating tips, traditions, and ideas. Please join us in the comments or on social media.