I love clothes, and I am always excited when I'm given the opportunity to write about fashion and showcase things that I like.  One thing that I love to look at is dresses and formal wear.  I came across Dress First a while back when I was "window shopping" online, and I was very impressed by their selections.  They have beautiful wedding dresses and wedding party dresses, as well as gorgeous prom and homecoming dresses.
Since the back to school season is upon us, that also means it will be time to shop for just the right dress for this fall's homecoming dance.  Dress First has a great variety including strapless dress, one shoulder, and halter. And they have a variety of hemlines, materials, and other style preferences available.  I picked out several of my favorites to share with you today. Hope you enjoy!

Blue is definitely a go-to color for me because of my blue eyes and my lighter skin tones.  And I really love the stylings of all three of these.  They all have beautiful skirts and waistlines.  And they are just beautiful!
I also love red and purple for dress colors.  Red of very bold, while purple is a little more subtle, yet very regal.  I really love the purple on the left  because I think it has a very simple elegance to it and would be great for a variety of occasions, formal or informal.  And then there's just something about the red dress with the black flower embellishments that speaks to me. It's very feminine, yet it's a stand out and very bold.
I also love the color pink.  I've never really worn a lot of pink dresses, but I just think it's such a beautiful color for formal wear.  The one on the far left is so sweet and elegant.  I'm in love with all the lace up top and the empire waist.  And then my other favorite among these is the third one from the left. Again,  I love the empire waist, and I really love the v-neck and the embellishments around the waist and neckline.  It really adds to this dress, making it very elegant.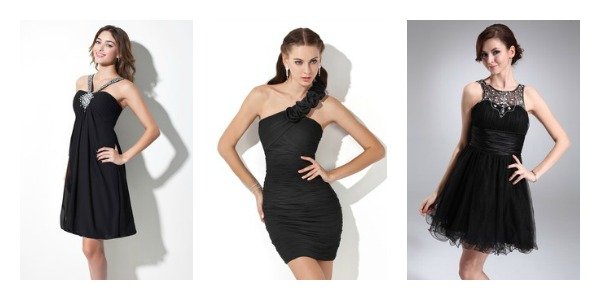 And of course we have to talk little black dresses!  I'd personally wear any of these now.  The one on the left has beading design at the top, as well as the beading on the v-neck straps that look just beautiful, and make this otherwise simple black dress a very elegant piece.  And I think you could easily wear it to a homecoming, dinner party, or anywhere else.
The second black dress here with one shoulder is definitely a show stopper and very stunning.  And finally the third one here is a  little conservative in terms of straps and the overall style, but I really liked the embellishments up to as well as the sweet skirt.
What do you look for in an elegant dress? Please stop by DressFirst and tell us what you like over there.