This is a sponsored post written by me on behalf of Holmes Products. All opinions are 100% mine.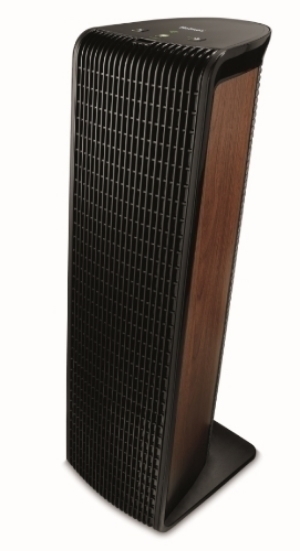 Aside from the usual holiday posts, this fall I've been sharing some tips for health and wellness, including some tips to improve your home environment for health purposes.
Last month I gave some tips for cleaning and sanitizing various areas and items of your home in order to kill germs and eliminate dust and allergens.
I take a particular interest in the air quality of home for a number of reasons.  I personally have the minor, occasionally allergy troubles, but my husband suffers from allergies almost daily.
 I also think a lot about air quality, because we live in kind of an older house.  Occasionally we might notice sort of a stale smell in the house, so because of this, so I find myself cleaning a lot, and I worry about it.
And then I'm also a pet owner (1 dog, 2 cats), which means that we have both pet fur, litter dust, and he potential for odors.
If you're like me and have any of these situations in your home, you should consider getting an air purifier to help with your air quality.
The Holmes® Smart Air Purifier makes monitoring your air quality very easy. It features WeMo technology which allows you to change the settings from anywhere, using your smart phone app.
With the app, you can check your air quality, turn on your purifiers, change the settings, including the timer, fan speeds, and ionizer, from anywhere.  Check it out:
Given the circumstances I described above, I've had a couple of air purifiers, but I'd gladly trade those in for one of these.  The WeMo technology is such a great innovation.  I also love the ionizer feature; it uses negative ions, which bind with airborne smoke, dust & pollen to form larger particles that are easily captured.  And I love that the air purifier actually lets you know the air quality of the room, so you will know when you should run the purifier and what to set it on.
And last but not least, I love that you can use your app to find out if your air purifier needs mainenance or a new filter.  With our business schedule and everything we have going on, this features comes in great handy!
Go check out Holmes® Smart Air Purifiers for yourself and see if they are a good fit for your household.