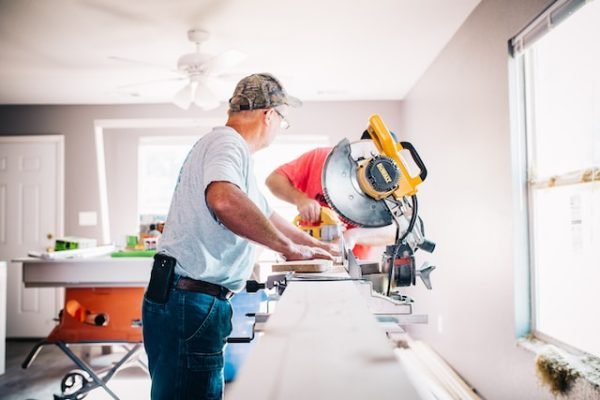 Taking on a remodeling project can be an exciting yet daunting endeavor. The prospect of transforming your home into a space that better suits your lifestyle is thrilling. However, remodeling also requires significant time, effort, and expertise to execute properly, especially under budget.
A 2019 Houzz & Home study shows that 31 percent of homeowners who remodeled exceeded their budget, and 36 percent of remodeling projects were completed on budget. Only 3 percent came in under budget, while 29 percent had no budget at all for their projects.
Hiring a professional remodeling contractor is the best way to ensure your next remodeling project remains under budget. Remodeling contractors have the skills, experience, and resources to seamlessly guide you through the process.
Working with a pro remodeler reduces stress, saves time and money, can help you save money for your new house and leads to better results. Below are eight compelling reasons to hire a contractor for your upcoming remodeling project.
1. Peace of Mind
Hiring a professional, experienced remodeler means you can simply relax knowing your project is in capable hands from start to finish. You won't have to stress over learning new skills from YouTube videos, making complex design decisions outside your expertise, or solving the inevitable problems that arise.
The contractor will proactively communicate with you at every stage while competently handling all aspects of the remodel themselves. You'll have full confidence that the finished product will meet your expectations, timeline, and budget without you having to lose sleep.
2. Expertise and Experience
Remodeling projects require an immense breadth and depth of expertise that most homeowners simply do not possess. Seasoned remodelers have spent years, even decades, meticulously honing their skills across various facets of home remodeling. Specifically, when it comes to complex projects like kitchen and bathroom transformations, having an expert hand is crucial. Companies such as CMK Construction, which specialize in kitchen and bathroom remodeling, bring a wealth of tailored experience to the table. Their track record showcases numerous transformations of these essential home spaces, adapting them to modern aesthetics and functionalities. This level of specialization means they're well-versed in the unique challenges these rooms present, from plumbing intricacies to cabinetry design.
Beyond these specific areas, seasoned contractors have also worked on broader residential and commercial spaces of all sizes and types. They understand the intricacies of how all the moving parts fit together. These veterans have established trusted relationships with skilled subcontractors in every trade, as well as suppliers who provide quality materials and fixtures.
Their robust networks get you the best workmanship and products at fair prices. The remodeler's wealth of expertise serves as an invaluable asset for transforming your vision into reality in the most efficient, cost-effective manner possible.
3. Objective Guidance
A professional remodeling contractor provides an objective, impartial perspective on your project that you simply cannot get on your own. They can take a big-picture view and advise you honestly on the feasibility of your plans, budget, and timeline.
An experienced contractor can identify potential issues and shortcomings in your design that you are too close to see. They can steer you away from trends or materials that may not stand the test of time. The contractor has the knowledge to ensure you get the absolute most value and return on investment from your remodeling budget.
With no personal attachments involved, the contractor has your best interests in mind. Their objective guidance can save you from making very costly mistakes that result from the emotional or subjective viewpoint of a homeowner.
4. Project Management
For the typical homeowner, juggling the countless moving parts and details involved in a remodeling project is enormously difficult and frustrating. Construction timelines, permitting, hiring subcontractors, ordering materials, scheduling inspections – it's a project management nightmare.
In contrast, contractors are absolute masters at the process of project management. They develop comprehensive schedules laying out the timeline for your project in granular detail. The contractor then oversees and coordinates every single step, from start to finish. This includes securing permits, ordering all necessary materials and fixtures, vetting and scheduling qualified subcontractors for each phase, supervising day-to-day work on-site, and managing all required inspections. This lifts the massive burden of project management off the homeowner's shoulders so you can relax knowing your project is running smoothly.
5. Access to Resources
Professional remodelers can access invaluable resources, connections, and buying power that individual homeowners typically can't leverage. They have spent years establishing trusted networks of skilled subcontractors in every trade – electricians, plumbers, framers, drywallers – who they know will provide quality workmanship.
Contractors have account relationships with suppliers and distributors of all types of materials and fixtures, allowing them to take advantage of contractor discounts and pricing homeowners can't obtain.
Many established contractors have lending relationships that allow them to facilitate financing for their clients to fund larger projects. Their connections across all facets of the industry enable them to complete remodeling projects with greater efficiency and cost-effectiveness.
6. Warranties and Protection
Reputable, professional remodeling contractors stand behind their work by providing warranties and guarantees. This gives you peace of mind and recourse should any defects arise in materials or workmanship.
Established remodelers carry robust general liability insurance policies to cover any property damage or injuries that occur on the job. They also carry workers' compensation insurance to cover any injuries sustained by their employees. This protects homeowners from the huge liability risks of having uninsured laborers on their property.
Many homeowners insurance policies explicitly exclude remodeling work done by the homeowners themselves. However, hiring a licensed pro means you get essential financial protection if the unexpected happens.
Conclusion
Remodeling your home is an exciting opportunity to improve your living space and potentially increase the value of your real estate asset. However, the process comes with many pitfalls for the inexperienced homeowner. Hiring a professional, reputable contractor is the best way to turn your vision into reality while avoiding the stress, delays, and mistakes of DIY projects. Their expertise guides you to the best solutions; their connections provide access to resources you lack on your own; their project management lifts the burden from you; and their experience results in a higher quality, higher value
finished product. For your next remodeling project, do yourself a favor by hiring a qualified local contractor.