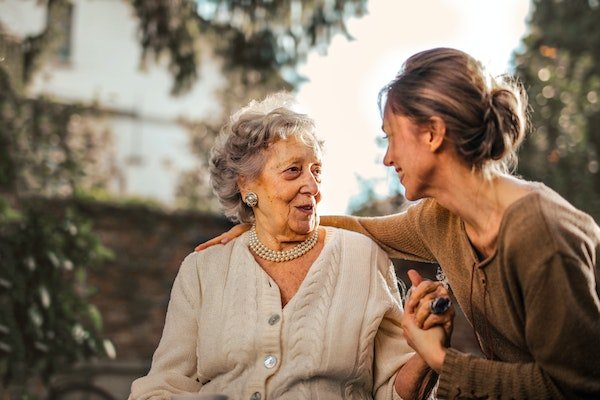 Senior citizens are an important part of society, and caring for them is a rewarding experience. According to the NIH report, about 39.5 million people in the US are over 65, whereas 5.6 million adults are over 85.
Many adults find comfort in aging gracefully in a familiar place. However, as they grow older, they may face health challenges. According to National Health and Nutritional Examination Survey, about 52% of men and 54% of women above 65 suffer from hypertension.
On the other hand, 54% of women and 43% of men complained about arthritis, making it harder to care for themselves or live independently.
When aging parents can no longer care for themselves, having elderly loved ones live with their adult children is a practical solution. In fact, NIH reports that only 4.5% of adults live in nursing homes, while 93.5% live within the community.
Having senior loved ones live with their family allows them to provide the necessary care while keeping them socially connected.
Here are some tips to keep your senior loved ones healthy.
1. Seek Compensation for Harmful Exposure
As our senior loved ones age, they become more vulnerable to the harmful effects of various substances and conditions. The exposure makes them more susceptible to health issues by affecting the immune system, reducing organ functions, and affecting their metabolism.
Therefore, it's essential to stay vigilant about the potential dangers and take precautions to protect their well-being.
If your senior loved one worked in the construction industry or served in the military, at some point, they were exposed to harmful toxins without knowing.
In such situations, it's preferable to get in touch with an expert from Lawfirm.com to seek compensation for the damages incurred. They build a strong case on your behalf, investigate it, gather evidence, and negotiate with insurance companies, ensuring you receive the compensation you deserve.
2. Ensure a Safe Living Space
Once you decide to take care of your senior loved one at home, creating a safe environment should be your top priority. One of the common causes of injuries among older people is falling, resulting in broken bones and injuries.
Therefore, ensuring a safe and secure living space is essential to reduce the risk of injuries and accidents so they can live comfortably in their home.
You can make simple modifications in your home to ensure a safe living space for your senior loved ones. For example, you can install grab bars in the bathroom to help prevent falls. Likewise, we suggest you remove tripping hazards, including loose rugs and clutter, to reduce the risk of accidents.
Many senior adults have weak eyesight, making it difficult to see things from afar. Therefore, having adequate lighting is important so they can move easily.
You can install bright, energy-efficient light fixtures in hallways, staircases, and commonly used areas to brighten up dark spots and make it convenient for them to see potential hazards.
Also, ensure that all everyday necessities—such as food, medications, and telephone—are within reach so they don't overextend themselves to reach the basic items.
3. Help them with Medication.
As your loved ones age, they may develop certain health conditions requiring them to take multiple medications. However, given their age, managing medications can be confusing and overwhelming, especially for those having difficulty remembering the dosage. Therefore, assisting them with managing medication is an important part of caring for them.
You can help them by keeping track of their medications. For example, you can create a medication schedule or use a pill organizer. Make sure you set reminders so they take medications on time. Set an alarm clock or phone reminders to prompt them to take their medications promptly.
Moreover, we suggest you stay vigilant about prescription refills to prevent lapses in medication supply. It would be more convenient to use automatic prescription refill services offered by pharmacies to ensure your senior loved ones never skip their medications.
This way, by assisting them with medication management, you can halt medication errors and improve your loved one's health outcomes. Knowing that their medications are taken on time and as prescribed will also give you a sense of satisfaction.
4. Keep them Active
People in old age face declining physical abilities and overall health and tend to become inactive. The inactivity makes them vulnerable to several health conditions. Staying active can reduce the risk of heart disease and stroke in senior adults. It can also help reduce the risk of diabetes and osteoporosis.
Keep them active by finding activities depending on their mobility and interests. You can take them for a gentle walk to observe nature and find a sense of calm. Likewise, helping them practice yoga or
participate in water aerobics classes is also an effective way to increase their mobility. Gardening is also an entertaining activity to improve their mood.
Social activities can significantly improve their mental health and mitigate signs of depression. Besides, it helps improve cognitive functions in senior adults and reduces the risk of mental illnesses.
5. Help them Stay Connected.
When people grow older, they witness a notable change in their social relations, contributing to sensations of seclusion and solitude. Thus, assisting them in keeping a social network is essential for their well-being.
In fact, developing social connections can improve their overall health by decreasing the chance of hypertension and cardiovascular disease.
You can encourage them to participate in public functions by joining activities. Moreover, motivate them to become part of an elderly club. It can help them stay busy and socially involved. Moreover, allowing them to remain connected amongst pals via phone and video conversations is also an excellent suggestion to keep them occupied.
Final Thoughts
Caring for your aging parents or senior loved ones is a rewarding experience that improves their health and overall well-being.
You can ensure their well-being and longevity by taking care of their medication, helping them stay connected to their friends, and engaging them in activities.