We all know that eating healthier is good for us. But home cooking doesn't come easy for everyone. For a lot of people, cooking food at home means making a lot of mess, and not necessarily creating a great dish at the end of all that hard work.
But cooking doesn't have to be time-consuming, or difficult. With the help of some simple tips, you can learn how to spend less time in the kitchen but still enjoy tasty home-cooked food.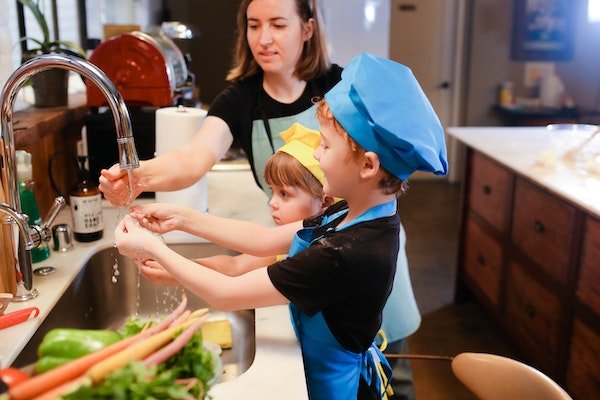 Plan in advance to stop the guesswork
Spending time thinking about what to cook and what to eat can take as much time as cooking itself. When you're unsure of what to cook, you can end up making poor nutritional decisions for the sake of time and convenience. 
Planning your food in advance can have a lot of benefits. It takes the time out of debating what to cook, helps you buy everything you need, and stops you from wasting food. It can also help you eat healthier, by giving you time to think about what to eat for breakfast, lunch and dinner.
Use appliances that are designed to save you time in the kitchen
Cooking doesn't have to be hard these days. There are all kinds of gadgets out there to help you save time, and mess, in the kitchen. From choppers to air fryers, they can all help you save some time, while still ending up with great results.
One gadget that can save you a lot of time and effort in the kitchen is a slow cooker. Most slow cooker recipes require little effort, allowing you to prepare something like a slow cooker Zuppa Toscana soup while you get on with other things. Experiment with different recipes to help you find some favorites you can prepare easily. 
Learn to cook tasty meals that require minimal time in the kitchen
The best meals don't always have to take hours in the kitchen, and they can be healthy too. Omelettes are a great example of a low-effort meal that can be extremely tasty while being nutritious. If you can master cooking a stir-fry, you can learn how to make a delicious staple that you can enjoy in a hurry -packed with flavor and nutrition.
Batch-cook to save time another day
Another way you can save time in the kitchen is through batch cooking. With the help of some great batch-cook recipes, you can spend time in the kitchen (when you have it) to prep meals in advance that you can save or freeze for another day. One burst of effort can save you time in the future, so it's worth filling your freezer now and then with some of your favorite meals. 
While cooking can feel like an effort, it's worth it to enjoy a healthy bit of home cooking. With the right tools and recipes, you can spend less time in the kitchen and more time at the table eating the delicious meals you've made.