The holidays are a time for family, friends, and fun. But there can also be a time when your home starts to feel a little bit cluttered. From piles of presents to stacks of holiday cards, it can be tough to keep your living space feeling festive and inviting.
If you're looking for some creative ways to spruce up your home this holiday season, we've got you covered. From customized Christmas ornaments to holiday-themed centerpieces, there's a lot you can do. Let's take a look at some of the best ideas to make your home bright this holiday season.
Get a Festive Doormat
A doormat is one of the first things guests will see when they come to your home, so make sure it's festive. You can find doormats with holiday-themed designs or simply opt for a mat in a festive color, like red or green.
Hang Wreaths on Your Doors and Windows
Wreaths are a classic holiday decoration, and for a good reason. They're easy to hang and can instantly make any space feel more festive.
Put Up String Lights
String lights are another easy way to add some holiday cheer to your home. You can wrap them around door frames and mirrors or even drape them across the ceiling. Get the best LED light strips and start decorating. 
Deck Out Your Fireplace
If you have a fireplace, make it the focal point of your holiday decorating. Hang stockings from the mantel, surround it with candles or greenery, or simply drape it with a festive garland.
Get a Holiday-themed Tablecloth
A festive tablecloth is a great way to dress up your dining room table for the holidays. You can find tablecloths with holiday designs or opt for a solid color in a seasonal hue, like red or green.
Arrange Holiday-themed Centerpieces

Centerpieces are a must for any holiday dinner party. Get creative with your centerpieces by using holiday-themed items, like miniature Christmas trees, candles, or even bowls of fruit.
Add Holiday-themed Throw Pillows
Throw pillows are a quick and easy way to add a touch of holiday cheer to any room. You can find pillows with holiday designs or simply opt for pillows in festive colors, like red or green.
Incorporate Your Artwork
Get creative with your holiday decorating by incorporating your own artwork into the mix. You can frame holiday-themed paintings or drawings or even create your own holiday-themed collage. 
Swap Planters
Spruce up your home's exterior by swapping out your regular planters for festive holiday-themed ones. You can find planters in a variety of holiday-themed designs or simply opt for planters in festive colors, like red or green.
 10. Mix and Match Gift Wrap
Get creative with your gift wrapping this holiday season by mixing and matching different colors and patterns of gift wrap. You can create your own unique designs or simply opt for a more traditional holiday-themed gift wrap.
Make a Creative Advent Calendar
Advent calendars are a great way to countdown the days until Christmas. Get creative with your advent calendar by filling it with holiday-themed items, like candles or even bowls of fruit.
Add a Surprising Color
Add a touch of holiday cheer to any room by incorporating a surprising pop of color. You can paint an accent wall in a festive hue, like red or green, or even add a brightly-colored piece of furniture.
Decorate with Sweets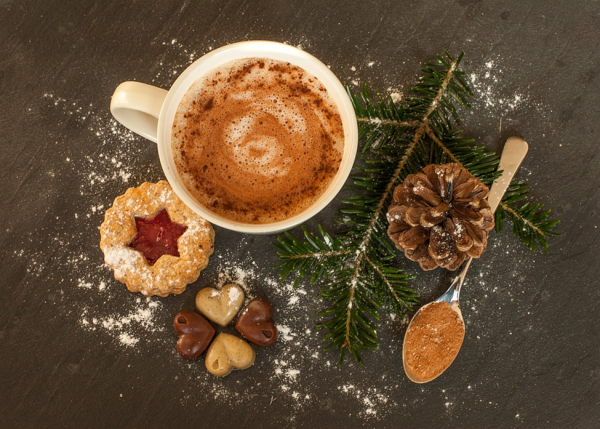 What's a holiday without some sweets? Get into the holiday spirit by decorating your home with holiday-themed desserts, like gingerbread houses or candy canes.
Use Gold Leaf Candle Holder
Gold leaf is a great way to add a touch of luxury to your holiday decor. You can find gold leaf candle holders or even vases and other home decor items.
Put Cards on Display
Show off your holiday greetings by putting them on display. You can hang them on a string or even frame them and use them as part of your holiday decor.
Make Use of Vintage Bulbs
Incorporate some vintage flair into your holiday decor by using vintage light bulbs. You can find them at most hardware stores or even online.
Arrange Presents on the Mantel
If you're expecting holiday guests, make sure to arrange your presents on the mantel. This will not only add to the festive atmosphere but also make it easy for you to grab a gift when someone arrives.
Combine Greens and Glitter
Get into the holiday spirit by combining greens and glitter. You can use green garland or even greenery from your own yard. Then, add some sparkle with glitter ornaments or even a strand of lights.
Final Thoughts
There are endless possibilities when it comes to decorating your home for the holidays. Get creative and have fun with it. 
Make sure to incorporate some of your own personal styles into your holiday decorating to make it truly unique. And don't forget the most important part – to enjoy the holiday season with your loved ones.