Interior designers are finding new and creative ways to mix colors, textures, and materials to create a new interior style trend. We've seen some interesting combinations and compositions that catch the attention of many homeowners and interior design enthusiasts. One of them is small kitchen ideas with black appliances.
The black color adds luxury to a kitchen – which perhaps is the reason why homeowners so much admire kitchen ideas with black appliances. There is a variety of kitchen remodel ideas with black appliances that you can find on the internet. But, there's no one size fits all kitchen design that will work for any kitchen. People often ask what color cabinets go with black appliances when planning to change the color scheme of their kitchens. 
Black is considered versatile and flexible. However, when choosing the best cabinet color for black appliances, you should keep in mind the basics of color theory in design. Cabinet color with black appliances should either complement or create a contrast. This will make your kitchen's color scheme look visually coherent and pleasing to the eye. Continue reading to know more about black kitchen appliances ideas.
Most popular black appliances kitchen designs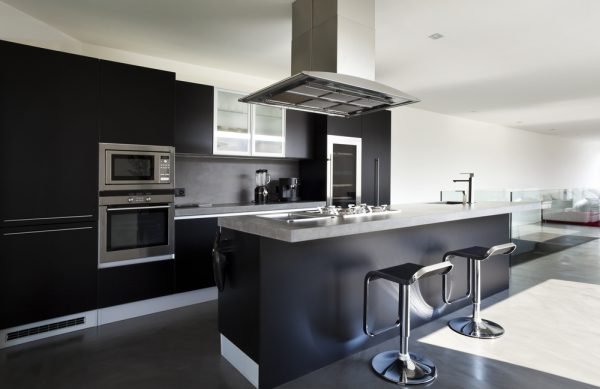 In this section, we'll talk about the most popular black appliances in the kitchen. You have the option to use these black appliances in kitchen design ideas for your own kitchen remodel or perhaps try a new and creative way to mix or pair your black appliances with other colors. Are black appliances versatile? Yes! They definitely are. They're easy to work with other colors as long as you know the basics of color theory and visual balance.
Modern Kitchen With Black Appliances
We know that black is a favored color in modern and contemporary spaces. Aside from adding a touch of luxury and sophistication to a modern space, black is also neat and voguish. People who want to steer away from an all-white kitchen that looks too sterile, opt for black for a more fashionable look. Black appliances make a kitchen look lavish and expensive. They are indeed a great option if you're remodeling contemporary spaces like those in condo units, penthouses, and high-rise apartments. 
White Kitchen Cabinets With Black Appliances
We mentioned previously that when selecting a color to pair with your black appliances, you should either complement or create a stark contrast. White is a good choice if you are trying to create a contrast. This will make your black kitchen appliances truly stand out. An all-white kitchen is a very common design. One of the techniques that designers do to make an all-white kitchen appear less dull and boring is by pairing it with darker colors such as dark appliances like ovens, microwaves, range hoods, and others.
Grey Kitchen Cabinets With Black Appliances
Gray is a common color option for rooms since it is adaptable in terms of aesthetics. Gray cabinets may aid in opening up your area by giving it a bigger, airier sense. This is due to the fact that gray is a light hue that may reflect light and provide the impression of a brighter kitchen. Gray cabinets paired with black appliances may also add a contemporary and fresh appearance to your kitchen. 
Kitchen With Black Appliances And Dark Cabinets
You can also paint kitchen cabinets black for an all-black kitchen appearance. Dark polishes and finishes create visual depth. If you want to create a kitchen with a sophisticated look, black kitchen cabinets and black appliances are a good idea. 
Wood Kitchen Cabinets With Black Appliances
Wood also gives off a cozy feeling since it has a warmth that modern synthetic kitchens frequently lack. For a family-oriented space, wooden kitchens are preferable since they tend to seem more friendly. Black appliances can be paired with wooden elements in the kitchen as well. Wood cabinetry with dark appliances is a good way to make a modern kitchen feel more homely without it appearing dry or uninteresting to look at.
Two Tone Kitchen Cabinets With Black Appliances
The simplest kitchen may feel magnificent with two-tone cabinetry. It improves visual interest and they also give off a sophisticated yet laid-back vibe. Your kitchen will be greatly improved if you choose two-tone color kitchen cabinets with black appliances.
Glossy Kitchen Cabinets With Black Appliances
A gloss kitchen with black appliances can be ideal if you want to make the most of your available space. The gloss finish's reflective and bouncing bright creates an illusion of more space. This is especially helpful if you want your kitchen to feel bigger.
How to decorate a kitchen with black appliances?
 More and more homeowners are coming to the conclusion that black kitchen ideas may look beautiful, even in tiny spaces. Additionally, if you know how to decorate and style black kitchens properly, you'll create a timeless kitchen design that will stay on top of the trend for years to come.
How to decorate the black kitchen counter?
There are many ways to decorate a kitchen counter. If you don't have much budget, you can buy some pretty canisters and pots and planters to put on the counter. A candle will add to the ambience. The only thing you have to keep in mind is to choose an item that goes well with the rest of your kitchen.
To keep your kitchen countertop beautiful follow the basic rules:
Keep it clutter-free.

Use decorative trays to organize items.

Accessorize with flowers in vases.
Creative ways to decorate the top of kitchen cabinets
If there is extra space on top of your kitchen cabinets, you can decorate it with baskets, florals, and decorative trays for a finished look. The top of the kitchen cabinets doesn't have to be empty. You have the freedom to style it depending on the season. Decorate it for Spring, Christmas, or Halloween season to transform your kitchen and make it fun and interesting any time of the year.
Regardless of the style, you want to achieve in your kitchen, you can never go wrong with black appliances as it is versatile and easy to work around with different color schemes and decorations. Refer to this blog for your next kitchen remodel activity and feel free to follow the tips we have about black appliances.