We all love a good party. But as you probably already know, some are better than others. It's not just about group dynamics, either (though that helps). A lot of work goes into throwing a great party. It takes effort and skill. 
In this post, we take a look at how to throw a party they'll never forget. Whether you're looking to do something for a holiday, birthday, wedding, or special occasion, this post is for you. We show you how to make the event memorable so that guests consider it to be the best party they ever went to. 
Start Your Planning Now
Even if your party is a few weeks away, it pays to start your planning now. The more you can hone the experience, the better it will be. 
Here are some of the things that you'll want to think about:
The number of people you'll invite. Larger parties generally require more organization than smaller ones. 

The

type of party you want to host

. For instance, you might choose an informal get-together with a group of close friends, or something much more formal with a black tie dress code. 

Where will you host it? For instance, at your home or at a third-party venue.

What type of food and drink you'll serve if any? 

The types of entertainment or games that will be on offer
Planning gives you space to think about the character of the event. The more time you dedicate to this part of the process, the more ideas you'll have, and the more your guests will appreciate the final result. 
Brainstorm Food And Drink Ideas
For some people, successful parties are all about the music or the people they meet. However, for others, it's food and drink. Having lots of great food to hand makes a tremendous difference in how people feel. If you can serve a spectacular dish (or several), people will remember your party for years to come. 
To make sure that you have the best possible food, you might want to hire a professional gastro chef. They can prepare dishes fresh, on-site, which is a great option for anyone who isn't a whizz in the kitchen.
If you decide to cook yourself, make sure that you practice and perfect recipes in advance. Start cooking meals for the party several weeks out. 
Don't attempt difficult cooking projects, such as hog roasts, yourself unless you have explicit experience. These are extremely difficult to get right without the correct approach.
When preparing food, try to make it slot into your theme. The food shouldn't conflict with the atmosphere you're trying to create. 
Also, offer innovative dishes alongside classic food options. This way, you can cater to both foodies and fussy eaters. Think French fries alongside foie gras. 
Beyond that, look for ways to maintain the party element or spirit. Finger food is always a great option and often encourages guests to eat more than they normally would. 
Make Sure That People Wear Costumes
Many people will try to get away with showing up to parties without really embracing the spirit. What these people are actually doing is unconsciously resisting the urge to have fun. Therefore, you should insist on costumes. Don't make it optional. 
Costume parties should vary throughout the year. Halloween is among the most popular, but there are others. Summer parties could have a surfer or Midsummer Night's Dream theme, while winter parties are all about Frozen, snow men, and festive attires. 
To ensure that people put effort into their costumes, offer rewards for the most creative and spectacular. Get people to compete with each other to come up with something more outlandish and audacious. This way, you can spur their creativity and ensure that everyone contributes to the party effort. 
Put A Spin On Old Favorites
Over the decades, people have collectively arrived at the anatomy of a good party. They know how to make it fun. However, it's a balancing act. You want to combine classic hits with new innovations to come up with something completely different. 
For instance, let's say that you and your guests love to play pinata. You could modify it slightly so that the contents contain something unusual, not sweets. Or you could play a game of giant Jenga and turn it into a drinking game. 
You could also take a new approach to party games and reward people for their worst performance, handing out prizes for trying. When it comes to your party, it's entirely up to you. 
Add Plenty Of Entertainment Options
As Abbey Road Entertainment, a party entertainment supplier makes clear, there are plenty of ways to entertain guests at your party and make the experience better. 
Options include: 
Arcade game rentals that let punters blast classic foes using joysticks and button controls

Sports games arcades where people can practice their golf swing

Giant games, such as over-sized Lego or Jenga

Outdoor inflatables, such as slides and bouncy castles

Photo booth rentals 

Game show entertainers

Cart rentals

Casino tables
The entertainment that you include in your party is up to you. Again, you'll want to choose something that fits in with your theme. The more personalized you can make it, the better. 
Make Party Favors Something To Remember
No matter what type of event you're planning, party favors are essential. These days, people have come to expect them. 
When giving out party favors, you'll want to take several factors into consideration. First, think about the type of guests who will be showing up to your event. What type of items would they like? Second, consider your budget. You might want to hand out rare Fabergé eggs to everyone who walks through the door, but that might not be realistic. 
Third, think about what would complement your event. For instance, if you're hosting a night-time party, then guests might benefit from torches and glow sticks. Likewise, if you're running an event during the day, they might prefer some form of shade or sunglasses. 
Make sure that guests can take some party favors home with them and use them again. This way, they'll get more value out of your party and have something that reminds them of all the fun they had in the future. 
Hire A Band
Average parties hire a DJ, but those that excel hire a full band instead. And when it comes to bands, the sky's the limit. You can spend anything from a few bucks to a million dollars getting the performers you want.
What you want are bands that understand how to get people moving and dancing. You can hire expensive recording artists, but they're unlikely to produce the kind of atmosphere that you want. What you want is a band that draws in the crowd, provides entertainment and gets people excited, just for being there.
Many party organizers try to hire the most outrageous band available in their local area. In many cases, guests prefer this to someone famous because of the fun factor. They would rather dance the night away instead of sitting idly in front of a famous performer.
Do Something New
While most parties follow a standard format, try to do something new that guests haven't experienced before. Novelty is one of the primary drivers of human excitement. When something is new, people have tremendous fun. 
For instance, why not treat guests to an exotic menu? Or perhaps you could make things interesting by hiring a stand-up comedy act. What you come up with is entirely down to your imagination. Your own creativity is the limit.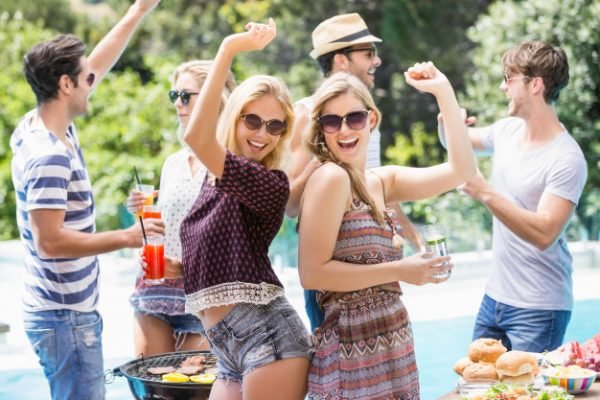 Break The Ice Immediately
Starting a party strong helps things to get going and develop faster. Therefore, you'll want to do something to loosen your guests as soon as they arrive. Make sure that they have plenty to drink from the outset and then host a group activity that brings everyone together and makes them laugh. Don't let people stand in isolated groups with their drinks. Ensure that everyone talks to everyone else, even if you are in a crowded, unpleasant environment. 
Make Your Playlist More Fun
Many party organizers can be a little fussy over their playlists, insisting on only the most innovative and modern music. But the truth is that most partygoers aren't looking for this. They want to listen to old classics that remind them of the fun they had in the past. 
Therefore, don't be afraid to pack your playlist with a bit of cheese. Get your guests in the mood for dancing and fun from the outset, before, perhaps, introducing them to some new music later on. 
Get Your Guests Doing Something Interactive
Standing around talking is okay, but many guests would prefer to do something active when they're at your party. Therefore, you'll want to set up a games corner or something physical, like an adventure course, for them to get stuck into. The more competitive you can make it, the more successful it will be and the more fun people will have. Don't forget to hand out prizes to the winners at the end.