Springtime activities always carry a sense of renewal. The return to warmer weather often creates a sudden urge to purge old belongings, deep clean your home (how did the rafters get so dusty?), map out your summer vacation plans, and work in your garden.
The spring season is also a perfect time to redecorate, updating your home's style to reflect this year's version of you.
When it comes to updating a space, it's best to pick one item to style the room around. And what better way to honor the season of growth than finding the perfect Floral curtains that match your style!
Browse the style vibes below to find the Floral curtain that speaks to your spring and summertime soul!
Beachy Vibes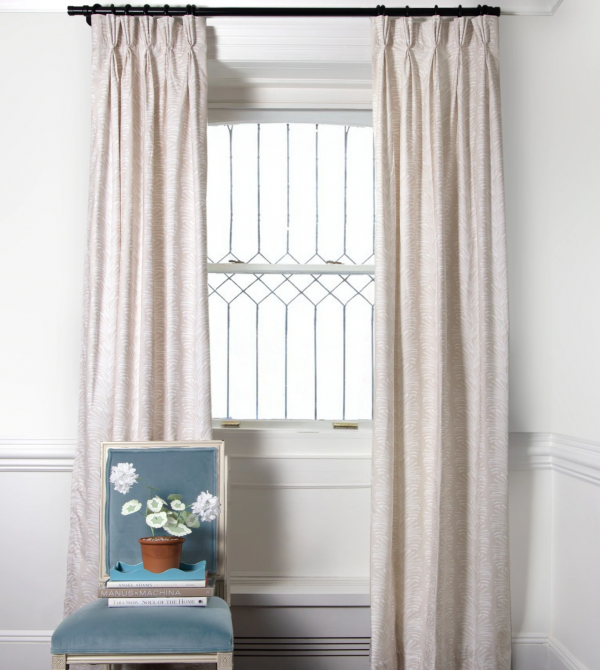 If you long to spend your days basking in the sun, with a beach chair planted firmly where the sand meets the shore, feeling the ocean kiss your feet as the waves crash softly over your toes, then beachy Floral curtains are for you.
Search for patterns consisting of Palm Trees, Birds of Paradise, and Lemon Trees. Or, find curtains with your favorite flowers but in beach tones; light browns, blues, or whites.
That 70s Retro Curtain Show
Have your guests asking, "Did we time travel?" when they see your living room's new centerpiece.
Interior design in the 1970s was very vibrant. Google "1970s decor," and you'll find bright pastels, muted warm tones, polka dots, stripes, large Floral prints, velour, corduroy, and taffeta—all in the same room.
Modern home decor has toned down a bit since then, but it's making a comeback. And honestly? We're kind of obsessed.
Bright yellows, pink, and green Florals elicit a nostalgic feel when woven together to dress up windows. If you're born before 1999, you probably had a relative or two with curtains held over from that legendary era of style.
You CAN sit with us – Girly Style!
Pinks and whites. Is there anything more quintessentially girly? Of course, boys can (and should!) love this color combo too, but it's been the color palette of "girly-girls" for decades.
Roses, Peonies, Cherry Blossoms, Lilies, and the like make for the perfect accent to your feminine-inspired room. Delicate designs and airy yet durable fabrics will brighten up any room and have you living out your rom-com dreams, channeling Mean Girls, Clueless, 10 Things I Hate About You, and of course, Pretty in Pink.
Mystical Magic
Light some incense, grab your yoga mat and crystals, and peer out your window draped with sage.
Well, maybe not liter
Light some incense, grab your yoga mat and crystals, and peer out your window draped with sage.
Well, maybe not literally (although actual sage is never a bad idea), but find curtains with the cleansing herb to bring a touch of magic to your home.
Sage has been used for centuries as a way to cleanse the home as well as being utilized in health and wellness products. Adorning your windows with its beautiful design will add a touch of zen to your space. Whether you want to hang them in your kitchen, living room, dining room, bedroom, or even a meditation space, Sage Floral curtains will undoubtedly bring good vibes to your home.
Whimsical Decor
Life is too short to be serious. It's fun to have fun! As adults, we sometimes forget that. If you're looking to tap back into your inner child, try mixing your adult life up and get some fun curtains! Bold Floral patterns, blues, yellows, greens, pinks, and anything vibrant will add some much-needed whimsy to your structured life.
And if you're already fully embracing the lighter side of life, your home should reflect that! So dress up your windows with the carefree and fun side of yourself.
Hippie Chic
All Floral curtains could be branded as "Hippie Chic," but some are just more tree-hugging and Earthy than others. Specifically ones that primarily feature greenery. If you long to live in the woods, running free amongst the wild ferns and oak trees, then find Floral curtains fit for an off-grid cabin.
If finding drapes that make you feel like one with nature resonates with you, look for patterns of plants, trees, and flowers that speak to your soul. Have you always felt drawn to a specific flower? Does a certain plant always make you happy when you look at it? If your style is "Hippie Chic," we suggest finding patterns that make you feel abundant!
Sophisticated
Style, class, simplicity, elegance—if these words match your style, then you'll want to find a sophisticated set of curtains. Ones fit for The White House, Buckingham Palace, or your elegant home!
Floral curtains and sophistication go hand-in-hand. There is a reason variations of this classic design transcend time and can be found in estates worldwide. Flowers symbolize abundance, renewal, and good fortune. Framing your windows with such a timeless design will undoubtedly leave your home feeling simultaneously cozier and more impressive.