If you have a smaller home, then you might be interested in exploring ways that you can make it seem larger. There are a few reasons why this is a smart choice. First, if you can make your home look larger it will also seem far more valuable overall. This is great news if you are planning on selling the property in the near future. Of course, when you own a home, then you should always be thinking in terms of a future sale on the market. 
A home that feels larger can also be far less stressful. We all need to feel as though we have our own space and freedom when we are at home. So, let's look at a few of the key steps that you can take to ensure that your small home does seem larger to you. 
Shelving
First, you might want to think about using shelving as a way of ensuring that your home does seem far larger than usual. Shelving will allow you to make the most of the space that the height of your home provides. This will be particularly useful if you have a home with high ceilings. However, it can be suitable for any type of home. You just need to make sure that you are not causing the walls to feel closer together with shelving in rooms like the bathroom. For rooms like this, there are other options that work well. For instance, you can think about exploring things like a vanity cabinet. A cabinet like this will allow you to store everything that you need in the bathroom without any issues at all. 
When choosing the shelving for a room in your home, make sure that you select an option that is going to match decor and the furniture that you have chosen. If it stands out, then it is going to draw attention from other key areas of the property. Floating shelves are a great choice for a modern home. 
Shelving can be a DIY project. You can also explore freestanding shelving. However, if you have kids, it's recommended that you do attach it firmly to the wall to avoid any accidents. 
Storage Solutions
You could also think about adding storage solutions to your home. It's possible that you don't have much storage space in your property. This is true for a lot of smaller properties. One of the ways that you can handle this is by using outside storage solutions. This is a great way to remove some of the excess furniture and accessories from your home without the need to sell them. These services are often flexible for a range of different budgets. Alternatively, you could add storage containers to your home. Some of these can fit seamlessly with the decor of your property. So, you won't have to worry about it standing out. 
Minimal Design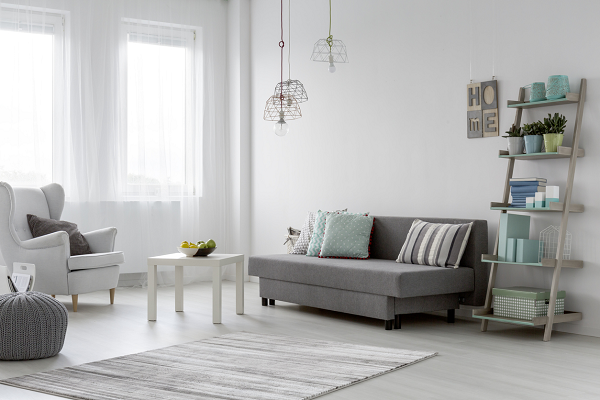 If you have a smaller home, then you should definitely be looking at the possibility of a minimal design throughout your property. Minimal design is a decor scheme based on limiting the amount of furniture and accessories around your property. 
For instance, you can look at the different chairs in a room. You don't have to include more chair spaces than there are people in your property. Of course, you do have to be careful about your home looking bare here. If your property seems bare then it could look small and poorly designed. This is the last thing that you want. 
Color Choices 
Next, consider the color choices that you are using to decorate your property. There are lots of choices that can work if you want to make your home seem larger and more open. For instance, we recommend that you think about exploring brighter colors and pastel shades. Lighter and brighter colors will make rooms in your home seem more open. You should also choose a set color scheme. If your color choices are too lively then it can draw attention to how small or compact a room in your home is. 
Flooring 
If you want to make a more significant change to your home that will make it feel larger, then you can think about altering the flooring. You might have mostly carpet around your home. If that's the case then the texture of the carpet can make it seem like you have less space overall. 
An alternative would be hard flooring. You could opt for laminate flooring. This is great because it's easy to install yourself. You also won't have any problem maintaining flooring options like this. Laminate flooring even comes in a variety of different styles. As such, you should have no trouble at all finding the perfect option for every room in your property. The right laminate flooring will also make your property look more grand and impressive. 
Keep It Tidy
Another way that you can make the most of your smaller home is by keeping it tidy. If your home is cluttered and filled with mess then it is always going to look smaller overall. There are a few steps that you can take to ensure that your home remains tidy. For instance, you might want to think about using storage containers to get rid of any additional levels of clutter. When you are cleaning or tidying your home, make sure that you do clean from top to bottom. This standard cleaning process will ensure that you are not missing any key areas. 
If you do find that your home constantly looks like a cluttered mess, then you might want to think about getting an accessory or piece of furniture that helps tidy things up. For instance, you could get a shoe storage area for your hallway. This will stop shoes from  being scattered on your floor if you have multiple people living at the address. A coat rack will also help avoid kids leaving their coats lying on the floor or around other areas of your home. 
Mirrors And Other Accessories 
Finally, you might want to think about adding different accessories to your home that will make it feel larger and less compact. One of the ways that you can do this is by adding a large mirror to a room in your home. This creates an optical illusion that a room is far larger than it actually seems. As well as this, a mirror will also help spread light around the room, ensuring that your home looks wonderful and open. Mirrors come in a wide range of different styles. This means that you will always be able to find one to match the aesthetic of your room or the decor that you have decided on. 
There are other accessories and furniture choices that will make your home look more grand. For instance, you can choose low furniture. If you opt for low furniture, then it will make it seem like the walls in your rooms are taller and the ceilings are higher. This is a trick that home stagers will often use when they are working to sell a property on the market. High ceilings will guarantee that your home seems more luxurious and attractive. 
We hope this helps you understand some of the key steps that you can take to ensure that your home feels larger overall. This can help you avoid the need to move to a larger property, saving you both time and money. Remember, a lot of these choices won't break the bank. So, you don't have to worry about eating into your savings to improve your home.