Selling your home is a big move and one that you want to make as financially successful as possible. There are certainly things that you can do in order to ensure your home sells for as much as you can manage. After all, by selling your home for a profit, the next property may get you closer to paying off the mortgage in its entirety or helping you to get a bigger property for you and your family. With that being said, here are some improvements to make before selling your home.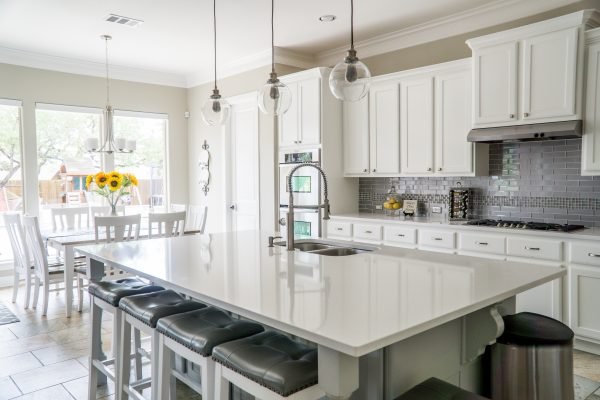 Fix Anything That's Broken
There are likely to be things around your home that are in need of fixing. Over time, some things will get broken and you tend to manage without or for as long as possible until it becomes unbearable to go without it. Some things might not even need fixing for you to get on with your daily life. However, by fixing these things, you're going to make it better for those potential buyers to want to place an offer on your home. If they see a lot of damage and fixtures that need doing, then they will likely offer less because of the hassle and financial expenditures they'll need to do.
A lot of buyers like to see something that takes as little effort as possible unless you're fortunate to have buyers that want to update and remodel a home. But they tend to be few and far between, so it's good to fix anything that needs to be fixed. For any window repairs, windowsgreensboro.com is a good place to start.
Upgrade Any Rooms That Need It
Upgrading rooms are something that will be needed in certain areas that have become outdated or perhaps haven't be updated in several years. A good bathroom renovation or kitchen might last you a decade or two if you look after it properly. However, over time, it might get worn down or tired. It's also the case when you follow certain trends and those trends go out of fashion. There are plenty of interior trends that go out of style and therefore make the room even more dated because of it.
So if there are any rooms that need an update or upgrade, focus your attention on them first. You might not have to spend a ton of money on it but there will be benefits to spending money on rooms that are in need of an upgrade.
Declutter The Property Entirely
Decluttering your property is something that people can tend to avoid doing because of the hassle and time it takes to do it. It's surprising just how much clutter we can accumulate over time and that's why it's important to do it every so often in order to help keep the amount of clutter you have, down. This will also be important to do when it comes to the viewings for your home. The last thing buyers want to see is a home that has a lot of stuff just lying about. It's never any good to show your home like this because buyers need to be shown a space that they can live in.
Take some time out of your weekend and spend that time decluttering your home. Do it with the rest of the household too as they will likely have things that they can get rid of. You shouldn't have to do it on your own, after all.
Add An Extension If You Can
An extension to your home can be a great improvement on your property. If you are fortunate to have space on your property to extend, then it would be a missed opportunity. Adding on an extra bedroom or bathroom can make such a huge difference to the value of your home, adding potentially thousands. Think about what your property could benefit from because it might not be a case of adding another room but extending an existing one. Perhaps your kitchen is too small or maybe you have a downstairs study that could do with extending to make it more comfortable.
Extensions can really be a good option if you have the budget available. It's something that can be costly and time-consuming but a worthy investment to boost your home's value when it comes to selling.
Do Minor Adjustments To Improve Appearances
Sometimes, it's the smaller changes you make to your home that can make a big difference. Not everything needs to be major in order to boost the value of your home or to help in selling it. In order to improve your home's appearance to potential buyers, make some minor adjustments where it's needed. It could be that your kitchen cabinets need a touch-up with some new paint or maybe you could hang a few paintings around the home to make the space look more attractive or interesting.
These minor tweaks and changes don't need to cost much but can really help in providing that image for your buyers. When a buyer looks around the home, they're usually looking for themselves in the space and living in it. Adding a fresh bouquet of flowers in the living room or dining space could be something that triggers that emotional attachment to the property.
Rearrange Any Rooms To Their Original Purpose
Throughout your home, there might be spaces that you've transformed into something different than its original purpose. For example, perhaps a spare bedroom has now become a study or workout space. As much as it's convenient before you sell, it's worth rearranging any rooms to their original purpose. It might be that you have to get that bed from out of the loft or you simply clear the room entirely and leave it empty.
By taking those rooms to the original state, it's going to help buyers to see them in the right way. Otherwise, they might always associate that space as being something that doesn't suit what they want, when it actually could.
If you're lacking furniture, you could always pop to a second-hand store and get some furniture to furnish the room. You could then return that furniture once you're done with it or leave it behind for the new owners to make use of it.
Clean It Before Every Viewing
This is an improvement that can be made when you're at that point of selling the property. When inviting buyers around to see your home, it's good to present it in the right way. Dressing it up is a good way of making sure that it looks presentable for when your potential buyers come around. Cleaning your property is always useful to do before every viewing. It's certainly a lot of effort to keep your home constantly clean, especially on a daily basis. Not everyone has the time to clean their home daily but when you've got potential viewings, you want to make sure you've got the best-looking version of your home that you can possibly give.
Try to make sure it looks as good as it can do with the time you do have available. Stock up on cleaning products and try to give it that quick clean-up before a viewing takes place. It could make all the difference to selling your property.
Selling your home is a challenge sometimes, depending on the market and what type of property you have. However, there will always be a buyer out there that's looking for your home exactly so use these tips to make sure you do everything in order to attract them!