You might have heard about the different usages of plexiglass. Plexiglass sheets are not only used for huge windows or commercial buildings but also in little interior designing. You can DIY cut to size plexiglass sheets at home into whatever shape you want. You just need an authentic guideline on how to cut plexiglass sheets to various sizes.
What is a plexiglass sheet?
Plexiglass is a transparent acrylic glass. Acrylic or plexiglass sheet is a petroleum-based thermoplastic material that can be referred to as "plastic glass" and is purely shatter-resistant. If you hit it with a stone, it won't shatter to a million pieces. Its durability and strength compel people to use it in their interior projects.
Can you cut plexiglass at home?
Yes, now it's possible to cut plexiglass sheets at home, you just need to follow a proper guideline. Plexiglass is as transparent as glass, which makes it an excellent substitute for glass. Most people use these acrylic sheets in different crafts for interior design. Plexiglass is solid but it is not scratch-resistant, so it should be handled with care.
The plexiglass sheet comes in a wrapped paper, make sure to leave it on for as long as you can manage. This way it will provide protection against scratches. If you don't have a proper instrument or tool to cut the thin sheets of plexiglass to your desired size, you can use these tips to score a success!
● Now, to cut the plexiglass sheet to the size, lay it on a flat surface where you can use your hand steadily.
● To measure the straight lines, use a grease pencil, ruler, and tape.
● Make sure to draw the straight lines of plexiglass.
● Once you are done with drawing the lines, with the help of a glass cutter move along the lengths of the lines.
● Move the area where you have scored lines to the work surface.
● Cut the plexiglass sheet with a sharp downward force to break it!
● To try more sizes and shapes, you need proper tools and instruments so the plexiglass sheets are cut to size.
What are the tools required to cut the sheets?
Well, we will be telling all of the methods you can use to DIY cut the plexiglass, so the tools mentioned below are necessary for each type of method. Pick the tools according to the method you are going to adopt for cutting plexiglass.
● Grease pencil
● Gloves
● Ruler
● Glass cutter
● Sandpaper/metallic file
● Handsaw
● Jigsaw
● Bandsaw
How can the plexiglass sheets be cut to the size for DIY projects? Nowadays, plexiglass sheets are abundantly used for interior projects, like windows, glass doors, or any other decoration piece. Now, you have a bundle of options to decorate your home or apartments with plexiglass sheets cut to various sizes. Plexiglass sheets can be cut to the size very easily at home. They are highly customizable and you can shape them as you want! If you are DIYing this project, you have many options to cut Plexi sheets, some of them are mentioned here.
Plexiglass sheets cut to the size with the help of a glass cutter
● This method is very simple and easy. Just measure the sheet accurately and place it on a flat surface.
● With the help of a glass cutter, mark a line on the sheet. Make sure to mark a clear and straight line.
● Now, after marking the line place the sheet on the edge of the flat surface.
● Apply a sharp downward force to cut the sheet and never ever forget to wear gloves and goggles.
Cut plexiglass sheets with the help of a jigsaw
● First of all, to make the sheet steady, clamp it to your workspace or bench.
● With the help of a marker/grease pencil draw a line where you want to cut. Make sure to score it precisely.
● To prevent any sort of splintering, cover the line with masking tape.
● With the due precautions (gloves and goggles) turn on the jigsaw and cut the marked line.
Cutting plexiglass sheets with the help of a Bandsaw
● Score the lines, where you want to cut.
● Place the sheet on a steady and flat surface.
● Put on goggles and gloves.
● Turn on the bandsaw and align it with the scored lines. Make sure to cut the sheet carefully with the slow-setting of the bandsaw.
Cutting plexiglass sheets with a handsaw- convenient method!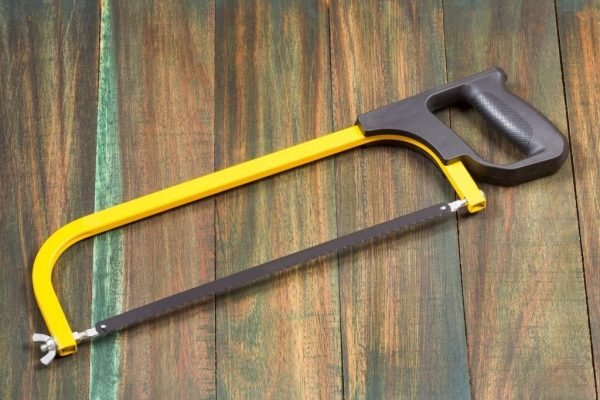 ● With a marker/grease pencil, score the lines on the sheet.
● Place it on a flat surface
● Put on gloves and goggles.
● Align the handsaw with the marked lines and with a sharp, downward force cut the sheet.
Always buy a large sheet instead of the desired size
A question that might pop up in your head, while buying a plexiglass sheet, is why you should buy a large plexiglass sheet instead of the desired one. The answer to it is, sometimes while cutting the sheets there can be mishaps, you could cut the wrong size, or you could measure the wrong lines. To avoid all of this chaos, you need to have some sort of margin on your sheet, this way even if you make a mistake, you can fix it. Tip: Read this guide to know the difference between acrylic vs lexan.
The economical and easiest method to cut a plexiglass sheet!
You can choose the method of cutting depending on the width of the plexiglass sheets. Thick sheets are best cut with the help of a jigsaw or a bandsaw. However, the cheapest way of cutting the thin sheets is with a glass cutter or a handsaw. This may take a little longer and require a lot of effort but it's handy! One more important thing is to buy a good quality plexiglass sheet because it will be worth the money and your effort.
Wrapping up! Do you want to DIY cut plexiglass for your interior? Plexiglass sheets are the best substitute for glass in the market. They are transparent, shatter-proof, and heat-resistant, these qualities make them the best product for crafting DIY's. You can cut them by hand or with the help of a jigsaw or a bandsaw. You can go for the affordable yet effective method to cut the thin sheets which are cutting glass with a glass cutter!