With times being tough, you may see your dream home makeover as far out of reach due to budget constraints. However, this does not have to be the case. With our simple home makeover tips and tricks you will be able to achieve your dream home in no time, without breaking the bank. You don't have to let covid ruin both your holiday plans and your home decor plans, with our advice you can find everything you need to add that special touch to your home. Unfortunately, we can't do much about that holiday.
The good news is that home makeovers don't need to blow the budget. There are a myriad of low-cost ways to give your home that much needed makeover, here are a few of our favourite.
Spruce up your bedroom with new curtains and blinds
Other than your furniture, window curtains and blinds will be one of the first things a visitor notices when they step into your home. Blinds and other soft furnishings can be instrumental in determining the look and feel of your home. Additionally, new blinds are a fantastic option when budget constraints mean that you cannot replace window treatments, meaning blinds can be an excellent short-term solution.
Curtains and blinds are a great option when redecorating your home on a budget. There are various low-cost options available online, with a myriad of options and colours to choose from. These waterproof roller blinds would provide the perfect blend of durability
and design, not to mention the added benefit of the moisture resistant material. If you wish to add more colour to the area, you could always add a patterned curtain alongside the roller blinds to create a more visually pleasing area to your home.
Painting your walls
Do not underestimate the impact of a fresh coat of paint in your home. Paint can instantly change the look of any home. Make sure to know and choose the right tone to ensure it compliments the overall feel and style of your home. You don't just have to stick to one colour when deciding on your theme, there are plenty of colour-matching apps available online to help you to choose your perfect colour options.
The colour scheme you choose will have a big impact in the feel and style of the room. For example, if you opt for a bold green for your living room it may create a nature-inspired, calming feel to the room, whereas a bright red colour would give a totally different feel to the space. Make sure to consider what you are using the space for when deciding on the colour palette, for instance a home gym may be best in a neutral or light blue colour to promote calming feelings.
To save money it may be wise to use the same paint colour in multiple rooms, and adding a separate accent colour to each one to create a unique feel to each room while maintaining a consistent main colour in each of the rooms. If you feel you need more help when deciding on a paint colour for your room, take a look at interior social media pages for some inspiration or contact a professional who can help you to pick the right colours for the room. After giving your home this much-needed makeover, make sure you store the leftover paint for future use in-case of any chips or marks.
Create a gallery wall
Gallery walls are becoming increasingly popular for home inspiration accounts and home designers across the country. Gallery walls create a feature of any blank wall you're looking to fill. Not only is a gallery wall a cost-effective home improvement idea, but you can use any wall, no matter how big or small for this decorative idea. Gone are the days you need to spend thousands on a unique piece of art to place on your wall. With gallery walls, you simply need to gather some of your favourite photos, pick up some low-cost frames and create an arrangement you are happy with. There are hundreds of arrangement options available online, or you can create your own, depending on what you'd prefer!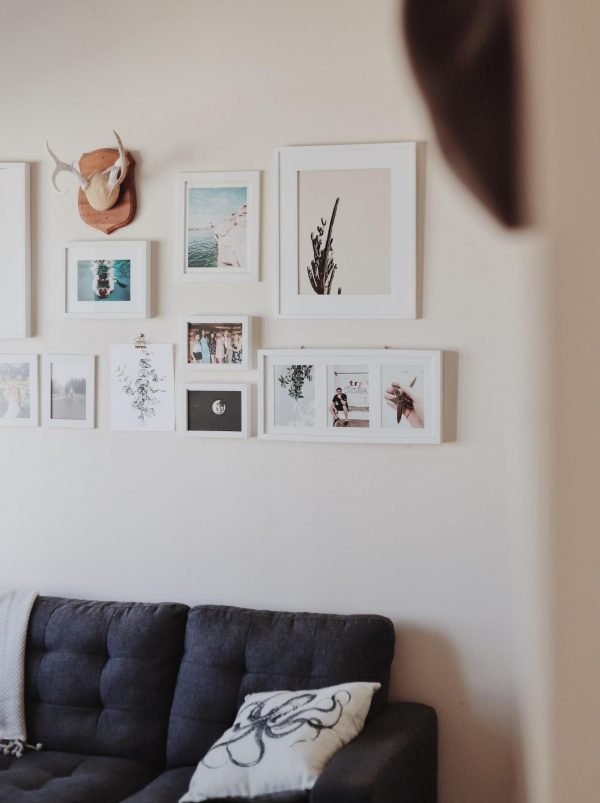 With just a few of your favourite pieces of art or family photos, you can spice up your living room and let your personality shine through. The trick, however, is to consider factors such as the size of the wall and the current furniture set-up. That way, you can make sure to strike the right balance between art and symmetry in your home.
Declutter your space Although this may not seem like a home decor tip, decluttering your space can have a huge impact on your home aesthetic. Decluttering goes a long way to improve the look of your home, while it also gives you more space to change around your furniture arrangements and move your things around.
Any excessive boxes, clothes, unwanted furniture and general clutter can disrupt the pleasant panoramic view of your home, and leave guests feeling unwanted. By getting rid of clutter and rearranging your house, you are instantly improving the look and appearance of your home, and the best part is, it's free!
Wallpaper choices
Textured wallpaper can be a great way to instantly transform any room. Textured wallpaper can give an additional texture and dimension to your space, and they come in a variety of colours and textures to compliment your current colour scheme. Geometric and printed wallpapers can be a great option for brightening your home.
Consider using textured wallpaper on one side of the wall for a contrasting yet symmetrical look, inside your closets, on your bedroom walls, or in small areas of your kitchen. The best part is, you only need a few rolls to witness this epic transformation, and they won't break the bank.