Craft projects are an enjoyable and useful hobby, especially for people with skilled hands and creative minds. If you plan to get a sewing machine, visit sewinguru.com – sewing machine reviews can help you when buying this device for the first time.
Know that the sewing machine has several uses, not just for stitching clothes. For example, you can do patchwork or quilting. A quilt can be used in various ways and plays a significant role in a family tradition. For example, for every important event, you can sew a new piece of fabric using free embroidery designs, and so you have a fabric reminder that can be both decorative and useful.
Get Enough Fabrics
Making a quilt of three layers of fabric and sewed pieces of textiles seems like a lot of work. Quilting is actually one of the more affordable sewing projects. You can use various scraps of material, old clothes, linens, or whatever textile leftovers you have. 
Be prepared for the fact that you will need a lot of fabric in the beginning, because you'll make a lot of mistakes. The remnants of the fabric can be used for training while trying to make perfect stitches. However, once you start the first real quilt, you'll need new fabrics. The advice is always to get twice as much material as you need (if you can afford it, make it three times).
As a beginner, some common mistakes are possible, like wrong cutting off a piece of material, missed size, loose stitches, and so on. And the lack of material that would fit perfectly into the rest of the tapestry can be frustrating. So always have excess textiles.
For your first project, you should only get one type of fabric. Different weaves can affect the quality of the sewing, and it won't be possible to apply the same seams everywhere. It's a pretty complicated task for a beginner. So, for a smooth workflow, use cotton or linen fabrics. You can even use your old clothes to make them even more personal. Visit Project Repat to learn how to make a t-shirt quilt.
Washing Fabrics before Stitching
Another mistake that many beginners make is not to wash the fabrics before starting to make a quilt. If you don't do that before sewing, you won't know how the quilt will behave once you wash it. Colors smudging can occur on some fabrics, which can ruin your tapestry.
Wash each material separately, adhering to the instructions. Follow the advice to use materials that are washed with similar techniques and at similar temperatures to make a quilt. That way, there will be no running of fabric dyes.
Don't Skip Pressing
If you skip this step, you may regret it when you notice that the seams on your quilt are uneven. You will make your job much easier if you iron each piece of fabric before you sow it. You need to work this step slowly and thoroughly.
On the next page, you can see some of the pressing methods that give the best results:
https://www.thesprucecrafts.com/accurately-press-quilt-blocks-and-quilts-2821458.
Don't Complicate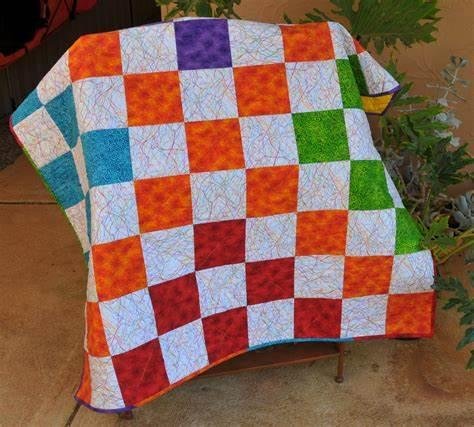 You have seen many astonishing quilts that take your breath away with their beauty – doing something like that is a masterwork. One day, you will probably be able to do something like that, but you need to improve your skills until then. 
The big mistake that many beginners make is that they set themselves a high quilting goal. That can often be counterproductive, as a result is unlikely to be satisfying. Given the lack of quilting experience, you can expect that.
Quilting is one kind of art. Although it seems simple, it takes a long time to reach the skills needed for some more complicated projects. You can't learn them all at once. So, make it easy for yourself and start with simple patterns.
As you progress, you can give yourself more complicated tasks. For example, let the first project be a quilt composed of only a dozen square pieces of fabric. When you have mastered this, increase the number of textile pieces, and play with their sizes. Keep in mind that, as a beginner, all pieces should be the same size to avoid sloppy and uneven stitches.
Play with color contrasts. The tapestry's final look will be much better if you combine light and dark shades than if you made a kilt from similar colors. Get a mat big enough, and place pieces of fabric on it how you want to sew them on the quilt and take a photo of it. It will be much easier for you to follow a scheme like that.
Do Double Stitching
As a beginner, you probably don't know all the tricks and catches of quilting. By making some obvious mistakes, you will remember that, for example, you should always do backstitching. The first time the quilt parts fall apart, you know that the next time you need to reinforce the seams.
Doing this job manually, with the help of a needle and thread, is too much work. With a sewing machine, all you have to do is reverse it to overleap extra seams on top of the first stitches. Make sure that all your seams have the same length (setting on the sewing machine). If you 'cooperate' with the lengths of the stitches, the result can be disappointing.
Take Care of the Sewing Machine
Making a quilt requires a lot of sewing work. It means that expendable machine parts, such as needles and rotary blades, will wear out quickly. A blunt needle or blade can make uneven seams, and you don't want that at all. So always have these spare parts with you. To make all the seams look even, replace the needle and the rotary blade as soon as you notice they are blunt.
Making your own tradition and sewing a quilt by yourself is quite a demanding task. Don't expect your first sewing project to be 'wow,' as it takes a lot of skill to make a majestic tapestry. It is necessary to follow the learning steps and accept the possibility that there will be many mistakes in the beginning.