When you can feel the sun on your face and smell the crisp air in the mornings, that lets you know that spring has arrived. Spring is not only the time when beautiful flowers bloom and when allergies are on high alert, but it's also the perfect time to take on some spring cleaning projects to improve your home's exteriors before summer arrives.
When you talk about spring cleaning, most people tend to think of a home's interiors, but the reality is that your home's exteriors need just as much TLC as your home's interiors. According to funhappyhome.com, spring cleaning your home's interiors is said to make you appreciate what you have and improve your overall health. But it's also been proven that improving your home's exteriors improves mood and increases happiness.
So who's to say improving your indoors is more important than your home's exteriors? Your home's exteriors endure harsh elements year after year, and when you don't take care of it, it can cause your home to have an undesirable appearance, which can then lead to a decrease in mood.
There are spring cleaning projects that you can do to your home that will not only improve your home's appearance but also make your home feel more inviting. The great news about these projects is that they won't break the bank.
If you're trying to find ways to improve your home's exteriors, consider these inexpensive spring cleaning tips to get your home looking its best before summer arrives.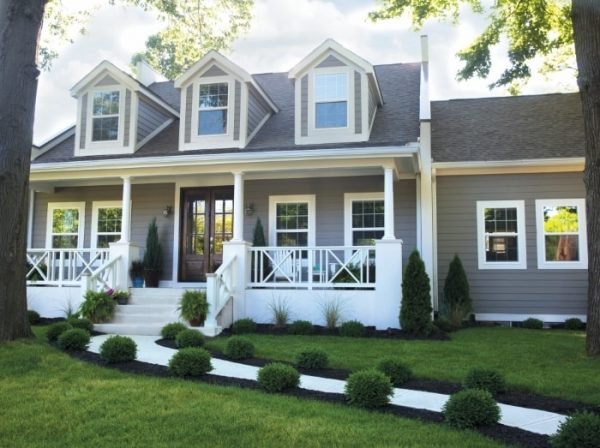 Update Your Front Door
You may not realize it but your front door is a part of your house that endures more wear and tear than you may think. After enduring the harsh elements that winter brings, you may notice a few dings or scratches on your door now that spring is here.
Maybe you just need to touch up those bad spots on your door… Or, if you want to completely change the look of your front door, consider adding a fresh new color to make your door pop. Just be sure to thoroughly clean your door and ensure it's free from dust and debris so the paint will adhere properly.
While you're freshening up your door, it's also a good idea to consider updating your door's hardware as well. Whether you update the door handle or the numbering on your house, it will all play a part in updating your home's outer appearance, and it's all for the price of a can of exterior paint and a brush.
Clean Your Front Porch
If you're like most people, once fall arrives, you do your best to try and keep the falling leaves at bay so they don't completely pile up and hide your house. But in your attempts, you tend to just let the leaves build up after a while… This is called outdoor clutter, and yes your home's exteriors can get cluttered just like the inside of your home.
By the time spring arrives, your porch probably has leaves and other remnants from the previous seasons that need to be cleaned. This is a simple fix that can drastically improve your home's exteriors. Cleaning remedies as simple as a broom and one of the best leaf blowers can be the resolution you need.
Once you're done sweeping or blowing the leaves away, you can also pressure wash your porch or at least rinse it off with a hosepipe to remove any remaining dirt and debris. This is something that will cost you a little bit of time and elbow grease.
Clean Your Gutters
Clean gutters contribute to your home properly draining water. Being that your home endured fall, it's a pretty safe bet that your home's gutters are more than likely full of leaves. So to ensure your home drains water properly, it's best to clean your gutters right at the start of spring so that when spring showers arrive, there won't be any issues.
Some homeowners will clean the gutters themselves but it's a very unsafe task to do and should be left up to the professionals. Whether you need gutters installed, replaced, cleaned, or repaired, Kansas City gutter guards give you access to gutter professionals that will allow you to make an informed decision on which contractor to do business with.
Wash or Repair Your Walkway
Your walkway is an area of your home that needs to be clear and safe because it's the entryway to your home… the last thing you need is debris or cracks that cause trip hazards when trying to enter or leave your home.
Sometimes a pressure washer is the trick to clearing and cleaning your walkway, but if you live in an area that endures harsh weather, you may need to hire a contractor to repair your walkway to ensure it's safe.