Disclosure: I received product samples to facilitate this review. The opinions are my own.
I've always had difficulty sleeping. It takes me forever to fall asleep. I have to have the "perfect sleep environment" for me, and I still don't feel like I get the best quality sleep. In recent years I've been working on ways to get better sleep, so I was very excited when I had the chance to try the Headleveler® Pillow.
Here are just a few things that set the Headleveler Pillow apart from others:
Hypo-allergenic 100%
Washable 100%
Breatheable 100%
Personalized to fit you 100%
Headleveler's pillows are filled with polyester fibre, commonly found in modern duvets. Each individual fibre has air chambers that are designed to capture and store air, making your pillow more resilient. Their pillows are also hypoallergenic and machine washable.
So how do they personalize the pillow to fit you?  They do it by giving you a simple quiz.  You answer questions, such as your height and weight, the type of mattress you have, type of pillow you prefer, etc.  Then it gives you a score, and that score is your pillow number.
Personally I've always had a thin pillow; I'm talking super thin! (I can't even find pillows as thin as they ones I have used.)  And anytime I've tried thicker, fluffy pillows I usually can't sleep on them, and I end up swapping back to my old pillow midway through the night.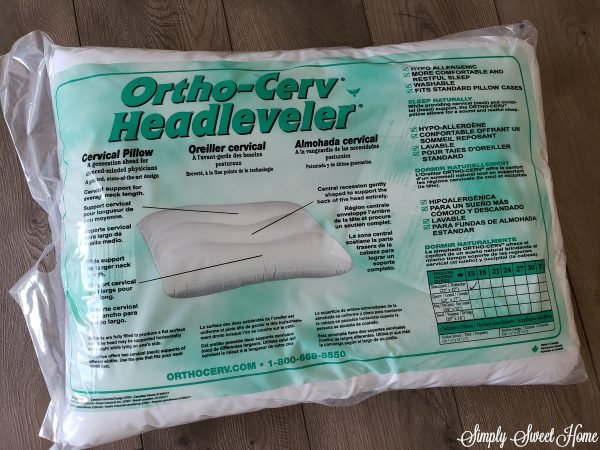 When I took the headleveler quiz, my result was: The Queen Very Soft Pillow (Model #15)
Here's the description: "For the perfect night's sleep, based on your height, weight and sleeping preferences, we recommend a very soft pillow. Ideal for both back and side sleepers who prefer a soft, comfy support whether on your back or your side. This pillow is often used by children and those who are petite or small in stature."
When I received the Headleveler, it looked a little thicker than what I was used to, but upon using it the first night, I was very pleased with how well I slept on it, and I've been using it ever since.  I found it to be very comfortable.  It is soft, but not so soft that it sinks in.  And it doesn't elevate my head too much like a lot of thicker pillows do.  And I've found that it is great for both side sleeping and back sleeping.
Overall, I love the pillow. The Headleveler pillow is the first pillow I've succesfully been able to "switch" to in a long time without going back to my old pillow.  I love that it's machine washable and hypo-allergenic, and I feel like a get a pretty good night's sleep on it.  Most of all, I love how comfortable and soft it is.  I encourage you to go over and learn more about their pillows and take the quiz to find out your which pillow is best for you!