Disclosure: I received free products to facilitate this review. Affiliate links are contained herein. The opinions are my own.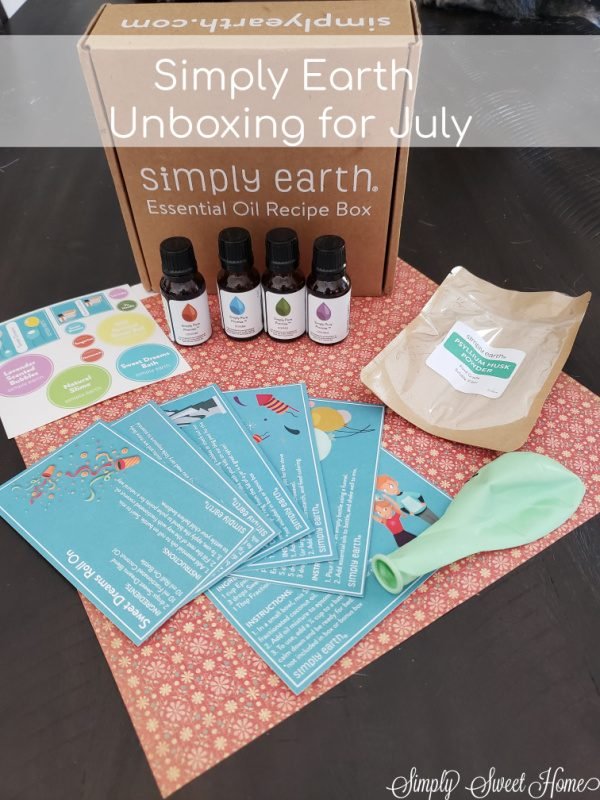 Last month I introduced you to Simply Earth.  They offer essential oils at an affordable price.  They also have a fun subscription program called the Essential Oil Recipe Box.  With the subscription program, they send you a box with four oils and other materials you need to create recipes included with the box, and all the recipes and materials follow a fun and unique theme!  Each subscription box is a $150 value for just $39, and it is a fantastic deal.  (In case you missed it, here's the link so you check out my review of the June Box.)
When you subscribe, they also send you an awesome BONUS BOX for FREE!  The bonus box has several bottles as well as other great items like coconut oil, beeswax, and almond oil.  Anyone who's ever used essential oils, knows that these items are definitely staples, and I think it's great that they include these bonuses.
And if you order today using my referral link and coupon code: SSHOMEFREE you will also get a $40 gift card!
When you open your box, it comes packed as shown above: nice, neat, and you don't have to worry about spills or damaged products.
For the July box, they chose a Kid's theme!  As a mom of a toddler I was very excited to learn about this.
July Box:
4 Oils:
Tangerine 

Fir Needle
Lavender
Sweet Dreams Blend
Other Materials:
Psyllium Husk Powder

Balloon
Recipe Cards:
Sweet Dreams Roll On
Homework Diffuser Blend
Lavender Scented Bubbles
Natural Slime
DIY Scented Stress Ball
Sweet Dreams Bath
I'm most interested in trying the Sweet Dreams Roll On.  My son has a lot of sleep problems, and I'm hoping this will help. You simply add 2 drops of the Sweet Dreams blend to 10 ml of fractionated coconut and pour in to a roll on bottle!  Very easy!
I LOVE the Essential Oil Recipe Box!  It provides you with some great oils for your household and gives you some fun and practical ways to use the oils beyond just diffusing them!
Next month, the theme for the Essential Oil Recipe Box is face care!  I am SO excited to see this box.  I love trying out natural skincare products and I am excited to make some of my own!
I invite you to go over and check out Simply Earth.   For just $39, you will get your first Essential Oil Recipe Box, plus the Bonus box with all the extra goodies!  If you use my referral link and coupon code: SSHOMEFREE  and you will also get a $40 gift card!
I also did another unboxing video. I'd love for you to take a look!