Disclosure: I received product samples to facilitate this review. The opinions are my own.
I'm always excited when I get the chance to review products, and when my husband can be a part of the review that's even better!  When I heard about Volt, I thought their products would be a perfect Valentine's Day gift for my hubby.  They sent me an amazing hoodie!  I like neutral colors that go with everything, so the grey color was perfect.  Immediately upon examining the garment, I was impressed with the look and style of it.  The quality is great.  The fabric is very thick, and it is very nicely lined to be both comfortable and warm.
But Volt isn't just any clothing company.  My husband's hoodie also came with a battery pack.  Yes, that's right, a battery pack.  It charges just like your cell phone and then hooks in to the hoodie.  With the battery connected, this hoodie warms up just like an electric blanket!  My husband is a DIYer who does a lot of work outdoors, so this is perfect for him!
Our weather turned off cold again last week, so he's gotten to wear it a few times, and he loves it.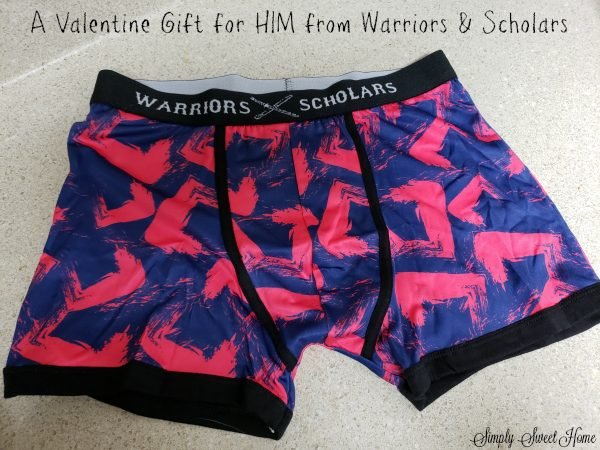 I also received a pair of boxers from Warriors & Scholars.  They specialize in clothing for all men, of all walks of life, from white collar to blue collar.  Whether you are looking for something to where to the office, the gym, or at home with the wife and kids, Warriors & Scholars has something for everyone!
Their boxes come in a variety of fun colors and patterns.  The fabric is very smooth and soft to the touch, and my husband said they fit very comfortably.
Hope you'll check out these fun Valentine's Day gift selections for HIM!