Disclosure: This shop has been compensated by Collective Bias, Inc. and its advertiser. All opinions are mine alone. #NatureMadePrenatalDHA #CollectiveBias
This year I've been working on a very special project; I've been creating and growing my own little human!
Baby Thaxton was born on November 14.  Isn't he a doll?  We tried for a long time to get pregnant, and I was so thrilled when I found out that I was having him. Even now, a month after his birth, I can hardly believe he's real!
I think until you get pregnant and have a baby, you don't actually realize just how much actually goes in to the whole process.  When a baby is born we talk about the big delivery day and the pains of labor, and we don't talk as much about what happens during those 9 months of pregnancy. Over the course of 9 months, I gained about 30 pounds, and I saw and felt my body going through so many changes as a result of this weight gain, hormone changes, and more!   Today I'm going to discuss some tips and must-haves to help you stay healthy and feeling good during pregnancy.
Prenatal Vitamins
During my pregnancy, I took Nature Made® Prenatal Multi + DHA.  Taking a prenatal vitamin is very important for the overall health of a mother-to-be, and it's also key for developing a healthy baby.  In fact, you should start taking a prenatal vitmamin 6 months before you start trying to get pregnant, and you should continue taking your vitamin after the baby is born.
I like Nature Made® Prenatal Multi + DHA because they are an easy-to-swallow soft gel. The vitamin provide essential vitamins and minerals (before and during pregnancy) including Folic Acid, Calcium, Iron, Magnesium, Iodine, Vitamin B12, and Vitamin D3†.
Folic Acid is an important B Vitamin for Women of Childbearing Age and Pregnant Women – Plays a critical role in the proper development of the baby's nervous system.†  Adequate folic acid in healthful diets may reduce a woman's risk of having a child with a neural tube defect.
The vitamins also provide 200 mg DHA which may help support fetal brain and eye development †
† These statements have not been evaluated by the Food and Drug Administration. These products are not intended to diagnose, treat, cure or prevent any disease.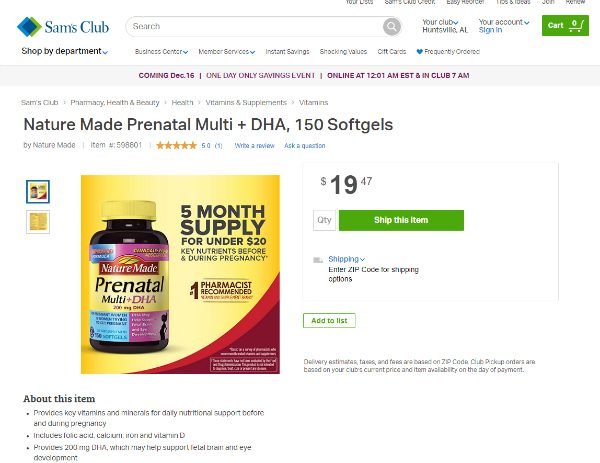 Nature Made® Prenatal Multi + DHA are available at Sam's Club.  You can find them at your local Sam's Club in the healthcare section, or you may order them online.  The bottle available at Sam's Club includes 150 softgels.  This is a 5 month supply, and under $20!
Stay Hydrated.
As always, it's good to drink 8 glasses of water a day.  It's also important to drink plenty of milk so that you get that much needed calcium and vitamin D.  And you should also get plenty of fruit juices, especially those that are high in vitamin C.
Diet
During your pregnancy, it is key that you eat a well balanced diet, made up of all food groups, to make sure that your baby grows and develops properly. In order to get the nutrients you need, you should eat fruits and vegetables, breads and grains, proteins, and dairy products. Lactation Cookies are also good when you are at least two weeks before you give birth as they will help you establish your milk supply.
Rest.
Getting plenty of sleep is key when it comes to staying healthy during your pregnancy and growing a healthy baby.  Apart from getting the right amount of sleep, you should also watch your activity levels.  Follow your doctor's instructions when it comes to exercise and limiting hard work, and if you have aches and pains, stop and take a break, in order to avoid further complications.
Keep Health Notes
It's a good idea to keep track of your pregnancy symptoms.  This is good for your own information, but it can also help you to remember things so that you can share information with your doctor and ask questions as needed.
A simple spiral notebooks would work fine for this, but I personally recommend purchasing a pregnancy journal.  This was a fun way for me to track my pregnancy symptoms, while also recording pregnancy milestones (notes about my OBGYN appointments, notes about the first kicks I felt, etc.).  A journal like the one I had also serves as a keepsake that I can pass on to my child later, and it will serve as a great reference for a future pregnancy.
Comfy Clothes
Apart from doing things to make yourself healthy, you should also do things to make you feel good about yourself, including investing in some cute maternity clothes.  Luckily I had a lot of tank tops, tunics, and "flowy" tops that I wore pre-pregnancy, that still fit me even after I gained 30 pounds, so I didn't have to invest in a lot of maternity clothes.  But if you're not like me and are in need of a maternity wardrobe, I recommend purchasing a couple of pairs of leggings, yoga pants, and one or two pairs of maternity jeans.  Not only will these look good on you, but they will be comfortable. Additionally you should have a couple of cute tops with room for growing, and you should have a good, supportive bra.
You could also treat yourself with a couple of cute maternity dresses at nappybagstore.com.au
Maternity Belt
As you gain weight and your hormones change, you can expect a number of aches and pains, including round ligament pain and pelvic girdle pain.  To combat this, I used a maternity belt.  It simply provides you with a little belly support when you are standing and walking.  Jeans with a belly band are also good for this.
Maternity Pillow
I purchased a maternity pillow during my pregnancy, and it was a lifesaver!  There are a variety of maternity pillows on the market, including wedges and C-shaped pillows, but I really like this U-shaped pillow. This pillow gives you a place to lay your head, while also providing great back support and belly support.  Additionally you can place part of the pillow between your legs, and it gives you pillow to hold. It's basically like having 5 pillows in one, and you can turn over and change positions without having to move a bunch of pillows around.  I was truly amazed at how much my pain was reduced after I started using this!
Have you had a baby?  If so, I'd love to hear item or tip that helped you during your pregnancy! Join the conversation by commenting this post. 
And if you are pregnant or thinking about becoming pregnant, be sure to pick up your Nature Made® Prenatal Multi + DHA at Sam's Club.
† These statements have not been evaluated by the Food and Drug Administration. These products are not intended to diagnose, treat, cure or prevent any disease.