Is someone in your family having a birthday this season? Autumn birthdays can sometimes be tricky, tucked into all the craziness of the back-to-school time and the holidays coming up so soon. Here are a few fall-inspired themes that you can use for your child's next birthday party.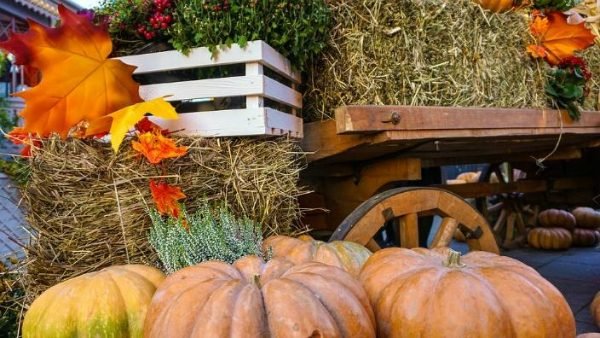 American Western Theme
The fall just makes us want to stomp around in boots and flannel, so you can take this natural type of style and apply it to your party theme. An American Wild West them is fun for kids of all ages, letting them dress up in Stetsons and cowboy boots. Serve baked beans and hotdogs and teach the children a line dance or two for a folksy, fun hoedown. Decorate with corncobs and bales of hay (or just a few bits of hay here and there if you don't want to go all out!)
Retro 1980s Party
Does the autumn make you feel nostalgic? Although to some of us the 1980s don't seem all that long ago, to kids this time period might as well be science fiction. With its bright colours and fun pop music, it's super child-friendly. You can get 80s fancy dress from Funidelia to look the part, or go DIY with slogan T-shirts and mesh gloves of your own. It's a good idea for costume parties like this to offer a few extra accessories in case anyone misses out on the dress code. To complete the theme, play the top 40 hits from the decade and encourage guests to dance along. The décor should be as wild and neon as the decade.
Woodland Creatures
There's perhaps no better time to have a wander in the woods than during the fall, when the leaves are changing colours and the air turns crisp. You can bring this same spirit into a woodland party theme. If you make it a costume party, encourage guests to dress like forest animals from bunnies to squirrels or foxes. For the decorations, you can transform your own backyard into a woodland setting with hidden gnomes, brown burlap decorations and fairy lights.
Baking Theme
Is your child old enough to try their hand at baking? This can be a great theme for the budding chef. Get a group of friends together to make seasonal treats like pumpkin spice cookies or apple cupcakes. Just be sure to choose something that they can make and decorate to fill plenty of time. Naturally, the children can then take home their creations at the end of the party.
Wizards and Magic
With Halloween ahead of us, a magic-themed party is a natural fit for september or october birthdays. You can get a jumpstart on your seasonal decoration with whimsical wizard costumes, colour-changing drinks, and black cat cupcakes. Children are excellent at employing their creative imaginations when dressing up for an occasion. You can help your child choose perfect Halloween costumes for the party, so feel free to consider this. Some costume ideas you can suggest to your child include Victorian circus costumes if your child wants to dress like a circus ring leader, a creepy clown costume, vampires, or undead zombies. These are interesting costume ideas you can help your little one choose from.   Play pin the broomstick on the witch, or use Harry Potter decorations to make your theme even more specific. 
No matter what your child's interests are, you can combine them with the natural magic of the fall season to create a memorable birthday party this year.