Summer weather can be harsh, which means your outdoor area, furnishings and décor need to be able to handle the heat as well as the thunderstorms. This can be a tricky combination as you need to prepare for all weather events, both wet and very, very dry depending on the year. Here are some top tips for decorating your outdoor area this summer.
Make Room for Guests
One of the most important aspects of an outdoor area is its entertaining capabilities. We just love to entertain, especially outdoors. Barbeques are a way of life so you'll need a good range to cater for a large crowd and the seating and dining to match. If you only have a small space, put your spend into the barbecue and host informal get-togethers, buffet style.
Weather Proof Everything
You'll need to consider your specific area when decorating your outdoor living space but it's almost a guarantee that you'll experience both wet and dry conditions. Pick fabrics that are weather proof whenever possible. Cushions should be able to handle wet weather while their colour needs to stand up to the harsh sun. Don't spend a fortune on rain-proof fabrics if the colours are going to fade in the sun after only one season or you'll be buying again next year.
Likewise, choose sun proof fabrics if you can. If they're not all weather wear then you'll need somewhere to keep them when it inevitably rains. If you don't have the space to store your outdoor
supplies in your indoor linen cupboard or similar, invest in an outdoor chest and storage compartment that doubles as extra seating for your guests.
Lisa Green, Editor in Chief of Australian House & Garden had this to say in an interview with hipages: "Choose furniture that will age gracefully – i.e. aged metal finishes which will patina over time. Or look to the hi-tech weatherproof synthetics that now come in many more sculptural forms, with soft cushioning to match."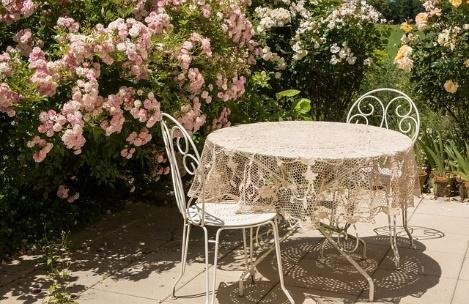 Durability Over Design
You shouldn't have to compromise but if your budget doesn't make room for your favorite design in a durable material, always, always choose durability over design elements. If your chosen design isn't durable enough to face numerous summers, simply don't make the purchase. You'll enjoy one summer only, before you need to buy again. This is especially important when making big purchase decisions, such as your outdoor table and chairs. Certain woods require a lot of maintenance to hold up under the harsh sun, so forego the wooden dining if you're not up to the task. Instead, opt for metal and glass tabletops that will last many years to come.
Shading
While certain dining suites require regular maintenance, you can help your aging furnishings by shading your outdoor living area well. You'll need at least enough shade for you and your guests to enjoy on hot summer days. Whether you choose large table top umbrellas to keep you and your guests cool while you entertain, or invest in canopies to cover your entire outdoor living space, your décor and outdoor furniture will hold up much better in the shade than in constant sunshine.