Disclosure: This shop has been compensated by Collective Bias, Inc. and its advertiser. All opinions are mine alone. #ChooseTENA #CollectiveBias

I'm about 11 weeks pregnant.  It's a relatively new thing for me, but over the past several weeks and months I've done plenty of research on that first trimester, the symptoms it brings about, and solutions to combat those symptoms.  Although I'm told the morning sickness and fatigue will soon wear off for a while (and luckily a lot of the common first trimester symptoms haven't hit me hard), I know I still have a lot of changes and adjustments to look forward to over the next few months!
A few things I'm not looking forward to are the weight gain, the loss of sleep, and those frequent trips to the bathroom.  But I'm sure I will survive!  Today I'm sharing 5 pregnancy must-haves for self-care.
I've already mentioned that I'm not looking forward to those frequent trips to the bathroom during pregnancy.  And I'm also not thrilled at the possibility of urinary incontinence and that Unexpected Leak™.  TENA® incontinence products help you to live life without compromise.  They are designed for comfort and made for performance.
Just because you are pregnant or have other health conditions that may cause leaks, does not mean you have to miss out on life.  With TENA® pads, you can go out with confidence, knowing that you will stay dry, protected, and odor-free.
TENA® pads are available in the feminine care and hygiene aisle.  Currently through April 29, you can buy one and get a second for 50% off, plus get $1 ExtraBuck Reward.  Also, check your Sunday paper for $2 off coupons.
And now through May 13, CVS is having a 30% off ship and save offer.  Just order TENA® pads off the CVS website and use the coupon code: SAVE30 to save 30%.  This offer is good April 30 through May 13, 2017.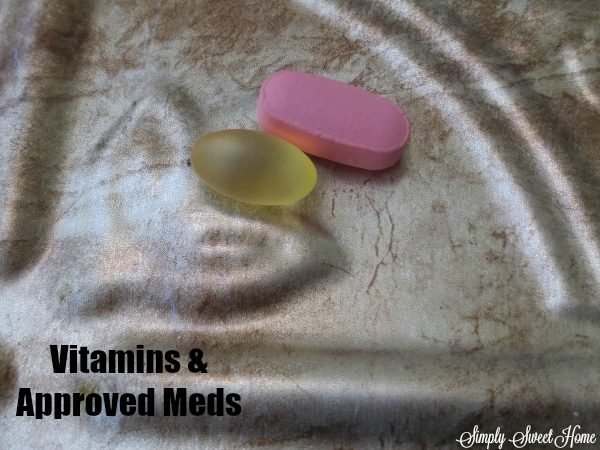 2. Vitamins and Approved Meds
Taking a daily prenatal vitamin is essential for you and your growing baby's health. I'm currently taking a multi-vitamin and a DHA/EPA  soft gels.
It's also important to have other approved prescriptions and over-the-counter medications.  My doctor prescribed a couple of nausea medications, and they also gave me a list of approved over-the-counter medications that I can take for headaches, heartburn, indigestion, allergies, and other common ailments.
3. Water & Fluids
Staying hydrated is always important.  As always, it's good to drink 8 glasses of water a day.  It's also important to drink plenty of milk so that you get that much needed calcium and vitamin D.  And you should also get plenty of fruit juices, especially those that are high in vitamin C.
For extra vitamins and calories, I'm also keeping bottled shakes and yogurt smoothies on hand.
4. Healthy Snacks
It is also recommended that you have plenty of healthy snacks on hand.  Since I've been pregnant I find that I get hungry quite often.  And I'm also more likely to feel nauseated when I get hungry, so it's good to have snacks that you can eat quickly and conveniently.
I was told to keep a package of saltine crackers beside my bed, and that has definitely been helpful.  Fresh fruits and vegetables are also convenient snacks that are essential to your health.  Peanut butter is a great snack that packs a protein punch.  I like eating a peanut butter sandwich for a quick morning snack.  It's also great on celery or crackers.  Cheese slices are a great source of calcium.  I like having a couple of pieces of cheese toast when I'm feeling down.
Chicken salad and tuna salads are also quick and convenient foods you can eat and add a little protein to your diet.  And salads and baked potatoes are also good healthy options.  I've also been keeping plenty of canned soups on hand.  I can generally eat soup even when I'm feeling sick, and it's very filling.
I also have plenty of yogurt and ice cream on hand.  These give me something sweet to indulge in, and they have offer up calcium and healthy fats.
Finally, I've been keeping a basket of better-for-your snacks.  These give me a chance to have a little something sweet without going overboard.  My basket has things like granola and cereal bars and Fiber One Bars.
5. Comfortable Clothing
Even before you're ready to jump in to maternity clothes, your usual clothes may start feeling a little tight.  For this reason it's good to have comfortable clothes like yoga pants on hand.  My doctor also recommended wearing a sports bra if you have sore or tender breasts, and maternity bras are also available.
Look for TENA® pads and other pregnancy essentials at your local CVS.
Do you know another pregnancy essential?  I'd love to hear your tips and advice! Please comment on this post!