Disclosure: This shop has been compensated by Collective Bias, Inc. and its advertiser, Walmart Family Mobile. All opinions are mine alone. #YourTaxCash #CollectiveBias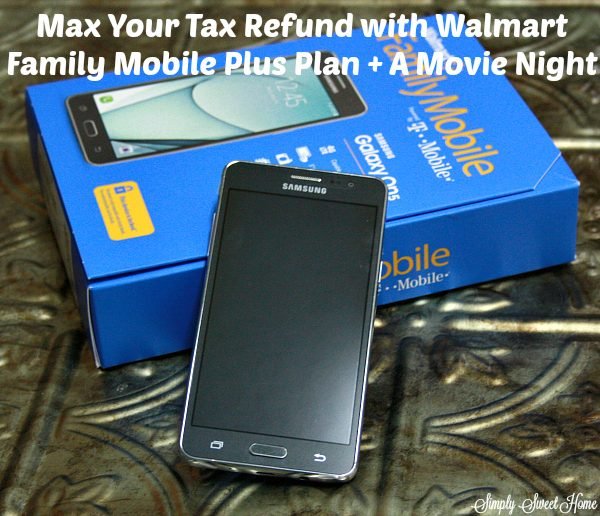 As a family on a budget, we are always looking for ways to save money, and like most working families we look forward to getting that tax refund each year.  Although it's tempting to blow the money on something crazy, I always like to stretch it out as best as I can.  One way you can get the most out of you tax refund this year is to swap your cell phone service to Walmart Family Mobile.  They offer high quality cell phone service at a price that's friendly on your wallet.  And when you get the Walmart Family Mobile Plus Plan, you get a free VUDU movie credit each month, making it easy for you to have a fun family movie night at home.
The Walmart Family Mobile Plus Plan is just $49.88 per line and includes unlimited* talk, text, and data,  and it also includes a free VUDU movie credit every month per line. (The VUDU movie credit is a $7 value.)
*Includes up to 10GB of 4G LTE† data then 2G.
The great thing about the VUDU movie credit is that you can use it on all your devices, including you computer, smart tv, or other streaming device.  This allows my family and I to have a nice quiet movie night at home.
The extra data also comes in handy, because my husband and I both use our cell phones for work, and this allows us to use the internet or social media from our phones any time!
A variety of phones are available for Walmart Family Mobile.   Recently we purchased the Samsung Galaxy On5.  This phone regularly retails for $119, but it is currently on roll back for $69. You can find this and other phones in the electronics department at Walmart.  While picking up your phone, you can also pick up a SIM Kit for $19.88, or if you already have a cell phone, just pick up the SIM Kit.  No further activation fees are required.  And since Family Mobile bills you later, the cost of the SIM Kit is your only expense to get started.
The $7 VUDU movie credit really comes in handy if you enjoy having a family movie night.  Movie selection is key to a fun movie night.  You may consider letting your kids take turns choosing the movies, or you could take a vote as a family.  You could also choose fun theme nights; perhaps choose a favorite movie series or choose a theme like super hero movies, princess movies, outer space movies, and more!
You can also make movie night a fun time for the kids by serving food and adding a few decorations; make it a real party for them!
Here I decorated my buffet with a simple black table cloth, streamers, and hanging stars.  Additionally I used bright red plates, napkins, and straws.  Something about the black, red, and white colors screamed movie night to me.
And it's easier than you think to transform your family movie night in to an at home movie theater experience.  All you need is a few fun, festive, and tasty snacks.  Hot dogs and nachos are a great choice, and if you can serve them in cute concession stand boxes and baskets, it really adds an element of fun to the meal.
Popcorn is also a MUST for any movie night.  If you can serve it in a fun popcorn box or bucket, it's fun for the kids, and it's also helpful in terms of giving them their own portion, rather than have everyone share from one bucket.
Boxed candies are another movie theater staple.  You can find a variety of boxed candies for as low as $1 a box, making it very affordable for you to stock your snack bar.
And finally, especially if you are having a movie night party with extra family and friends, it's good to have extras on hand.  To our buffet, I added a little mini dessert platter and an extra basket of more "adult friendly" goodies.
What do you think of Walmart Family Mobile?  What's your favorite feature to their Plus Plan?  Let us know in the comments!
Disclaimer: All prices for phones and plans included in this post are accurate as of the date of posting; however, these prices are subject to change. Please refer to http://cbi.as/7e-jr or your local Walmart for current pricing.