Disclosure: I am an ambassador for Oriental Trading and received free products to facilitate this post.
Christmas is almost here! Many companies, schools, and even families have already celebrated their yearly Christmas party, but there's still a lot of partying left to go!  Oriental Trading always has a wide of variety of seasonal items to help you create the ultimate party!  I recently received an entire box of Christmas items that could turn any ordinary holiday dinner into something merry and bright! Today I'm going to highlight those items and tell you why I recommend them for your holiday bash!
Table Decor
I found the cutest plates and napkins (pictured above).  There's just something about this mix of colors and patterns that make me smile.  They are bright and bold with a touch of the whimsical, and I think they look great for adult or children's parties.  Also managed to find this polka dot table cloth, featuring pictures of Santa, an elf, rudolph, and a snowman.  I think it goes quite nicely with the plates and napkins.
As you prepare your party today, you need dishes to serve your food.  The Christmas tree, bauble, and snowman trays above come in a set of 12 (4 of each design).  Their cute shapes and colors make them a perfectly festive way of serving up appetizers, snacks, candies, as well as your favorite holiday sides, or even pulled turkey! It's also an affordable to serve your food in style without spending a lot of fancy serving trays.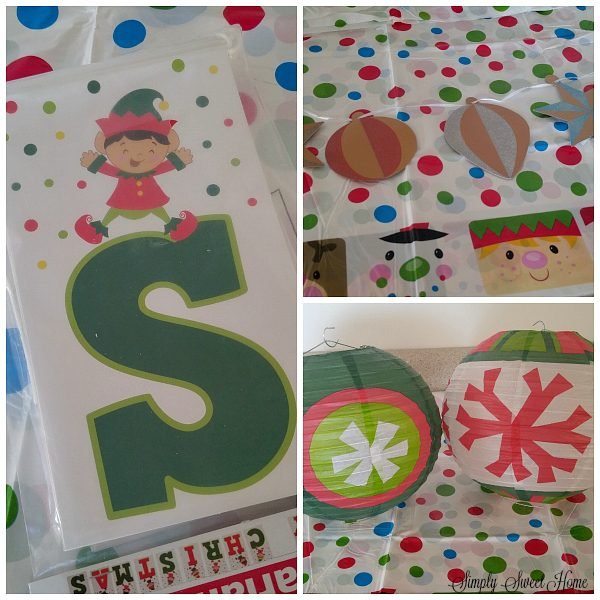 Wall and Table Decor
If you wish to add even more flair to the party, I recommend using banners and other hanging decor.  I found this super cute Merry Christmas banner (above, left).  As you can see, it matches very well with the plates, napkins, and tablecloth I picked out.  It features bright red and green colors, along with an elf and polka dots on top of each letter.  I love it!
And then I also got some garland featuring glittery baubles and stars.  This string of garland would be great to throw on the wall or hang from the ceiling near your Christmas party table, and it would also look great hanging from your mantle.
Next we have some ornament lanterns.  These come in a set of six.  They look awesome hanging from the ceiling above your table.  And another thing I like to do with them is to just set out one or two on top of the table.  Their great for adding color and decor to your table, while also filling in any gaps you may have.
Ornaments, Favors, and Gifts
Finally, we have a couple of items I like to file collectively under "ornaments, favors, and gifts."  First off, are these ADORABLE gingerbread ornaments.  These are sold by the dozen, and as you can see, there is a space on them where you can write names to personalize them.  I personally love gingerbread and am excited to decorate my tree with my family's names on them, but I had some other ideas as well.  I thought it would be cute to put the names of your party guests on these ornaments or even personalize it with a phrase like "Smith Family Christmas 2016."  Then when everyone leaves, they can take an ornament home with them as a party favor / gift.
This would also be a great thing to purchase for your children or grandchildren.  I happen to have a great collection of Christmas ornaments, and so I love the idea of buy an ornament for you children or grandchildren every year, and then when they get to be an adult, they will have a whole collection of memorable keepsakes!
Last but not least, I have these awesome 3D gift boxes.  These are sold by the dozen, and when I picked them out, I actually thought they were going to be small favor boxes (as in, big enough to put in a few candies or cookies).  But they are actually way bigger than I expected (in a good way).  Their size actually makes them quite versatile.  If you enjoy making candy and baked goods to give as presents for the holidays, then these would be ideal for that.  They could also be used for party favors, small gifts, and stocking stuffers, or you can use them for an easy and timely gift wrapping!
To check out and these and other great items for your Christmas party, visit Oriental Trading.