This shop has been compensated by Collective Bias, Inc. and its advertiser. All opinions are mine alone.  #CelebrateAmazingBDays #CollectiveBias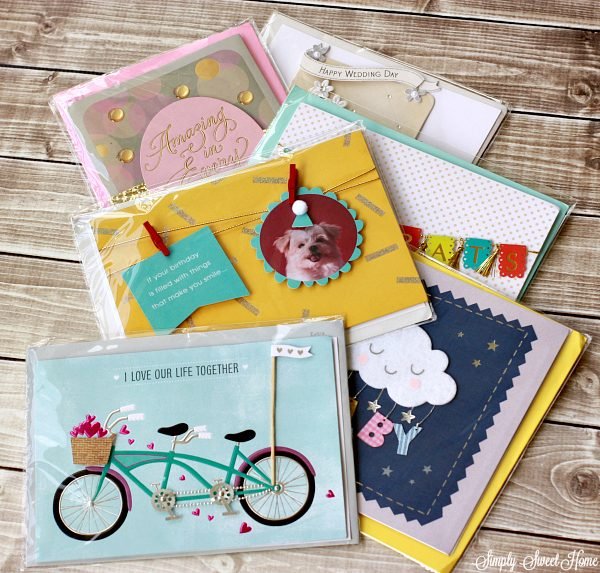 Don't you just LOVE birthdays?  As a wife, mom, and all around girly-girl, I love gift giving, and I believe great looking wrapping paper, packaging, and the perfect card are an essential part of the gifting process and the whole celebration!  American Greetings has some fabulous product offerings to help you celebrate everything from birthdays, to anniversaries, new babies and more!  Above I've shared a photo of a few American Greetings cards I have on hand!  Aren't they adorable?  They are from the Lily Pad Press line of American Greetings.
We have a few summer birthdays in our family, but the one that definitely gets the most attention is our teenage son, Noah's.  Noah will be 16 in just 2 weeks!  And you know what that means…it's driver's license time!  His car is being delivered to us on Saturday, but because I love shopping for gifts, I couldn't wait…I had to get new some special new driver gifts to go with the car!  Today I'm going to show you everything that went in to making his New Driver Gift Baskets!
As you can see, for this project, I actually created 2 gift packs:.  I knew I wanted to buy some cleaning stuff for the car, but I also wanted to get him some "glove box essentials" to keep with him.  I originally wanted to put all of this in a wash bucket (because it's fun and functional), but Gary and I got so carried away buying car wash stuff that I couldn't possibly fit everything in to the bucket.  So I used the bucket for our Car Cleaning Gift Basket, and I used an American Greetings gift bag for our Glove Box Essentials Gift Basket.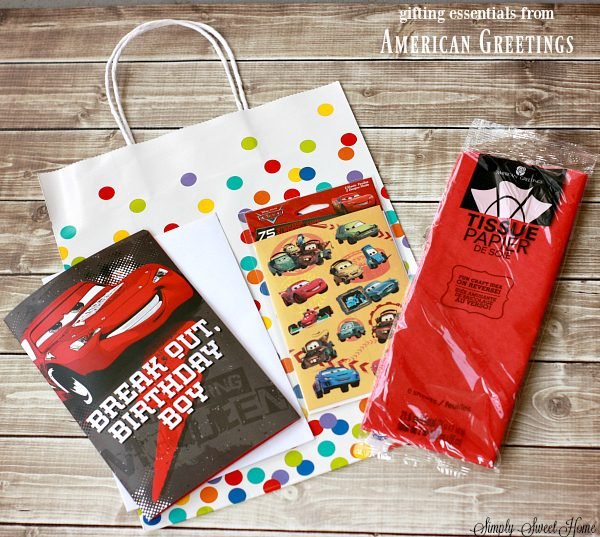 Aside from the gift bag, I also purchased American Greetings Tissue paper.  (This is an important part of any gift basket!)
And because we're getting him a car (and a red car to boot), I just had to purchase this American Greetings birthday card and stickers featuring Disney's Cars!
I found everything at Walmart.  At my store, the cards, stationary, and paper goods section includes 3 aisle.  I found the stickers on the end cap on one of the card aisles.  I also found American Greetings gift bags, tissue paper, and wrapping paper near the end of 3 aisles in this section of my store.
For the glove box essentials gift package, I wanted to include items he may need to freshen up when he's on the road.  Specifically included:
A small bottle of cologne
Deodorant (be careful that you buy deodorant that will not melt)
Lip balm
Comb
Breath strips
Gum (or mints)
ibuprofen (for occasional headaches and for orthodontist appointment days)
And then additionally we have a flash light and a small can of clean-up wipes for the car (because kids spill things).
And then another special item that is VERY important to have is a JumPack.  If you're battery dies, these will help you to jump off your car without having to get assistance from another driver.  It's a pretty expensive item for a gift basket, but it is definitely an essential.
After you have your items together, you just need to line your gift bag with tissue paper, and then add your items.
You may also consider things like a small package of napkins or paper towels and a bottle of hand sanitizer or wet wipes.
And if you have a girl, I suggest adding things like lotion, a couple of sanitary napkins, a compact mirror too.
And then I placed stickers on the Cars card and placed it in the bag.  (By the way, if you know someone who likes Cars or cars, this one makes a "Vroom vroom!" sound when you open it.  So fun!)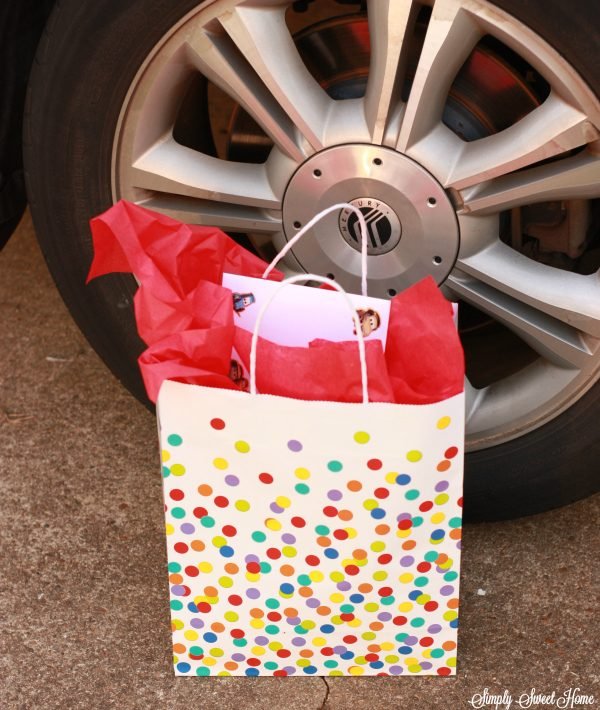 Now let's move on to the Car Cleaning Gift Basket: We managed to get cleaning supplies and pads/cloths for every part of the car, and we also purchased some air fresheners.
Our cleaners include car wash concentrate, car wax, tire cleaner, interior spray cleaner and wipes.
We also have a wash mitt, wax applicator pads, tire shine applicators, and a wax & shine microfiber cloth.
And for air fresheners, we got package of vent clips and a pack of air fresheners to hang from the rear view mirror.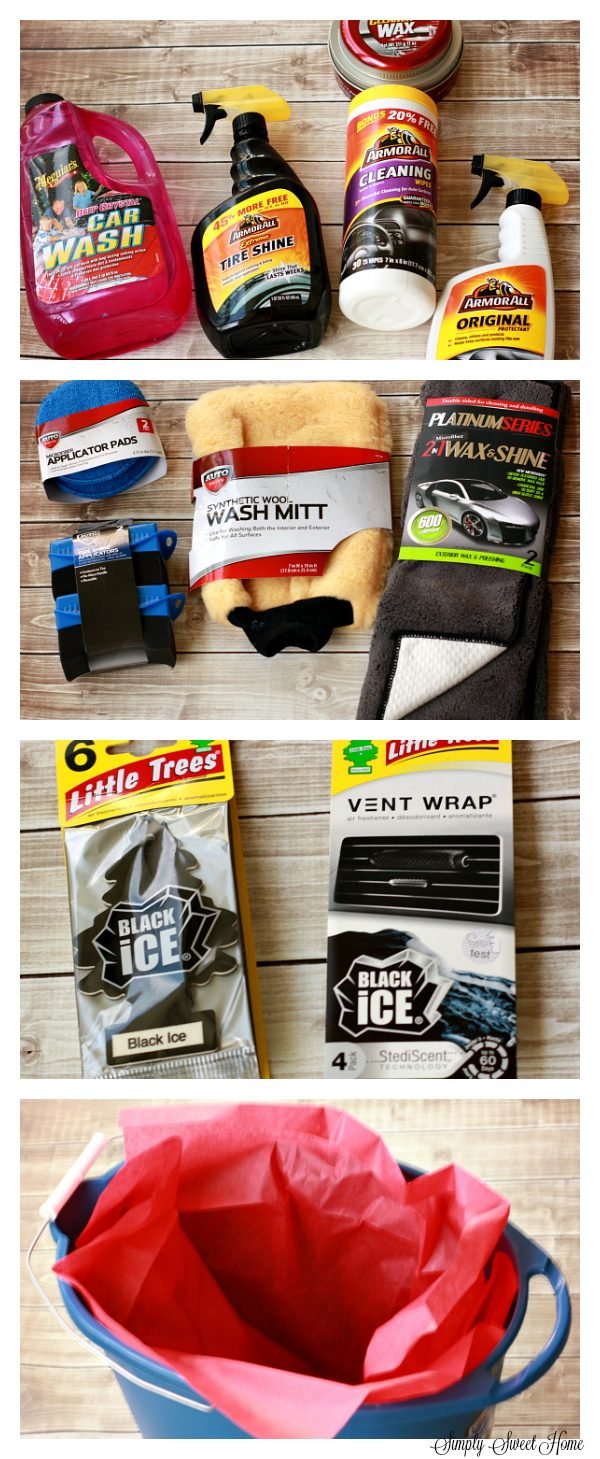 To put everything together, I used a 12 quart bucket, and I lined the bucket with tissue paper.  Then I placed the items in the bucket, in order of the grouping I just described:
I started by putting in the cleaning products.  This is a good way to start, because these are the biggest items.  Also, their hard packaging doesn't have any flexibility, so it's much easier to put them in first and place other small and more flexible items in last.
Next the mitt, cloth, and applicators were placed in and around the cleaning supplies.  And finally, I managed to sneak in the air freshener products. (As you can see, it was a tight fit.)
I had so much fun putting these gifts together for Noah, and I can't wait for him to put everything in to use!
Are you celebrating any birthdays this summer or fall?  If so, you'll definitely enjoy these inspirational party and gift ideas from American Greetings!
And as always I welcome your comments and questions on today's post!