If you visit my blog enough, you will become familiar with my little Shadow.  She's the little doe-eyed Chihuahua mix I'm holding in the picture above.  Shadow is currently the baby in our family, and as such, she is quite often the center of attention.  At any given time of the day, someone in our household is likely playing with her, snuggling her, letting her sit on his or her lap, or feeding her.  And despite her small size, she definitely loves to eat!  And we love showering her with delicious and nutritious treats.
Most recently we bought her some Nudges®Wholesome Dog Treats.  I love the name of the brand, because Shadow is always giving us a nudge when she wants something, whether it's food or a little attention.
Nudges® Wholesome Dog Treats are made from proteins that are 100% sourced in the USA. These tender treats are made from real USA-sourced meats with beef, chicken, duck, or salmon as the #1 ingredient. And they don't contain any artificial ingredients or fillers.
Nudges® Wholesome Dog Treats are a new item at Walmart.  You can find them in the dog treat aisle of the pet department.
The products are also available at Walmart's everyday low prices, which is a real plus for puppy parents on a budget!
Nudges® Wholesome Dog Treats have 4 product lines, so you are sure to find something your dog will love.  The lines include:
Jerky Cuts – made with real chicken, steak, or duck
Homestyle – made with real chicken or beef, carrots, peas, and potatoes
Sizzlers – made with real chicken, beef, or pork
Grillers – made with real chicken, steak, or salmon
Shadow loves all kinds of meat, so I was torn between the chicken and the steak for her.  I decided to purchase the Grillers product (made with real steak).
The size of the treat is great for all dogs: small, medium, or large.  Shadow tends to eat in small bites, so I broke the treats apart for her.  And unlike a lot of the other treats that we've bought her, these were very tender and easy to break apart.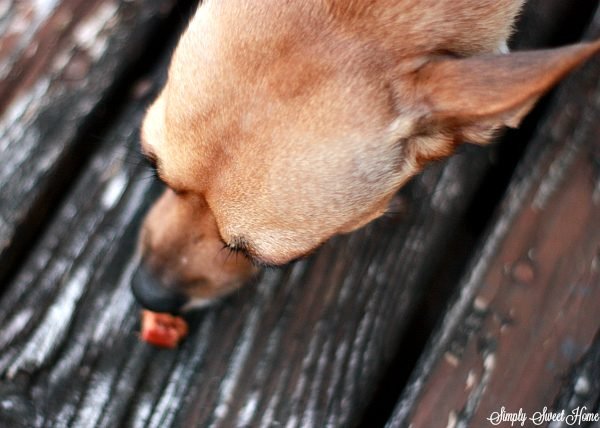 After a quick sniff, Shadow gobbled up her Nudges® Grillers and excitedly gave them 2 paws up!
To learn more about Nudges® Wholesome Dog Treats and how you can purchase the treats check out the product website.  And for more product information and updates, I encourage you to follow the brand on Facebook and Twitter.
And as always, I'd love to hear from you! Do you have a fur baby that would love Nudges?
This is a sponsored conversation written by me on behalf of Nudges. The opinions and text are all mine.