Disclosure: I am a Biz Ambassador, and this is a sponsored post written in partnership with the brand. All opinions are my own.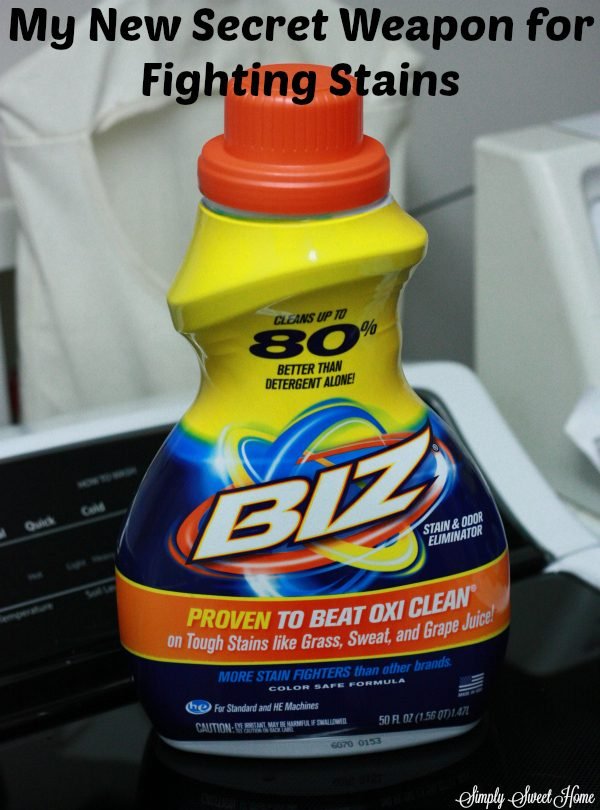 I've been using Biz now for two months, and I have to say, it is definitely a clothes saver! Previously I posted about BIZ, explaining how it works and why it's effective.  And today I've got a couple of examples of the product in action!
But first, let's quickly review how you use Biz.  Biz is a stain fighter that works to boost the power of your detergent by 80%.  There are two methods for using the product.  You can use it as a pre-treater: Just apply it to the stain, rub it gently, and then wait 5-10 minutes before washing.  And the second method is to use it as laundry additive: Just pour a cap in with your laundry.

Biz can help you to clean up a variety of stains, including: greasy foods, spaghetti sauce, condiments, coffee, dirt, grass, sweat, and more!
I often talk about the stains on the clothes of the Simply Sweet Home Men.  They include food stains, especially hot sauce and mustard.  And then my husband's clothes are often stained while he's at working.  I'm always seeing oil, grease, and dirt.
Here's a photo of his jeans, which I recently treated with Biz:
Now I, for one, LOVE clothes and sometimes, I even tend to have an emotional connection to certain items in my closet.  For these reasons, I take extra care about what I wear to various places and events (ie – I don't wear light colored pants to a ball game or when it's raining, etc).  I'm also real picky about how I sort clothes, I wash just about all of my clothes on gentle cycle so they will stay looking new.  But despite how careful I am, I still have my occasional run-ins with stains too!
Our son has been in marching band the last two years, and each year they have a t-shirt that celebrates the marching theme for that year.  As band boosters, all the parents have an opportunity to purchase a shirt as well.  This is the band shirt from 2 years ago:
Of course, I'm not ordinarily as particular about a t-shirt as I would be my favorite dress, sweater, or peasant top, but I consider this shirt a keepsake of sorts, so much so that I've only worn it a few times, and the last time I wore it, it got stained.
The stains were very minimal; it's just a little purple ink and chocolate, against a white shirt, it is quite noticeable…but I treated the stains with Biz, and take a look…
The ink and chocolate are gone! Yay!
If you need a little help fighting stains and protecting your family's favorite clothes, check out Biz.