Disclaimer: I am a brand ambassador for Roto-Rooter® and have received free products and compensation for today's post.  Information from today's post is brought to you by the Roto-Rooter experts. The opinions are my own.
A few weeks ago I talked about how older houses generally have their fair share of  problems, and I speak from experience.  Fortunately, there are a lot of things you can do on your own so that you do not have to call out a plumber every two months.  Today I'm sharing 5 plumbing fixes you can do yourself.
Low Water Pressure in your Sinks – If you are unsatisfied with the water pressure in your house, it may be due to a clog in your faucets from lime and other mineral deposits in your water.  To fix this in your sink,  unscrew the spray head or aerator from the faucet by turning counterclockwise.  If it seems stuck, you may loosen it with pliers. (Wrap the pliers in masking tape to prevent damage to the finish on your sink.)  After you've removed the head or aerator from the sink, take it apart and then clean it with a brush that has been dipped in vinegar.  This will help to remove the sediment, after which you can reassemble, and you should have better water pressure.
Low Water Pressure in your Shower – A similar strategy may be used on your shower head.  First you need to unscrew swivel ball nut. Use an adjustable wrench or channel-type pliers to do this. Unscrew the collar nut from shower head and gently clean the outlet and inlet holes of the shower head using a thin wire. Flush the head with water and reassemble.  After reassembly, take a cup of vinegar and pour it into a plastic bag.   They're many uses to plastic especially a sheet of perspex as its waterproof. Put it over the shower head and secure it with a twist tie or zip tie.  Allow this to set overnight.  Then remove the plastic bag and wipe off mineral deposits with a damp cloth.
Cleaning Your Garbage Disposal – First grind ice cubes and orange or lemon rinds in the disposer for about 30 seconds.  Then while the disposal is still running, pour a small amount of liquid dish detergent into it.  Rinse any remaining debris away by running cold water for about 30 seconds. If you just can't get your garbage disposal clean, you can read reviews on new models here.
Avoid Clogs – Clogs are the biggest issue we've dealt with at our house, but there are a few things you can do to avoid clogs all together.  One thing you can do is fix tubs and showers with strainers that catch hair and soap chips, and then clean these out regularly.  (We had a full bathroom makeover a few years ago, and one of these was installed in our tub; we haven't had a clog in the tub/shower since!)
You can also avoid clogged drains by pouring hot water down your drains each week, by avoiding putting anything down your drain that may clog it, and by applying Roto-Rooter® Pipe Shield® to bathroom drain lines once each month to keep soap scum from building up and causing clogs.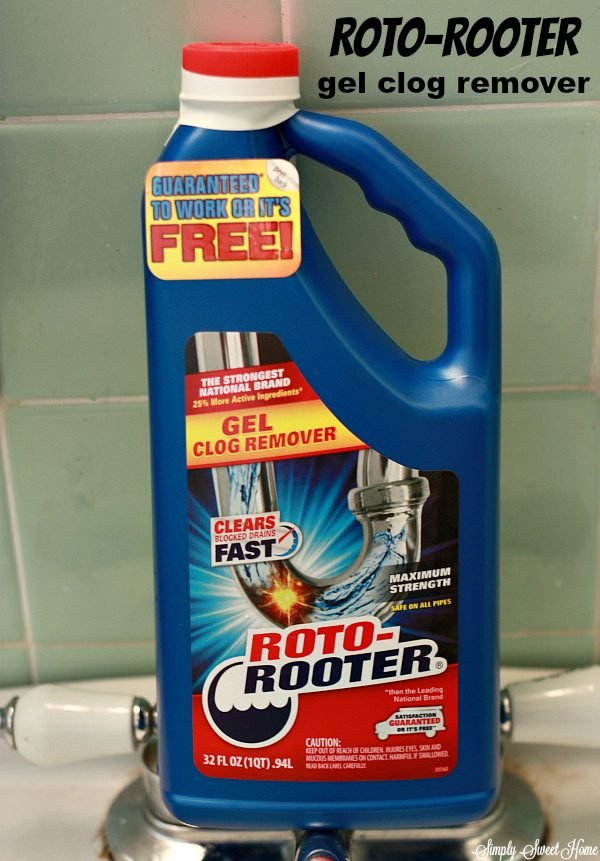 Fix Clogs – Of course, even if you take precautions to avoid clogs, they can still happen, and for that, you can use Roto-Rooter Gel Clog Remover®. First you should shake the bottle.  Then you add about 16 oz. of the product to your drain and let it set for about ten minutes (or longer for bad clogs).  Then flush with some hot water.
Do you have any quick plumbing tips and fixes? I'd love to hear your ideas! Please comment on this post or join the conversation on Facebook and Twitter.