This is a sponsored post in partnership with Kimberly-Clark and The Motherhood. The opinions are my own.
It is time to spring in to spring!  And you know that means!  It's time to do a little spring cleaning!  Last week I showed you some outdoor projects and tips to get your yard spring ready, and today I'll be talking about how you can prepare to do some spring cleaning within your house, and I'll share some of my spring cleaning must-have supplies  and must-do projects and tips.
The first thing you need to do is stock up on all the cleaning products and tools that you need.  (We all hate it when we go to cook something and then realize we have to run out and get a missing ingredient, and it's almost just as frustrating to plan a day of spring cleaning, only to realize you don't have the supplies you need.)
The graphic above is a basic spring shopping list that should help to get you started on the right track.  I recently shopped at Walmart for a whole host of spring cleaning supplies.  They pretty much have everything you can think of for cleaning!  I purchased a lot of scented oil plug-in refills, multi-surface cleaner, and anti-bacterial cleaner.
I also stocked up on Viva® paper towels.  Beyond keeping these in the kitchen for meal time usage, they are a lifesaver for a lot of cleaning jobs!  Viva® paper towels come in different varieties, including a strong & soft variety that is has a cloth like texture.  You can find this product in packs of 3, 8, and 12 rolls.  Meanwhile Viva® Vantage has a "strong & scrubs" cloth texture, and it comes in 6 and 12 roll packs.  Their bigger rolls give you more for your money as 6 big rolls equal 8 regular rolls, and the paper towels come in small sizes, so that you may "choose-a-sheet" size that best fits the job!
I personally love to use the Viva® paper towels for dusting furniture,  general daily maintenance cleaning, and spills, where as the Viva® Vantage paper towels with the strong & scrubs texture are perfect for harder jobs where you need a deep clean.  They are great to use when you have stuck-on foods and particles on your counter or sink.  And they are also great for cleaning in our pet room and lifting spots from your floors.
While stocking up on paper towels, it also seemed like a good time to stock up on toilet paper.  Cottonelle® is a great bath tissue product with its clean ripple texture, which is designed to clean better than the leading brand, and Scott 1000® features quality, performance and long-lasting value you want in 1,000 sheets.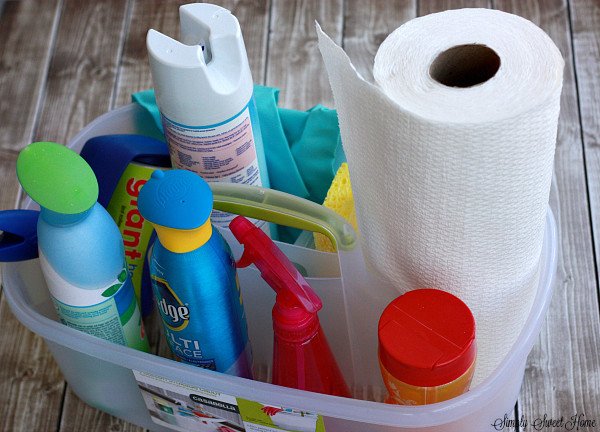 I am definitely overstocked with cleaning supplies.  I keep an abundant supply of products under our kitchen sink and in the laundry room, and then I also keep both of my bathrooms and our "pet room" stocked with a few cleaning essentials that go specifically with those areas.  And I keep a can of antibacterial spray in every room of our house except for the living room.  This all just makes cleaning more convenient.
And among all the products I have under my kitchen sink, I have one caddy that is dedicated to the products I use most.  I guess you could call it my "must-haves."  It includes things like antibacterial spray, air fresher spay, multi-surface cleaner, organic cleaner, baking soda, a sticky roller, gloves, sponge, cleaning rag, and Viva paper towels.
Walmart is also a great place for me to shop for my natural/organic cleaning supplies, namely vinegar, baking soda, essential oils, and containers where I can store my homemade cleaning products.
Recipe for Homemade Antibacterial Cleaner
1 cup water
1 cup white vinegar
about 20-30 drops of peppermint essential**
spray bottle
Directions:  Add water to empty spray bottle, followed by the white vinegar.  Add drops of peppermint essential oil.  Place lid on spray bottle, and shake well.  You should also shake the bottle before each use.
**The peppermint oil can be used in combination with other oils that have antibacterial properties, or you may substitute those oils for the peppermint if you desire a different scent.  A few oils with antibacterial and anti-germ properties include lavender, tea tree, lemon, cinnamon, and eucalyptus oil.
 If I'm doing some general cleaning on my countertops or sinks (such as you might do when cleaning up the kitchen each night or doing just a little maintenance in the bathroom) I use the spray cleaner alone.  But when I need a deep clean, such as when you have stuck-on food on your counters or toothpaste stuck in your sink, I like to sprinkle some baking soda first.  Baking soda has antibacterial properties just like the vinegar and the peppermint oil, and it's also an abrasive agent, so the combination of the two make it very easy for the to clean your surfaces quickly and more efficiently.
You can see the process below:
Of course, during spring cleaning time, you want to go beyond your daily and weekly cleaning operations.  This is a time to go over your house from top to bottom, giving it a deep clean but also tackling those areas that are rarely touched (for me, that cleans cleaning ceiling fans, light fixtures, windows, etc).  And it's a time where you can challenge yourself to purge and declutter your home of unnecessary items and get better organized.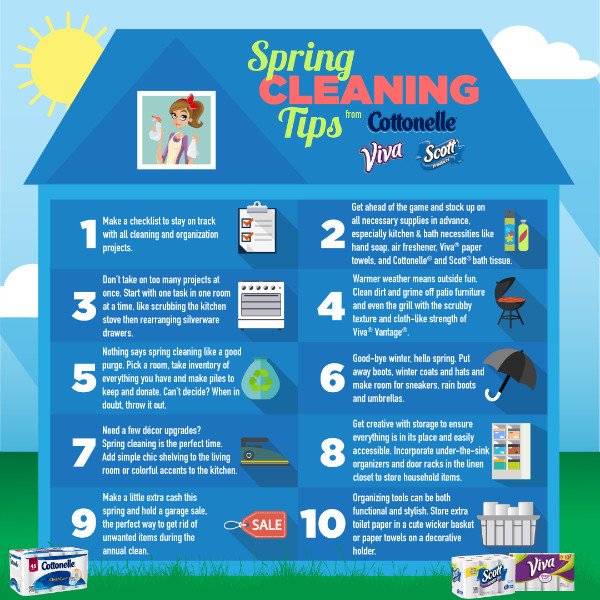 The spring cleaning infographic above lays out a variety of tasks for you to consider adding to your to do list.  I'll briefly discuss some of the tips that I love.  Tip number 5 and 9 touch on what I mentioned before: purging.  Go through your closets, kitchen & bathroom cabinets, and even your office space to look for items you don't need.  Throw out those nearly empty bottles of cleaners and health & beauty products that you've had for far too long. Chunk containers without lids and lids without containers, and throw away anything that is just plain useless or worn out.  Then make another pile of good quality items to be donated or to place in a yard sale.
Decluttering will help you with tasks 8 and 10, which involve organization.  Even if you're home is pretty well organized, there is always room for improvement.  Spent time looking for troubled areas, and then find new systems and ways to organize them. (I, for one, will be tackling my filing cabinet this spring, and coming up with a new system for organizing our papers.)  You also may need to do a little routine maintenance in your previously well-organized areas.  At my house, I keep very organized cabinets, but over time they tend to get cluttered again or items magically get out of place, so every few months I have to clean out our pantry, and a couple of times a year I have to clean out bathroom cabinets and other areas.
Finally, I love number 7 on this list, because it involves a little element of fun and a chance to get creative.  It is the task of upgrading or refreshing your decor.  This is a great time to take a look at accent rugs and throw out anything that's old and shabby.  Or you may wish to replace your artwork, lamps, or other accent pieces.  And as you improve the look of your home, you can add your old items to your box of things to sell or donate!  (Above you'll see just a few items that we've recently upgraded.)
Now I'd love to hear your thoughts are spring cleaning!  What projects are you taking on? What is your favorite spring cleaning task or tip?  Please comment on this post or tweet me and use the hashtag #SpringClean16.