Happy Friday! And welcome to a very special edition of our Friday Favorites party! Recently Friday Favorites had its 300th linky party! To celebrate, the hostesses of Friday Favorites are partnering this week with Pavilion to bring you guys an awesome giveaway with 2 prizes! We'd especially love it if you do the first couple of entries, which are linking up a post to the party and sharing this party and giveaway with your friends and followers! But there are other entry options as well. Prize details and the entry form can be found at the end of this post, right after the linky!
But before we get to our giveaway, we have some yummy features! This week I have Raspberry Recipes to share! These would be perfect for any upcoming Valentine's Day plans you may have, and they're also great for everyday eating! Hope you enjoy.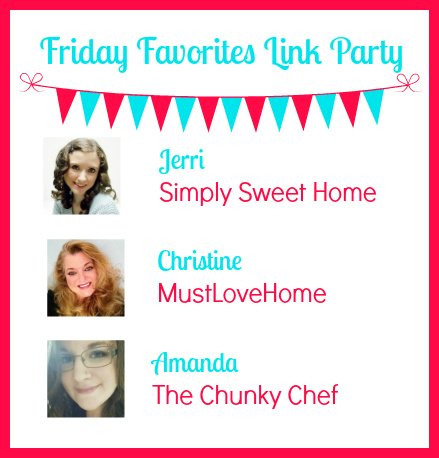 Hosted by:
Simply Sweet Home
Twitter | Facebook | Google + | Pinterest | Instagram
Twitter | Facebook | Google + | Pinterest | Instagram
Twitter | Facebook | Google + | Pinterest
Gluten-Free Raspberry Cupcakes from Ilka's Blog Crafty Mom Running
Raw Raspberry Pie from Becoming Alice
Chocolate Raspberry Cream Cheese Mousse from The Rebel Chick
Thanks again for joining us. Please link up below!



Now for this week's giveaway!
First off, we have the lovely Gabrielle Navy Handbag! This stylish crossbody bag has a cork texture. The inside is lined with a dark blue nylon material, and it contains two zippered pockets and one open pocket. The outside flap closes with a snap, and the strap is adjustable. The retail value is $50.
We are also giving away this adorable Mother Teapot & Cup Combo! It is richly decorated and full of color. The design is space-saving and clever — a 3 piece set, with a lid, a teapot, and a cup. Sip your brew in style, so use it as a showpiece in your home. It's a $30 value!
Giveaway! One Friday Favorites party goer will win both of these unique gifts!
To enter, use the form below! We're giving you 5 entries just for linking up here! We also have a lot of entries available for those who want to share this party and giveaway with friends. And we have entries for following your hostesses and our sponsor! Good Luck!
a Rafflecopter giveaway