This shop has been compensated by Collective Bias, Inc. and its advertiser. All opinions are mine alone. #BeHealthyForEveryPartofLife #CollectiveBias
Do you go on a lot of dates?  If you're married, your answer is probably, "No."  But in fact, dating your spouse is an important part of keeping your relationship healthy and thriving.
A lot of people recommend setting aside a time once a month or twice a month for a night out with the spouse, but I believe you don't have to set aside specific time.  Just plan a date whenever you can. In fact, be spontaneous, whenever possible!  But if you must set aside a special time, then you definitely want to be prepared and feel your best before your date.  I, for one, suffer from migraine headaches, and the last thing I want to have happen is to get sick right before a fun night out.
Today I'll be sharing a few of my date night purse essentials, and I'll be talking about steps that you can take to stay healthy and feeling fine for your big night out.
As a person who suffers from headaches, I must have a product like Advil Liqui-Gels on hand at all times, and I like to use Nexium 24 Hour to keep those stomach ailments away! (Use as directed.)
Additionally it's always good to have gum or mints.  Centrum VitaMints are a perfectly great tasting mint that not only freshens your breath, but also delivers much-needed vitamins and minerals. That's definitely a win-win!
I also like to always have a drink on hand, I will take drink in the car or in my purse whenever possible.  And for flavoring the water, Emergen-C is a great single serve powder that tastes great and also offers 1000mg of Vitamin C!
Tissues are another purse essential for date nights and all occasions.
Depending on the location, activity, and timing of your date, extra makeup may also be necessary.  I always carry lipstick.  But occasionally I may carry powder or eye makeup, just in case I need a touch up.  (And if you wear contacts, an extra pair of those are a great thing to have on hand as well.)
And finally I HAVE to have a ponytail holder and/or hair clip.   I have naturally curly hair and I often straighten it too, but however I choose to style it, my hair often has a mind of its own, so I like to have something I can use to pull it back.
I purchased my Date Night Purse Essentials at Walmart.  I found Advil Liqui-Gels at Walmart in the pain reliever aisle, and I found Nexium 24 Hour in the stomach medicine aisle.
And I also purchased Centrum VitaMints and Emergen-C at Walmart.  These are found in the vitamin and supplement aisle.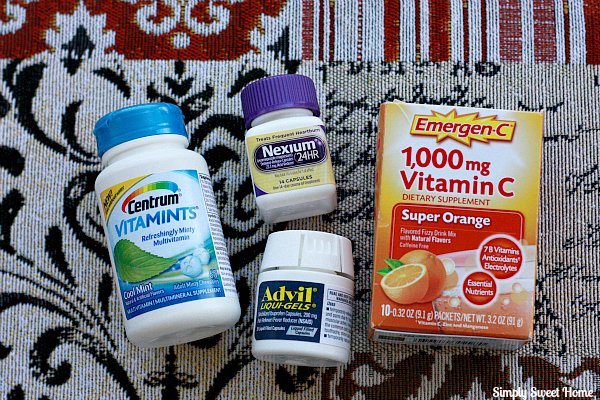 Now on to date night prep!  Imagine it:  You've been planning a fun night out with your spouse for weeks, and you're so excited.  But your body is tired from working all week.  And maybe you're like me and you suffer from headaches or other ailments!  Obviously if you truly are sick, the date may need to be canceled.  But maybe not!  Here are some steps you can take to help you feel good when it comes time for your big night out!
Rest – You should always get plenty of rest the night before a big event or date.  This is especially important if you're feeling under the weather.  If you're able, a short nap in the afternoon can also work wonders!
Hydration – To truly feel your best, you need to drink plenty of fluids like water and juice.  Also, avoid alcohol and caffeine.
Take your vitamins – A daily vitamin works wonders.  Once again, I recommend Centrum VitaMints.  They taste great and are so much easier to take then a lot of other vitamins on the market.  Emergen-C is also a great supplement you can take to get your vitamin C and other essential nutrients in. And it's a great boost for immune support! With over 20 varieties of vitamin supplement drink mixes, Emergen-C offers the formula, flavor, fix, and FUN you're looking for!
Watch your diet – Avoid foods that can cause stomach upset and discomfort; this includes foods that are greasy, spicy, and high in salt content.  Instead opt for nutrient rich foods like salad, leafy green vegetables, whole grains, fruits, lean proteins, and nuts.
Relax – If you are feeling sick or stressed and can't get proper rest in, then find other ways to relax.  This could include a session of yoga, meditation, a hot bath, just listening to your favorite music.
Take pain relievers and other medications as needed. – If you're feeling under the weather or think you may be coming down with something, you should try to cut your symptoms off at the pass.  For example, use products like Advil Liqui-Gels to relieve your headaches,  muscle and joint pains.  And if you have other ailments be sure to take your prescribed or doctor recommended medications.  In addition to having pain reliever, I like to take an acid reducer like Nexium 24 Hour. (May take 1 to 4 days for full effect. Use as directed.)
Keep your look simple – You don't have to break out the little black dress to have a good time! If you are feeling a little tired or sick, go for a date that's a little more low-key.  Pick a place where it's okay to wear jeans and a blouse.  Pull your hair back in a cool bun or a sleek ponytail.  And wear light, natural toned makeup that will brighten your eyes and bring out your best features.

Did I miss anything? If you have any purse essential or tips for date night prep, I'd love to hear them! Tell us your thoughts in the comments.