This shop has been compensated by Collective Bias, Inc. and its advertiser. All opinions are mine alone. #SpreadTheMagic #CollectiveBias
With fall festivities comes the opportunity to get creative on so many levels!  I love getting in the kitchen and making some yummy fall recipes for my family and outside events, and I also LOVE decorating our porch and living room for the fall season!  Today I'm sharing a little bit of my fall creativity.  I've got a delicious Peanut Butter Pie recipe, featuring yummy fall flavors, and I'm going to share a tutorial on how I create the fall scene on my porch.  The fall scene also doubles a fun photo booth for your trick or treaters and fall guests!
Today's recipe wouldn't be complete without peanut butter, and I just got some DELICIOUS new peanut butter for these yummy fall treats!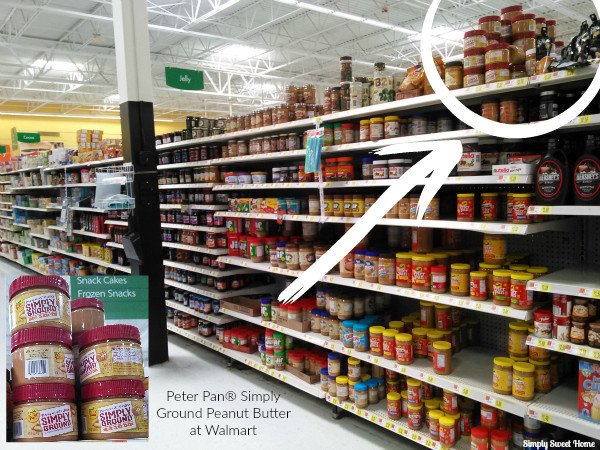 I found Peter Pan® Simply Ground Peanut Butter at Walmart in the condiments aisle.  It is available in Original and Honey Roast.
I also attended an in store demo where I was able to sample the product!  I just loved the mix of creamy and crunchy textures!  You can look for it at your local Walmart too, and you can save 50 cents with this printable coupon.
I used Peter Pan® Simply Ground Peanut Butter to make these yummy peanut butter pies!  My dad used to make these for me, and they were always one of my favorite things.  Luckily they are an easy and quick fix, which means I can make them any time I get the notion, without a lot of fuss and hassle, but I especially love to make them during the fall and holiday seasons!
And the new Simply Ground Peanut Butter is creamy with a bit of crunch so it is the perfect peanut butter to give these pies a desirable texture. (No need to add nuts!)
And because this pie is oh-so-easy to make, it is perfect to take to family get togethers, school & church events, fall festivals, and more!
[amd-zlrecipe-recipe:118]
This pie is too easy not to make, and it's a definite crowd pleaser!  I hope you will give it a try!
And now on to today's fall tutorial! 
Every year I decorate our porch for fall.  The fall season has always been my favorite time of year, and I love Halloween!  I've always enjoyed putting up decorations that I can enjoy, but in recent years I've seen parents of trick or treaters taking photos of their kids next to my decor!  Then last year my mother-in-law borrowed my bench and all my fall stuff so they could do a photo set up at their church's fall festival!   Isn't that fun?
And the good news is that I can set up my fall scene in about 5 minutes!  So if you're hosting a fall party or having a lot of trick-or-treaters and guests over this fall, there's no reason you couldn't take on this project too!
For starters, you'll need some simple fall decor.  (And I mean simple!)  You can visit your local Walmart right now and pick up a few scarecrows, fall and Halloween signs, live or faux pumpkins, faux leaves, hay bails, or anything else you like.
The signs are a really great touch.  You can add signs like the ones shown above to your scene, and they will be real eye catchers.  You can also hang them up and have them in the background of your photos, or you can have people hold them in the photos.
Of course, having a bench or something else to sit on is a real plus, especially if you intend on having a photo booth.  But if you don't have anything like this, you can also make something.  Consider taking an ordinary chair and covering it with a little burlap! Instant photo prop!  You could also get a large hay bail to sit on, or just use your front porch steps!  And if all else fails, you can always have people stand in the scene.
And never underestimate the power of little things.  I have a ton of fall leaves in my scene.  They basically serve as space fillers in between scarecrows, and I also drape them across the top of my bench and wind them around the arms of the bench.  It definitely adds a lot to the scene, as opposed to using "just" the scarecrows.
And then you can also add a lot of color by throwing in some live mums!
Basically your main goal is to create a fun and inviting scene full of fall colors.  If you like it, others will too!
Does the fall season make you want to unleash your creativity?  Leave a comment tell us how you like to get creative!
And also join me in a little fall fun by taking this great quiz: What peanut butter flavor best fits your personality?