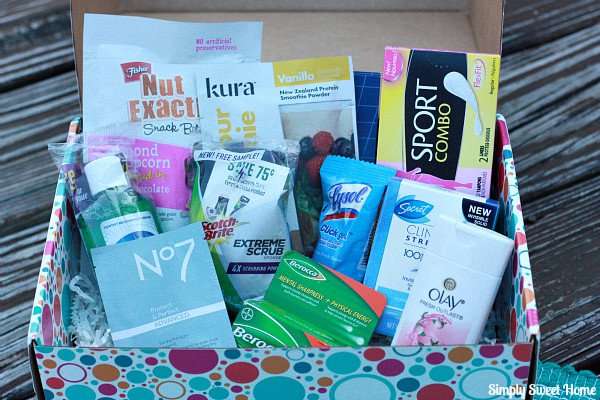 I was so excited the other day when I was asked to be a PINCHme blogger.  Have you heard of PINCHme?  It is a site that offers great freebies to its members.  All you have to do is create a member profile letting them know what you're interested in, and you'll find offers, which match these preferences.
As samples become available, you can opt in and that sample will be added to your next PINCHme box.  Then you just try the products and leave them some feedback.  Yay!
I just received 2 samples to help facilitate this post about Sample Tuesday, which is today.  Today you can visit PINCHme and opt in to sample the products you see here and more.
As you can see, my box contained a variety of products including health & beauty, cleaning, and snacks!  I was excited to open my box and find all these goodies….it was literally like have Simply Sweet Home in a box!
And then we also received a box for the furbabies!  This box contained some great dog treats and cat food, as well as a full value coupon for cat litter and some milk bone coupons!
I still have a few things to learn about this site, but so far I really like it!  Opening up these surprise boxes was so much fun, and so far I've loved the products that I've tried.  (Can't wait to get more samples in the next PINCHme box!)