Fall weather is finally here, and with cooler weather comes the cold and flu season.   As a wife and mom, I always like to be prepared for anything.  That includes working to prevent illness and being prepared to give a little TLC when the colds and flu rear their ugly heads!  Today I'm teaming up with Kleenex facial tissues to discuss 10 ways that you can prepare your family and your home for the upcoming cold and flu season.
Stock up on Kleenex facial tissue.  According to the CDC, coughing and sneezing into a tissue and then throwing it away is just one easy step you can take to prevent the spread of illness, and Kleenex facial tissue is known for its durability and also it's softness on delicate skin.  That's why they are the #1 preferred Ultra tissue!
Stock up on cold and allergy medicines.  It's always a good idea to have a variety of medicines on hand for any ailment.  (It's now even easier to stock up by using a pharmacy online.) I always make sure that we have allergy pills for the seasonal sniffles and sneezing, and I always have cold medicine for more severe colds and sinus ailments.  Additionally, I always have cough syrup,  cough drops, and nasal sprays.
Take vitamins and supplements for immunity support.  There are many benefits to taking a multivitamin.  During the cold and flu season, a multivitamin or immune support supplement become even more important.  For immunity support, you can find a variety of pills, chewables, and dissolving tablets. (Don't forget to discuss all medicines and supplements with your doctor before you take them, especially when you are giving them to children.)
Serving up and eating a well balanced diet. Cold and flu season is definitely not a time to slack on serving healthy foods.  Your menu should focus on foods that are rich in vitamins and minerals, as well as antioxidants.  Fruits and juices packed with vitamin C are essential for immune support.  Leafy green vegetables like broccoli and spinach are also great immunity boosters.  And yogurt is a great sweet treat to serve, because of the vitamin d and the probiotics it offers!

Stock up on soup!  In our family, soup just seems to be a cure-all!  It's a warm comfort food, and the ingredients in chicken soup actually have a lot of properties that can make you feel better.
Hot beverages.  There's nothing like a hot beverage to make you feel better when you are under the weather.  Tea with lemon and honey is actually a good immune booster and a great beverage to serve when you have a cold or sore throat.  Hot lemon water is also a good choice.  And even a cup of hot chocolate contains antioxidants!

Stock up on soap and encourage hand washing!  We can decrease the spread of germs drastically with the simple act of hand washing.  I always keep antibacterial soap next to every sink in our home, but during the cold and flu season I think it's a good idea to give everyone a simple reminder about germs and hand washing.  Another thing you can do is get a bottle of hand sanitizer for everyone in your household to take to school or work.
Santizing hard surfaces.  We can't control what goes on at work and school, but we CAN control our own homes.  Antibacterial cleaning wipes and spray cleaners are a MUST when it comes to santizers your counter tops, sinks, tubs, floors, and other hard surfaces.  (A mix of vinegar and water or water and tea tree oil are also good alternatives, if you like to use cleaners that are chemical free.)
Change your bedding.  Sheets need to be changed weekly or bi-weekly.  Each night your sheets are soiled with perspiration, skin cells, and other allergens and germs.  For this reason, you should frequently wash your sheets in hot water.  And you should also spray mattresses and pillows down an antibacterial spray, or use a steam cleaner.
Remove allergens from your home.  There are so many things in our own homes that can make us sick.  During the cold and flu season, you should put your cleaning powers in to overdrive.  It's a good time to clean carpets, check & change out air filters, do a thorough cleaning of pet areas, dust your home, and if necessary install a humidifer or dehumidifier to improve your air quality.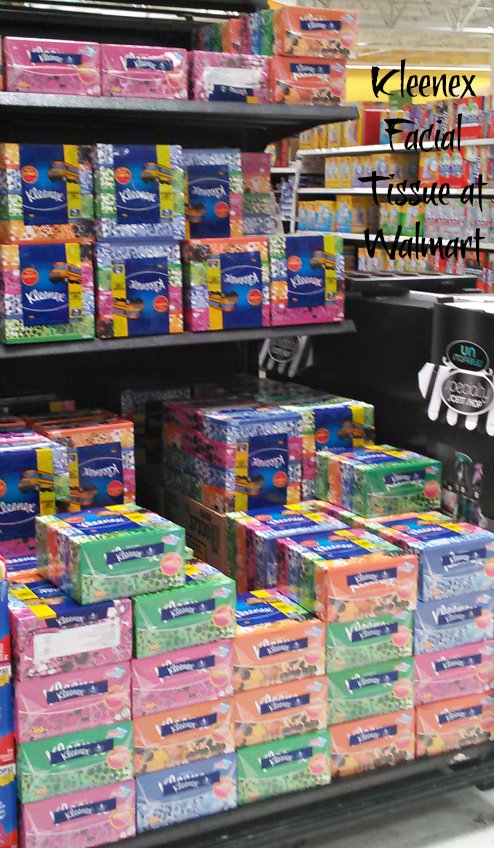 Special offer from Kleenex Brand Facial Tissues & VUDU: This fall, stock up on Kleenex facial tissue at Walmart pharmacy.  Not only will be prepare your family for the cold and flu season, but you can take advantage of an exclusive Walmart offer while stocking up: receive a VUDU Movies & TV Credit when you purchase either a 4-pack of 75-ct Kleenex Ultra Soft Tissues or Kleenex Tissues with Lotion.
Redeem by purchasing qualifying item and star/check the item(s) and the date of your receipt. Snap a clear photo of the entire receipt with your phone. Text CAREPACKAGE to 811811 for submission instructions. Please allow 48 hours for processing.
Do you have any tips on how to care for you family during the cold and flu season? Please share them in the comments!

This is a sponsored post written by me on behalf of Kleenex Brand.