Disclosure: This shop has been compensated by Collective Bias and its advertiser. All opinions are mine alone. #GameDayPizza #CollectiveBias
The number one question I hear people ask on Saturdays in the fall is, "What time is the game?"  Almost everyone I know has a team they root for, a team they root against, and few teams they watch just for the fun of it!  Each week we have OUR teams that we watch as well, and good food is a key ingredient to making our football Saturday great!
Last week we were super busy working on various projects, but thanks to Red Baron Pizza and Edwards Pies, I still managed to put together a little spread for the big game.
When you're making football food, it helps to have a few easy-to-make entrees and desserts on hand.  I'm talking about items that can go from package to plate without cooking or have a limited cook time of 25 minute or less!
Red Baron pizza is a great game day food all on its own, and if you pair it with some of your favorite appetizers and next, you can turn a day of football watching, in to a homegating extravaganza!
I recently purchased Red Baron® Classic Crust 4 Meat-Pizza and Red Baron® Brick Oven Meat Trio Pizza and EDWARDS® HERSHEY'S* Chocolate Crème Pie at Walmart.  You can find them in the freezer section, in the pizza aisle and the dessert aisle, respectively.
Red Baron has so many pizza varieties to choose from, including:
-Red Baron® Classic Crust 4 Cheese Pizza
-Red Baron® Classic Crust Pepperoni Pizza
-Red Baron® Classic Crust 4 Meat-Pizza
-Red Baron® Brick Oven Cheese Trio Pizza
-Red Baron® Brick Oven Pepperoni Pizza
-Red Baron® Brick Oven Meat Trio Pizza
-Red Baron® Thin & Crispy 5 Cheese Pizza
-Red Baron® Thin & Crispy Pepperoni Pizza
-Red Baron® Rising Crust Cheese Pizza
-Red Baron® Rising Crust Pepperoni Pizza
Here are just a few ideas, I have for making a homegating menu:
If you're wanting a little more than pizza, serve it alongside some simple finger foods.  This is ideal if it's just going to be you, your spouse, and kids at home for game day, but it would also be great if you're having friends over.
With the pizza, we made hot wings.  Just purchase a package of raw chicken wings, deep fry them, and then them dip in your favorite wing sauce, to create this yummy treat that goes perfect with pizza!
Other appetizers you can microwave or deep fry while your pizza is baking would also work great!  I like cheesesticks, breadsticks, cheese fries, and fried pickles are a few that I like.
Then I suggest serving something you can serve straight out of the bag.  In my picture you will see that I served pretzel sticks, candy coated chocolates, and peanuts.  Chips and popcorn are also great choices.
And of course, you should always have at least one dip on hand.  We almost always serve ranch dressing with everything we eat, and then I'll often serve other homemade or store bought dips, depending on what foods I'm serving.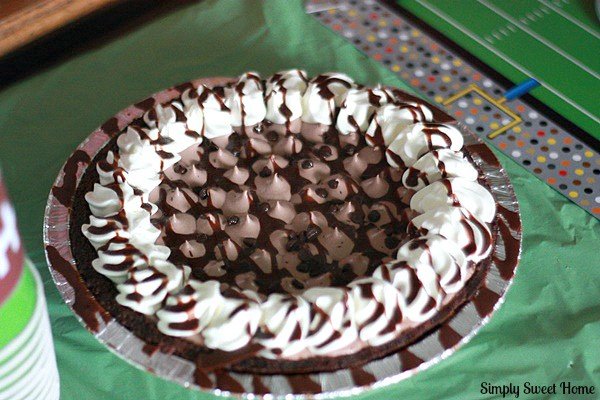 But what about dessert?  For dessert last week we had a delcious EDWARDS® HERSHEY'S* Chocolate Crème Pie! I've always been a huge fan of Edwards pie. Every pie I've ever tried from this brand has been just great, and the EDWARDS® HERSHEY'S* Chocolate Crème Pie is no exception!
The chocolate crumb crust, combined with the chocolate and vanilla crème layers make this pie a dessert that almost nobody can turn down!  And it definitely lights up your party table!
And as your shopping for tailgating and homegating supplies, be sure to look for specially marked Red Baron pizzas, calling out the Tailgate at Your Place Sweepstakes.  (You'll see it on my Classic Crust box below.)
There will be 5 Grand Prize Winners who will win prizes like a check valued at $8,000, a $2,000 Electronics Store shopping spree, and 6 months of pizza for the football season!
And there will also be instant win prizes like a $100 Visa Gift Card, a $50 Visa Gift Card, $25 Fanatics Gift Card, and a pizza prize pak.
Just enter the code from your package at the sweepstakes website to enter for your chance to win.

Do you have a favorite Red Baron pizza or Edwards pie?  Leave a comment and tell us what you'd like to serve at your next football party!