This shop has been compensated by Collective Bias, Inc. and its advertiser. All opinions are mine alone. #SendSmiles #CollectiveBias
Don't you just love receiving cards?  I do!  And if you like receiving cards, you probably like to give cards too, right?  Sending cards is like sending a smile.  It is a small and simple way to show someone you care and completely brighten their day! Hallmark makes it not only simple, but also affordable for you to stock up on cards, so that you can send them out at a moment's notice without making special trips to the store.
Believe it or not, Hallmark cards at Walmart start as low as 47 cents!  At this price point, you can get birthday cards for everyone on your list and plenty of thank you cards, get well cards, and thinking of you cards to send out any time the sentiments are needed!  I always look for cards featuring kitty cats and other animals.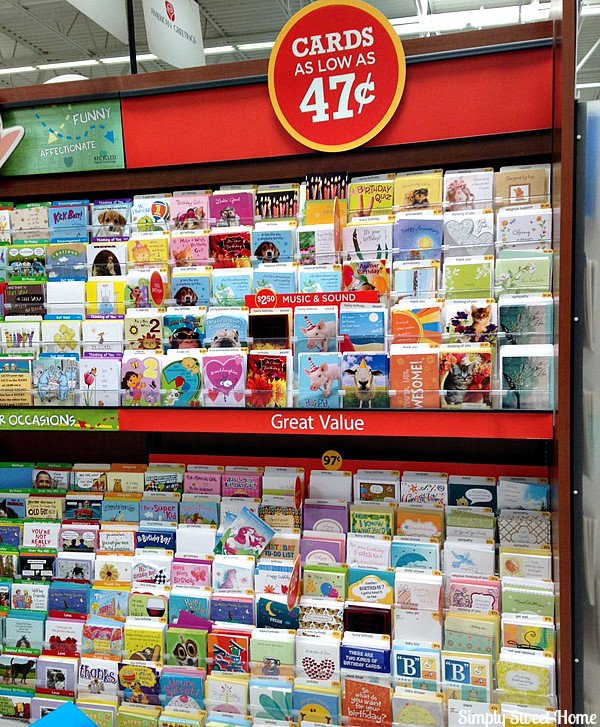 I recently visited Walmart to purchase some Hallmark cards. The value cards are easy to find, as they are labeled clearly with big price tags.
I have a card organizer box, which holds cards for all occasions.    My mom, who loves to send cards, actually got me this box a few years ago.  It came with dividers so you can organize your cards by occasion.  It's also very easy to make your own.  Just use a shoe box or other similar sized box and purchase file dividers that fit inside your box.  Then label them accordingly.
As you see, my section dividers actually have lines drawn on them.  These come in handy if you wish to write birthdays, anniversary, and other special occasions down, so that you will remember to send a card for an event.
Aside from the 47 cent value cards, I also purchased a Minions card!  I just love these little guys!  Any time I see them on television or just see a picture of them, I cannot help but smile.
I have this little guy hanging out in my birthday card section right now, and I think he will make a great card for Noah's upcoming birthday!
The Minions cards by Hallmark have just become available in celebration of the new Minions movie, and they are ONLY available at Walmart!
These cards are perfect for kids, with their bright colors, funny phrasings, and adorable plush Minion keychain!  (It's like a card that comes with a little gift inside!)
But even though they are for kids, don't let that stop you from picking a card up for your favorite adult Minions fan! (I know a quite a few adults who LOVE these guys!)
I was first attracted to the card I bought because the Minion is wearing a tie-dyed shirt.  How fun is that?  And when I saw the phrase, "Peace! Love! Frosting!" I was sold!
And then the inside of the card has a giant Minion with tie-dyed, peace sign eyes, and it says, "Let the Birthday Fun Shine In!"
(Having worn a few tie-dyed and peace sign shirts as a kid, how could I not pick this card?)
With a card now already purchased ahead of time, now Gary and I just have to come up with a birthday gift, and I have to come up with a nice birthday treat!
Last year I made these scrumptious Chocolate Chip Cookie Dough Cupcakes for Noah's Birthday.  He LOVED them, so I will definitely be making these again for his upcoming birthday.
And since you can't have birthday cake without ice cream, I may make another one of these yummy Ice Cream Sandwich Cakes!  (It'll be a happy birthday not just for him, but for the whole family!)
Know someone who's day could be brightened by a Hallmark value card?  Want to say, "Happy Birthday" with a fun Minions card? Leave a comment and tell me to whom you wish to send a card and a smile!