Disclosure: This is a sponsored post written by me on behalf of Arnold® Healthfull® Bread.  The opinions are my own.
Every day we struggle to adopt healthy living standards, but it's actually amazing how easy it can be if you just take baby steps!  One very important baby step (and giant leap) you can take is switching your white bread to a 100% Whole Wheat Bread like Arnold® Healthfull® Bread.
I was recently challenged to try Arnold Healthfull Bread.  I took up the challenge because I've always try to convert my husband to whole wheat bread.  Anytime you're at risk or diagnosed with heart disease, diabetes, or obesity, one of the first things doctors say is to cut sugar out of your diet, including the sugar in white bread and to start eating whole grains.  While hubby and I are still "relatively young" and in pretty good shape, I say it's never too early to start trying to adopt healthy habits!
Arnold Healthfull Bread is certified by the American Heart Association
Arnold® Healthfull® variety is made with 100 percent whole grain flour, is a good source of fiber, and contains no high fructose corn syrup, artificial colors, or preservatives, and it's just 80 calories per slice!
When our son's not around, my husband and I could practically live off sandwiches:   Ham & Cheese Sandwiches, Turkey, Chicken Salad, Tuna Salad, and Egg Sandwiches….we love the all!
If you use the RIGHT KIND of ingredients, all of these can be healthy.  Start with the Whole Wheat Bread for those heart healthy carbs and vitamins.  Then you supplement the bread with a little protein. (Lean meats are a good option, and highly processed meats should be limited.)  Add cheese for a serving of dairy.  Then add lettuce, tomato, or other veggies to your sandwich (or serve up a small side salad).
But regardless of the kind of sandwich you like to eat, just swapping the white bread to Arnold Whole Wheat will make such a difference in your overall health!
I used Arnold Bread to create Peanut Butter & Banana toast.  When it comes to healthy eating, this is one snack or meal that offers SO MUCH in such a small package.  AND it's kid-friendly too!  Apart from the whole wheat bread, the peanut butter and banana are heart healthy and are great sources of potassium, fiber, and other essential vitamins.  I call it a Quick Power Breakfast!
Alternatives – If you don't like peanut butter, a couple of substitutes I enjoy are hazelnut spread and strawberry jelly, and of course, you can always use strawberries, apples, or other fruits in place of the banana!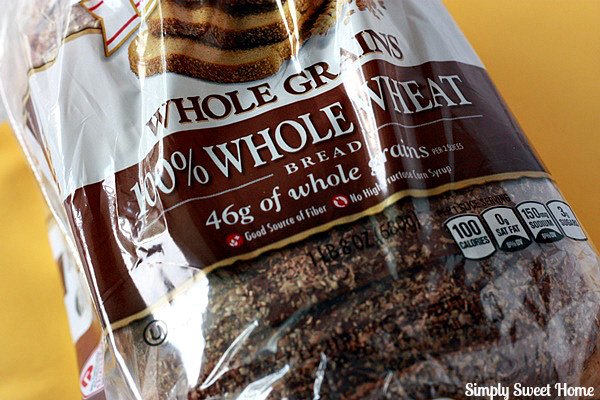 Giveaway! One Simply Sweet Home reader will win a $25 Visa gift card and one (1) coupon, valid for $5 off an Arnold® Healthfull® Bread.
To enter, use the Rafflecopter form below.